Thursday, February 1, 2001
No one is paying attention.
While Hollywood executives are hauled before Congress to debate violent images served up to teen-agers, and movie theater managers promise to keep youths from exposure to death and dismemberment, no one seems to notice that sexual imagery aimed squarely at teens is saturating the market.
Or that sex symbols are getting younger. A lot younger.
Every generation has its teen sex symbols, but the last few years has seen an explosion of exposed teen flesh in movies, music, TV and the print medium. That phenomenon is easily explained: More marketing than ever is geared toward the 13-21 youth market in what was traditionally the 18-35 range. The youngsters who will shell out cash to watch a movie over and over, or to see a pretty young thing gyrate on the stage to prerecorded music, are now the target audience of choice. So the media offers up sex symbols that teens relate to.
But what effect, if any, does it have on teen-agers and how they view their own bodies? Or how they view sex itself? And is it even worth paying attention to when a few high school-age girls choose to pose provocatively or sing suggestively? After all, they are almost grown women.
"There is complexity here on a larger scale that's much deeper than just saying 'Hollywood is bad,'" says Chuck Berg, Kansas University professor of theater and film. "There are so many streams of influence, though the media is pivotal."
Skin is in
To find proof that teen celebrities are leading the market in flaunting their developing sexuality, just head to your nearest bookstore's magazine section, where publications like FHM, Gear, Stuff and Maxim lean heavily on teen-age girls to draw readers to their pages.
The litany of actresses and singers age 16-20 who've turned to cheesecake spreads to promote themselves reads like a who's who of young talent. Actresses such as Kirsten Dunst, Dominique Swain, Michelle Williams, Rachael Leigh Cook, Jessica Alba, Lacey Chabert, Alicia Witt and Jodi Lyn O'Keefe, singers including Christina Aquilera, Jessica Simpson, Mandy Moore and Jessica Riddle and even tennis teens like Anna Kournikova and Martina Hingis have done provocative magazine layouts.
The images are heavy on smoldering looks and lots of skin, with teen-age girls appearing in bikinis, skimpy shorts, bras, panties and less. And they all seem happy to disrobe if it will gain them a larger fan base.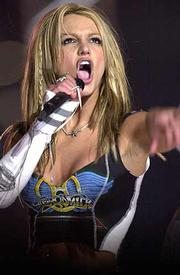 On most occasions no one gains any real notoriety. "That '70s Show" actress Mila Kunis just appeared as a Stuff magazine covergirl without raising any eyebrows, and she's only 16. But once in a while a performer does get attention from the...um...exposure.
"7th Heaven" actress Jessica Biel pushed the envelope when she appeared topless in Gear magazine. Gear is published by Penthouse founder Bob Guccione, who bragged that his magazine had actually taken full-frontal nude shots of Biel, who was hoping to use the layout to wreck her good girl image and break her contract with the TV show.
She was 17 when the photos were taken.
That the girls know what's going on with the marketing of their images, and give their tacit approval, may be one reason there are seldom protests. After all, they are completely savvy to the nuances of promoting their careers.
Tennis star Kournikova, for example, knows that there is a Web site on the Internet totally devoted to photos looking up her tennis skirt, but she doesn't protest the free publicity. Dawson's Creek star Michelle Williams definitely knew what was happening when she appeared nude in an off-Broadway play at age 18, and Dominique Swain was aware of the sexual nature of the film "Lolita" that she appeared in when she was 14. She even lobbied the producers to do her own nude scene. (An 18-year-old body double stood in for her.)
Up-and-coming singer-songwriter Jessica Riddle was recently in Kansas City, promoting her new CD, "Key of A Minor." She just turned 20, and appeared in the November issue of Stuff in short shorts and bikini tops. She's fully aware that nowadays its all part of the marketing package.
"I'm not the girl next door, and I'm not trying to be," she says during an interview conducted earlier with The Mag.
Leading the pack is Britney Spears, who seems to be on a singular, focused mission to use sex to sell CDs. Her campaign started a few years ago with her schoolgirl-gone-bad video, followed by David LaChapelle's steamy pictorial of her in Rolling Stone, followed by the whole "does she or does she not have breast implants?" debate, followed by several layouts of a busty Britney falling out of her top. Her latest stunt was a career defining moment on MTV when she performed a striptease, ripping away a conservative suit to reveal a bra, see-through pants and thong panties. She's 18.
Spears also is part of a growing trend of performers who say their sexuality is all hype and just another way to stand out in the market. Spears, along with Baptist minister's daughter Jessica Simpson, 20, promotes her virginity, and neither one drinks or smokes. But they have no qualms about showing some skin.
That doesn't sit well with everyone, including competitors like Riddle.
"You can't say something and act a certain way and then try to take it back and say you're not that way," Riddle says. "That's just hypocrisy."
Taking it all off
The cut-off age for exploiting sexual imagery seems to be 18, but many performers are still looking the part of a 14- or 15-year-old onscreen. "Party of Five" actress Lacey Chabert, 18, recently hit the pages of Stuff. But she still came across like a middle school student whose wonder bra was working overtime.
And that age barrier is being broken more often, as in the case of Spears, who started her transformation as a 16-year-old, and the aforementioned Biel and Kunis.
Teen hardbodies in halter tops sell CDs and magazines. They raise TV ratings and increase box-office profits. Maxim magazine has been on the market three years and regularly outsells Esquire and GQ combined each month. The ratings are strong for MTV's "Undressed," which features the sexual shenanigans of high school and college-age students. And the flood of teen movies, from "Road Trip" to "American Pie" to "Varsity Blues" to "Sugar & Spice" rely heavily on teen sex appeal to sell tickets.
Young performers also are appearing naked for the cameras, with some of them needing their parents' permission to do so. And it doesn't matter whether they are straight-to-video performers or acclaimed actresses, the rule seems to be that everyone will eventually undress.
Reese Witherspoon once said she would never do a nude scene, and then appeared topless in "Twilight." Leelee Sobieski was 16 when she acted in her underpants in the controversial "Eyes Wide Shut."
In the vaunted, Oscar-winning "American Beauty," so much emphasis was placed on its dark tale of suburban despair that few took notice that its underlying subplot was about adults wanting to have sex with teen-agers. Actress Mena Suvari was 19, but playing a 16-year-old, when she performed a topless scene. And Thora Birch really was only 16 when she exposed her breasts in the same movie.
"We're awash in visuals; the market is saturated in a way never before," says Jeffrey P. Moran, KU history professor and author of the book "Teaching Sex: The Shaping of Adolescence in the 20th Century." "It's difficult to isolate, but in a broad way role models do influence teens."
History lesson
But every generation has its teen sex symbols. Kansas-raised actress Louise Brooks was still a teen-ager in the 1920s when she headed to New York and posed nude for a photographer. Actress Hedy Lamaar was 18 when she did controversial nude scenes in the 1932 film "Ecstacy." Brooke Shields was 13 when she played a child prostitute in 1978's "Pretty Baby," while Demi Moore was only 17 when she appeared topless in 1983's "Blame It On Rio." And Mia Kirshner was 17 when she performed naked in 1993's "Love & Human Remains."
Not all experts are worried about the new crop of teen celebrities and their influence on their audience.
"This isn't new; it isn't earth-shattering," says Dennis Dailey, KU professor of Social Welfare. "First and foremost it's entertainment, and in fundamental ways it doesn't influence dramatically."
Dailey, who teaches an edgy course on human sexuality, and who has written extensively on the subject, firmly believes that teens recognize sexy marketing as part of the entertainment package.
"I have incredible confidence in teens," he says. "Kids are pretty sharp."
Moran concurs. The historian points to the 1920s as another decade of ribald, youthful sexuality.
"The flappers of the 1920s were every bit as scandalous as Britney Spears is today," Moran says. "Flappers were basically taking on the persona of prostitutes, and their parents were horrified."
And other countries are completely nonchalant about teen sex symbols. In 1986, in stuffy Great Britain, singer Samantha Fox gained fame by appearing as a topless "Page 3 Girl" in a London newspaper. She was 16. And the French are downright cutting-edge when it comes to creating teen sex symbols. In the 1970s photographer-director David Hamiliton was making movies about teen sexuality, starring 14- and 15 year-olds in nude love scenes. So maybe the United States is just catching up with the prevailing world view.
Lasting impressions
Media images are often emulated by teens, who pattern themselves after their idols. And the influence of sexed-up teen celebrities can be seen in how average teen-agers dress, view their bodies and how they practice sex. Teen-age girls now must compare their bodies with the ripped torso of a Christina Aquilera, and some are turning to clothing styles, diets and even plastic surgery to compete with the images they see.
Hip-hugging, low-slung jeans, crop-tops, backless halters and high-altitude miniskirts are everyday fashion apparel for many girls. Even lingerie-style underwear which was once off limits to teen-agers, from pushup bras to thongs, has gained wide spread appeal. Frederick's of Hollywood sells flowered-print thongs that will fit 10-year-old girls, and glow-in-the-dark ones for the more sophisticated 12-year-olds. The popularity of radio hits such as Sisqo's "Thong Song" even has some middle school girls raising their skirts and showing off their own underwear at school dances.
Media and other variables
Experts have always worried about the effect of media images upon young women, particularly the thin-is-beautiful marketing that leads many girls into bulimia and anorexia. Now, more teen-agers are turning to liposuction, nose-jobs and breast-enhancements, sometimes before their own bodies have completely developed.
But youths also are developing sexually at slightly earlier ages, with the median age of 11-13 for a girl's first menstruation. Teen-agers, and "tweens" � those preteens who develop younger � now have bodies that are fully capable of sexual expression, but minds that are sometimes still too young to understand the complexity of sexual relations.
Teens � and preteens � also are practicing overt sexual acts, believing that if it's not vaginal intercourse, then it's not sex. The media sends the message that such practices as oral sex are safe and sophisticated. Mariah Carey sings about it in "Honey," while rapper L'il Kim has a more upfront oral sex tune.
"Oral sex is viewed by teens based on the knowledge they get � which I think is sometimes pretty crappy � as safer than unprotected vaginal intercourse...and they can still say they're virgins," Dailey says. "But none of this is new. It's revolutionary, cyclical."
It's obviously a complicated issue. There are so many factors involved that no one can point a finger at the media alone as affecting the average teen-ager's view of sex. Teens have always been sexually active, and each generation has its media sex symbols. Other nations have no qualms with teen sexuality and its media representation. Advertising, aimed more and more at teens, deems it essential. Biologically, many young people are developing sexually at an earlier age. And much of the behavioral patterns that teens practice are learned by emulating their local peers, not far-off celebrities.
"There has always been repeated hysteria over the moral degradation of youth," Moran says. "Maybe we've hit rock bottom this time. But I doubt it."
But, like it or not, Spears executing a seductive pelvic thrust or Suvari removing her blouse still remains a part of the teen sex equation. And the more that teens are exposed to their sexy celebrity peers, the more they are inclined to imitate them.
Or as media professor Berg puts it, "Some strange things are going on in society at large. It's another dimension. But things seem to be heating up, that's for sure."