Los Angeles — Great dancer portrays great dancer.
Sounds easy.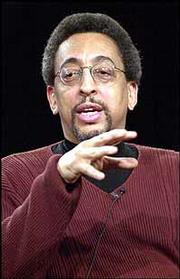 But it took more than just natural ability and agility for tap star Gregory Hines to play tap legend Bill "Bojangles" Robinson. He had to move in a whole new direction.
"I discovered that he was left-footed and that he would start all of his steps on the left side. And I'm right-footed," says Hines, who recreates Robinson's routines in the Showtime movie "Bojangles," beginning tonight.
"It was fun and it was exhausting, but I can say that the exhaustion was accompanied by so much satisfaction," Hines said.
Robinson, who died in 1949 at age 71, is probably best remembered as a partner of tiny Shirley Temple in such 1930s movies as "The Little Colonel." He had escaped the confines of "black-face" vaudeville to become the highest-paid black performer of his era. One of his famous routines was a stair dance which Hines faithfully recreates and also reprises at the end of the movie in split screen alongside old footage of Robinson's performance.
"I wanted people to see Bill at the end and see him dancing, and I also felt Bill was competitive enough and egotistical enough where he would be happy that at the end of the film they got to see him," Hines said.
Robinson's driving ambition, his gambling, his mistreatment of the women in his life, his problems with Hollywood stereotyping � are all depicted in the movie.
Some aspects of the biographical role were easier to cope with than others. Normally lithe, Hines indulged in the luxury of eating ice cream and cookies and "pasta at 10 o'clock at night" to gain some weight and appear more like the chunkier Robinson. "That was fun," he said with a laugh.
Although accustomed to metal taps, he "liked the consistency of the sound between toe and heel" of the wooden taps "Bojangles" wore.
What Hines didn't like was having to put on Robinson's stereotypical facial expression.
"His style � smiling and the eyes wide open � that was the toughest thing to do," said Hines, whose natural demeanor, though not at all somber, is sleepy-eyed, easy elegance. "The first time I had to dance in the movie I had to do so on stage in front of about 300 extras playing theatergoers. I felt ridiculous," he said.
The modern sophisticate pauses to mug the old-fashioned minstrel look. "In a way the smile was almost like a grimace. ... Oooh, that was painful."
Hines admits that his generation of blacks railed against Robinson's smiling stage persona. But later the complexity of Robinson's personal odyssey drew his admiration.
"He's really became a true hero for me and I can't look at footage of him now without getting very emotional," said Hines, aware that "if there is any truth to the notion that we stand on the shoulders of those who came before us, then I am definitely standing directly on the shoulders of Bill Robinson."