The Takacs Quartet, one of the world's leading string quartets, will perform at 3:30 p.m. Feb. 11 at the Lied Center.
The program, which runs about two hours, will include "String Quartet in D Major, KV 575," by Wolfgang Amadeus Mozart; "String Quartet No. 4," by Bela Bartok; and "String Quartet No. 1 in E Minor," by Bedrich Smetana.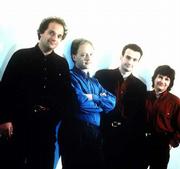 The members of Takacs Quartet are Edward Dusinberre, violin; Karoly Schranz, violin; Roger Tapping, viola; and Andras Fejer, cello.
The quartet is known for its performances and recordings of Bartok's challenging works. The group received the Gramophone Chamber Music Recording of the Year in 1998 for its recording of the Bartok cycle, and in 1999 was nominated for a Grammy Award.
The Takacs Quartet was formed by Gabor Takacs-Nagy (for whom the ensemble is named), Schranz, Gabor Ormai and Fejer in 1975, when they were students at Budapest's Liszt Academy in Hungary.
The ensemble first gained international attention in 1977, winning first prize and the Critics' Prize at the International String Quartet Competition in Evian, France. In addition, the ensemble won the Gold Medal at the 1978 Portsmouth and Bordeaux Competition and first-prize awards in 1978 at the Budapest International String Quartet Competition and in 1981 at the Bratislava Competition.
The quartet made its North American debut in 1982, and has since performed at the Lincoln Center, Carnegie Hall and the Metropolitan Museum in New York.
Since 1983, the quartet has held a residency at the University of Colorado-Boulder.