Thursday, February 8, 2001
There are two sides to Linkin Park's Brad Delson. One is the metal fan and guitarist whose band has blown up in recent months on the strength of its debut, "Hybrid Theory," and who couldn't be happier right now.
"It's been really crazy but in a good way," he says, phoning from Salt Lake City, where Linkin Park is performing that night.

The band currently is headlining smaller venues with Taproot and Styles of Beyond as part of the "Street Soldiers" tour. In the next 28 days, the band will play 20 shows in 17 states, a schedule that leaves little room for downtime or relaxation, but one that also will undoubtedly further the steady progress of his Linkin Park.
The other side of Delson is a steely L.A. businessman, who grew up in the trenches of the music business and who knows the details of his recording contract as well as he knows the particulars of his fretboard. As we talk, Delson's other cell phone rings constantly and he repeatedly pauses to answer it. At one point he stops to negotiate the finer points of the band's merchandising contract with concert paraphernalia giant Winterland.
"That's fine. Those are 20 percent items," he says, all business, to the Winterland rep. Somewhere near the crossroads of Delson's two personalities lies the entrance to Linkin Park.
L.A. story
Linkin Park's tale began in Southern California in the late '80s, when Delson, a devout metalhead, met rapper Mike Shinoda in junior high. The two immediately began writing songs together and found that the amalgamation of metal and rap was a natural one.
The freshly minted band called itself Hybrid Theory and eventually recruited drummer Rob Bourndon, DJ Joseph Hahn and singer Chester Bennington. For Delson and Shinoda, finding the right musicians � those with a broad enough palette to mix several styles of music � wasn't difficult.
"I grew up listening to lots of different kinds of music," Delson explains. "That's kind of our whole idea with this band: Let's put together a group that combines different styles of music. One of the reasons that our music has been successful, or at least popular, is because a lot of kids nowadays don't just listen to one kind of music. They listen to all kinds of music, so it's ridiculous to try to force yourself to stay within these boundaries when you're writing songs."
Living right in the heart of the music industry also proved beneficial for the baby band, who scored a publishing deal after playing its first show.
"The music industry is based there, so if you're from Southern California then you definitely have an advantage over bands in the rest of the country," Delson said. "The music industry is lazy � they don't necessarily want to fly out on a whim to Des Moines to hear a local band there. Although, obviously, Slipknot is from Des Moines, and they're huge. But if you're from L.A. it's easier to get noticed."
What: Linkin Park, Taproot, Alien Ant FarmWhen: 8 p.m. FridayWhere: Liberty Hall, 644 Mass.Ticket information: 749-1972
Still, Delson insists, Linkin Park's road to glory was hardly an overnight success story.
"We played a bunch but we were more focused on writing good songs than playing out a lot. So, in terms of getting a record deal, it was hard. We probably showcased for every major record label and didn't get signed."
Hybrid Theory eventually caught the eye of Warner Bros. Records, who snapped up the band (and gave it a new name) in the wake of the rap-metal explosion, which found acts like Korn, Limp Bizkit and Papa Roach topping the pop charts. Still, Delson asserts that there is little similarity between bands in the rap-metal scene.
"I don't think they sound the same," he declares. "There's definitely a lot of groups combining hip-hop with rock, but that opens up an infinite amount of possibilities. Those are all different groups, they all come from different places and their lyrics are different.
"Take us for example: We're combing hip-hop with rock, but the kind of hip-hop we listen to isn't necessarily the same kind of hip-hop that a lot of other groups listen to. Same with our rock influences. I think that if people are familiar with the new bands, then it's a lot harder to say that they all sound alike. For instance, if you don't listen to jazz, it's really easy to say that jazz all sounds the same to you."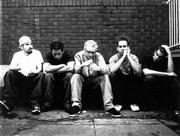 Theory of evolution
Linkin Park spent two months in the studio crafting its debut, "Hybrid Theory," working with industry giants such as the Dust Brothers, whose block-rocking beats gave the album its jarring junkyard rhythms. "Hybrid" was produced by industry giant Don Gilmore (Pearl Jam, Tracy Bonham, X), who brought experience and a guiding hand to the project.
"We met with a lot of producers, and we liked Don because he's a songwriting guy and we knew he'd push us in the studio. Mike and Chester really worked and re-worked a lot of their lyrics to be as expressive, honest and entertaining as possible."
Linkin's debut was then mixed by Andy Wallace, who's manned the boards for bands like Nirvana, Jane's Addiction and Rage Against the Machine. Scoring Wallace for the mixing job was a coup for Linkin Park, who had to battle Warner Bros. tooth and nail to get the debut sounding just right.
"We finished the record and (the label) was really excited about it," Delson recalls. "They wanted to get it mixed immediately and put it out, but Andy Wallace wasn't available right away. There's this weird thing in the music industry: a premium placed on timeliness. I know that what we're doing is timely, but our goal with this album was to write great songs, and great songs are timeless. There's no point in rushing things. But their thing was like, 'No, this music is so current, we have to get it out in whatever form at whatever expense.' They were dead wrong, and I hate that kind of thing."
Released last November, "Hybrid Theory" debuted at No. 16 on the Billboard album charts, a phenomenal showing for a virtually unknown act. Delson gives credit to Internet sites like Napster for creating the buzz that launched Linkin Park.
"Our whole album was on Napster before it even came out, and we sold four to five times more records than anyone (at the record company) thought we would. So Napster couldn't have hurt. You