Thursday, February 15, 2001
There was a time when you couldn't turn on a country music station for an hour without hearing an Aaron Tippin song. The Florida-born singer/songwriter exploded onto the music scene as a founding member of country's early-'90s "neo-traditionalist" movement. Though his music always owed more to Jimmie Rodgers and Hank Williams Sr., Tippin topped the charts with 1992's massively popular "There Ain't Nothin' Wrong With the Radio." That song launched his career into the stratospheric heights of superstardom, placing him alongside the Garths and Billy Rays as one of country music's premiere artists.
Years of recording and touring went by in a blur, eventually causing Tippin to re-evaluate the worthiness of fame. His original fans did some re-evaluating of their own, and Tippin slowly faded from chart-topper to old-timer as younger artists like Shania Twain and LeAnn Rimes changed the face of country with pop-friendly sounds. Tippin's 1998 release, "What This Country Needs," addressed these issues in his own unique way, re-energizing Tippin's career in the process.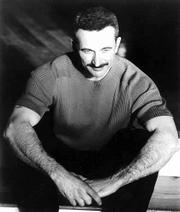 His latest effort, "People Like Us," has been a smash success, and its first single "Kiss This" (a duet with his wife, Thea) finds him back in familiar territory by topping the country music charts. Now 42, Tippin probably doesn't pay much attention to demographics anymore. These days, he's more concerned with being a father and a husband than lining his walls with platinum discs.
Tippin phones from his home outside of Nashville recently to chat with The Mag about his current record, newfound attitude and joys of fatherhood. As we talk, Tippin's drawling twang resounds with humor as his 3-year-old son plays in the background.
"He got a brand new pair of boots," Tippin says with notable affection. "He's 'showing' with them boots on."
Q: What was your early success like?
A: "It was all a whirlwind, buddy. It's hard to look back on it and remember most of it. It's that kind of fast movement. We were trying to get as far as we could with a career, and I told somebody, 'Man, I wore out a lot of cowboy boots trying to get this career to slow down long enough that I can enjoy it.' But the first of it's always like that, you know. We had a little success, but I always considered myself a little fish in a big pond. I was lucky and I was always trying to take what success we had and turn it into more. I think I spent so much time doing that that I forgot to enjoy it like I do now. I really savor it."
Q: How do you balance being a father/family member with your career?
A: "I think that's the most important thing in my life ? these kids, my family ? so I just do the best I can. My job's traveling and my wife kind of understands what this deal's about ? how it goes and how you do it. So I do my best to stay home all I can. I got a daughter ? 23 years old ? and I didn't get to spend much time with her in her youth when she was little. Boy, I missed that, and I was bound and determined I wasn't gonna let that happen again. I missed a lot of my kids growing up so I gotta treat that with a lot of respect, kid gloves."
Q: What is it like working so closely with your wife?
What: Aaron TippinWhen: 8 p.m. FridayWhere: Ameristar CasinoTicket information: (877) 444-2637
A: "She's a music major from Belmont University. Of course she's a whole lot more of a music student than I am. Matter of fact, I couldn't even carry her luggage. She's very talented. She's probably the best critic we have when it comes time to tune vocals. When I'm doing things in the studio, vocally, she's kind of my vocal coach. So it's a real pleasure working with somebody that's as professional as her. That's really a blessing for me. As far as her working as my publicist, she realizes I'm her boss, and when I come home and I'm a husband, I realize she's my boss. (laughs)."
Q: Does living so close to Nashville make it hard for you to lead a normal life, to go grocery shopping?
A: "I've come to find out, you make that what it is. If you act like you're a big deal, people probably get all excited, tore up and bother you. But if you just get your shopping cart and take off like everybody else, you might be lucky enough to get some folks to say, 'Hi, you're Aaron Tippin aren't you?' And I say, 'Yeah, nice to meet ya.'"
Q: How has country music changed since your career began?
A: "Aw, it's swung back and forth, upside down and sideways. I guess I've seen it go through several changes ? it all seems to be a pattern. But you go through the different changes and just ride it out. Right now, it's a pretty pop-sounding country music thing, mostly. That ain't exactly what I do, but you just kind of hang on 'til what you do comes back. What you do will come back."
Your new record has done really well. Are you happy with it, artistically?
"This is my new favorite album. Before this, my most favorite album was 'Looking Back At Myself' That was my favorite because I thought there were a lot of really great songs, in spite of whether they did well or not. With this one, I'm very happy with the success we've had, but I wouldn't care if it sold a single record. It's got so much of my family in it ? my wife's singing on it with me, there's a great picture of me with my kids. So it's really extra-special to me."
Q: What's your songwriting process?
A: "Well, actually, matter of fact, when you and I were just talking I wrote down a song idea ? 'Kid Gloves' ? just something that hit me that I thought might make a good song. You can't let stuff like that slip by because you never know. That might just be my next big hit. So you write it down just to make sure and that's usually how it starts for me. I don't say, 'Hey, I'm gonna write a song about this' and just take off and write about it. I think I have to be inspired by the idea that that would make a great song."
More like this story on Lawrence.com