Sunday, February 18, 2001
The story of a boy who doesn't want to grow up will be flyin' into the Lied Center Friday night. "Peter Pan" will start at 7 p.m.
The production, which lasts two hours and 15 minutes, is based on the 1954 Broadway musical version, which has been revived twice on Broadway, in 1979 and in 1991.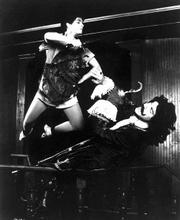 Music for the 1954 production was written by Mark Charlap, with additional music by Jule Styne. The lyrics were written by Carolyn Leigh, with additional lyrics by Betty Comden and Adolph Green.
Songs included in the show are "I Gotta Crow," "Neverland," "I'm Flying" and "I Won't Grow Up." The show features a cast of 25 and an eight-piece orchestra.
The classic story about lost innocence focuses on Peter Pan's encounter with the three Darling children � Wendy, John and Michael � and their trip to Peter's home, Neverland. The children's adventures bring them into contact with Tinker Bell the fairy, the Lost Boys, Captain Hook and his pirates, Indians, mermaids and crocodiles.
The musical is based on the novel "The Little White Bird," written in 1902 by Scottish dramatist and novelist Sir James Barrie. There were six chapters about Peter, which he later extracted and published as "Peter Pan in Kensington Gardens." As a play, "Peter Pan," or "The Boy Who Would Not Grow Up," captured the public's imagination. The first production opened in London in 1904.
What: "Peter Pan."When: 7 p.m. Friday.Where: Lied Center.Ticket prices: From $16 to $38.Tickets available at: Lied Center Box Office, 864-ARTS; Murphy Hall Box Office, 864-3982; Student Union Activities Box Office, 864-3477; KU Medical Center Bookstore; Ticketmaster outlets, (785) 234-4545 and (816) 931-3330; and online at TICKETS.COM.
In 1950, Leonard Bernstein's Broadway musical of "Peter Pan," starring Jean Arthur and Boris Karloff, ran for 321 performances. The more well-known, revised version opened on Broadway in October 1954, starring Mary Martin and Cyril Ritchard.
In September 1979, the production was revived, starring Sandy Duncan, who won a Tony Award for her performance. The show was revived again in 1991 with gymnast Cathy Rigby in the title role.