Thursday, January 11, 2001
One of the more pleasant surprises of recent filmgoing has been watching George Clooney evolve from a TV-heartthrob into one of the few major stars who seems to read his scripts cover-to-cover. While several celebrities shun risky material for a safe paycheck, Clooney leaps at the chance to take a gamble.
In Joel Coen and Ethan Coen's "O Brother, Where Art Thou?" this strategy pays off handsomely for Clooney himself. As Ulysses Everett McGill, an Alabama chain-gang convict, Clooney has a field day mocking his pretty-boy persona. Everett is so obsessed with his looks that he sleeps with a hairnet and will only use Dapper Dan pomade. McGill is a verbose fellow who seems unlikely to have committed armed robbery. Nonetheless, he convinces the two men chained to him, Pete (John Turturro) and Delmar (Tim Blake Nelson), to escape together in pursuit of loot he's supposedly stashed near the town of Ithaca, Miss.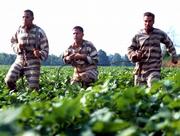 The name of the town is a not-too-subtle reference to the Coens' supposed source material, Homer's "The Odyssey." Throughout "O Brother, Where Art Thou?" one finds many components of Homer's tale mixed in with the Coens' story. There's a Cyclops (John Goodman as a suspicious one-eyed Bible salesman), a blind oracle and some lethal sirens (with voices courtesy of singers Emmylou Harris, Alison Kraus and Gillian Welch).
The Coens also add quite a bit of American mythology. The trio comes across bank robber George "Babyface" Nelson (Michael Badalucco) and a black guitar player (real-life musician Chris Thomas King) who's become a prodigy at the instrument because he's sold his soul to Satan like Robert Johnson supposedly did. ("It wasn't doing me any good anyway!")
Even the title is a nod to Depression-era lore. It comes from the downbeat movie Joel McCrea is trying to direct in Preston Sturges' classic "Sullivan's Travels."
One has to admire the Coen brothers' ambition even if the film as a whole seems an episodic mess. Admittedly, their noodling is frequently intriguing. Portions of "Barton Fink" and "The Hudsucker Proxy" seem out of place with the main narratives, yet the movies don't seem to suffer. But with "O Brother, Where Art Thou?" one wishes they'd spent more time developing their own 1937 storyline instead of hearkening back to Homer. At times, the film grinds to a halt while the Coens make another mythological reference.
ReviewRating: ** 1/2(PG-13)
If the new film lacks the consistency of "Fargo" or "Blood Simple," it still has several fine components. In addition to the liveliest performance Clooney has given to date, it also features an inspired turn by Nelson. His bug-eyed Delmar is a delightfully amiable dim bulb whose face has a constant look of bewilderment.
The Coens capture the locale and the period in beautiful detail. Roger Deakins' always sumptuous cinematography has some digital tweaking that give the movie a warm amber glow that makes Coens' outlandish story more believable.
Not surprisingly, the soundtrack is a marvel. The Coens have long been fans of American "roots" music, and soundtrack producer (and Bob Dylan prot�g�) T-Bone Burnett has assembled a first-rate collection of tunes. The highlight is "I Am a Man of Constant Sorrow" which becomes a hit for Everett and his comrades when they dub themselves The Soggy Bottom Boys.
If the Coens have done anything in this film, they have given Clooney a chance to redeem himself for "Batman & Robin." If they can't reach the mythic heights that Homer did, their creativity has at least helped raise Clooney's reputation from the dead.
More like this story on Lawrence.com