Thursday, January 18, 2001
Dwight Eisenhower and Richard Nixon are among the most intensely-studied political figures of the 20th century, but their personal relationship, which spanned two decades, has been largely ignored. Thanks to a Kansas City-based production company, that's about to change.
Next World Films Inc., formerly known as Flint Hills Films, has produced an hour-long documentary for The History Channel's "Inside the Presidency" series, which will debut at 7 p.m. on Inauguration Day, Jan. 20. Titled "Eisenhower vs. Nixon," the program looks at the complicated, often contentious relationship between the two men and how it affected their individual political fortunes.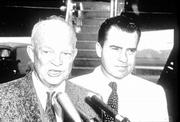 According to Executive Producer Bill Hoch and Producer Scott Richardson, the idea for the project came about after Flint Hills Films was commissioned to do a short film for the Eisenhower Center and Foundation in Abilene.
"The more we learned about Eisenhower, the more we learned about Nixon," Hoch says. "What we found was a really unique story of American political history."
During a trip to New York to screen the Eisenhower piece, Hoch, Richardson, Next World partner Scott Henson and historian Richard Norton Smith met with Charlie Maday, the head of programming at The History Channel.
"We pitched him the idea, and the meeting went extremely well," Richardson recalls. "It seemed like two or three years later, but it was actually a few months later that we had a deal to do the documentary."
The filmmakers spent almost a year researching the project and were struck by how little they knew about events such as Nixon's famous Checkers speech and Eisenhower's 1956 attempt to demote his vice president to a cabinet position.
"(There were) dozens of episodes during their two decades of interplay in the political arena that showed how they were constantly mindful of each other's presence," Hoch points out. What appeared, on the surface, like straightforward actions or comments frequently had deeper political meanings, showing how both men used the relationship to further their own careers.
The personalities of their subjects also took Hoch and Richardson by surprise at times. While people expect Nixon to be a complicated figure, Richardson points out that Eisenhower was much more interesting than his rather bland public persona would attest.
What: "Eisenhower vs. Nixon"When: 7 p.m. SaturdayWhere: The History Channel (channel 61 on Sunflower Cable)
"Eisenhower's image was one that he so brilliantly cultivated," he says. "And it wasn't phony, but it was only a small portion of who he was. You look at the life he led and the things he did and the people he was up against, including Nixon, and he can hold his own against anybody."
Family input
Getting a handle on these enigmatic characters required finding just the right mix of on-camera experts. The commentators in "Eisenhower vs. Nixon" range from historians Smith and Irwin Gellman to veteran reporter Helen Thomas to David and Julie Nixon Eisenhower, whose 1968 marriage brought their families together literally as well as symbolically. Their response to the documentary has been uniformly positive.
"I think each of them would have had the final product just a little different than it was," Hoch admits with a laugh. "That (the film) does not achieve that for anyone, to us is a sign of accomplishment."
The production company's involvement with The History Channel has opened up new opportunities for Next World. Both KU graduates, Hoch and Richardson (a Lawrence native) continue to work on projects with a local flavor, as well as those with a broader appeal. They are nearing completion of a documentary on legendary Emporia-born journalist William Allen White (which was previously held up due to money problems), and they may have the chance to produce more episodes of "Inside the Presidency."
"The marketplace for film and video production has changed enormously in the last five to 10 years, so we can never take anything for granted," Hoch acknowledges, although he remains optimistic about his company's current prospects. "We expect to have a very busy 2001."