Thursday, January 18, 2001
New York — The hand-lettered sign bobbing in the balcony said it all: "Rosie, You R My Barbra."
Rosie O'Donnell may not be Barbra Streisand � O'Donnell's own idol � but the talk-show queen conquered the crowd Tuesday night at the Richard Rodgers Theatre where she joined the cast of "Seussical," Broadway's musical celebration of Dr. Seuss, for a four-week run.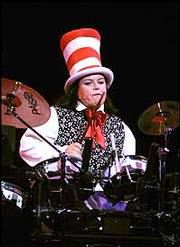 O'Donnell, playing the Cat in the Hat, faced an adoring, celebrity-sprinkled audience that included Jennifer Love Hewitt and Reba McEntire, as well as staff from the star's daily television show. Clearly, when O'Donnell's TV musical conductor and her hair stylist are signing autographs and posing for photos with ordinary folk, you've got more than a support group.
O'Donnell could do no wrong in the show, which, judging from many of the initial reviews when it opened last November, could do no right. Yet the $10 million musical is fun, a splashy, colorful pinwheel of a production with its famous new feline as a box-office draw.
O'Donnell may be more Cheshire cat than Cat in the Hat, but she's got confidence. That moxie helps disguise the fact that the performer sings more with enthusiasm than style and she dances with determination rather than grace.
Yet part of O'Donnell's appeal is that she is one of us, a fan, who somehow has ended up on stage and through sheer grit is going to entertain the paying customers. In "Seussical," the Cat in the Hat is the master of ceremonies, a commentator and not a participant in the action.
That's fortunate, too, because it allows O'Donnell to incorporate bits of business into the show with a brash bravado, to rattle off jokes with machine-gun timing and not get in the way of the story.
O'Donnell graciously does not allow her presence to undermine the other actors. The show's most appealing character, Horton the elephant, still holds center stage. Horton has the audience's affection, primarily because of Kevin Chamberlin's performance.
O'Donnell's run in "Seussical" ends Feb. 10. Be warned, though. She is only doing six performances a week, skipping the Saturday and Sunday matinees.
O'Donnell has been one of the show's strongest supporters, relentlessly plugging it on her television program. Whether the expensive musical can survive without her remains to be seen. For the moment, O'Donnell fans should be more than satisfied, and the rest of the audience won't feel cheated either.