Susan Earle hopes there will come a day when female artists aren't talked about as if they were out of the norm. She dreams of the day when exhibits of strictly women's works aren't needed to bring focus to their artistic visions.
"Women who consider themselves advocates of women artists and feminists hope there's a time when they won't have to do this," said Earle, curator of European and American art at the Helen Foresman Spencer Museum of Art at Kansas University. "If you introduce race, gender and ethnicity, then you assume the norm is a white male.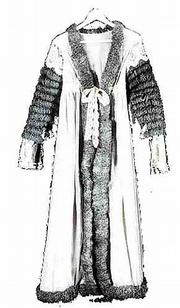 "It's a big social, political and philosophical question about how we curate in a way that's the most responsible."
Earle said the Spencer Museum is making a strong effort to boost the number of works by women in its collection. Out of the museum's 20,500 works, about 3,610 are by women.
"One way to redress or correct that imbalance is in the collections," she said. "Women have produced art during all time periods, but they usually are not talked about. � What I'm trying to do as a teacher and curator is to correct history and get it right, and to include those who have been excluded."
A female presence
The Spencer Museum recently acquired five major works by female artists active since the mid-1940s:
l "Steel Wool Peignoir" by Mimi Smith. The negligee, created in 1966, is edged in bands of steel wool rather than the usual fake fur. Smith said the work signifies the realities of marriage in contrast to its illusions.
"This is one of the first works to use clothing as sculpture," Earle said.
l "Untitled" by painter Charmion von Wiegand. The painting is an example of the modernist art movement known as Neo-Plasticism: It uses primary colors and geometric abstractions to convey a universality of expression.
l "Caffeine" by Joyce Scott. The work, made of beads, glass and mixed media, is about the "demon" caffeine and its control of people. A blue-mouthed yellow serpent tempts as it rises from a Luzianne coffee can. One female figure straddles the demon, while another has a coffee cup as a head.
Earle said Scott is known for using humor to address such issues as addiction, racism and violence.
"She creates sculptures with beads. Beads are traditionally about wealth and beauty," she said. "She draws you in with that and hits you with the heavy narrative content that addresses social issues."
l "Banshee Pearls" by Kiki Smith, whose sculptural works involve examining the human body. The work is made of 12 sheets, composed of photographs and photocopies of Smith's head, often layered with added drawing. The prints can be installed in any order and invite the viewer's own self-analysis.
l "It Doesn't Matter," from the "The Mythic Being" photograph-based series by Adrian Piper. For this series, Piper donned an Afro wig and a mustache, assuming the persona of an angry, young urban black man. She went to public spaces and experienced responses to her character. For "It Doesn't Matter," she drew over the photographs with black-and-white crayons and added text balloons. In much of her work, Piper addresses issues of race and gender.
In addition to these, Earle said other acquired works include a pair of prints by a contemporary Korean artist and "Craig's Piece," a melted wax and chicken wire sculpture in the form of a chandelier by Petah Coyne.