Dian Hauser loves to tell stories, but she doesn't do it with a pen and paper. Instead, she uses components that include sheet metal, acid and a garden hose to create metallic imagery that will convey a tale with its own imagery.
"I collect stories that are stranger than fiction," Hauser says. "I'm interested in what isn't always clearly seen � things that are beyond reality. I collect stories that can't be explained rationally, and I work them up as art."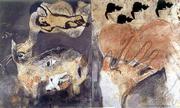 Viewers can check out the metal images for themselves. Hauser's first solo show, "Retold Tales," is now on display at the Lawrence Public Library, 707 Vt. An artist reception is scheduled for Friday evening.
Hauser recently received her masters of fine arts from Kansas University, and she's putting it to good use with a very stylized form that uses everything from pencils to computer design programs to metal and water.
"What I'm really interested in are metal miracle stories, and I play around with that," the artist says.
Hauser starts the process by gleaning and filing stories from a variety of sources. She'll use them for reference once she starts the actual assembling of the artwork. The assembling process is where she really becomes creative.
She first takes sheet metal and dips it into acid. Then Hauser props it against a wall and sprays it with a garden hose. She leaves the piece for a few days so the oxidation process will create varied and eccentric rust patterns.
What: "Retold Tales: The Art of Dian Hauser" When: Through July, with reception from 6 p.m. to 9 p.m. Friday Where: Lawrence Public Library, 707 Vt. For more information: 863-0196
"I get great rust action," she says. "It's great for my work."
Hauser then checks out the patterns, looking for configurations that will help reveal her story images. She will draw with a grease pencil or paint images, then scan them into a computer. She eventually creates transparencies that she can layer over the metal to make her images take form.
Hauser's husband, Peter Brooks, then gets involved in the process by handcrafting the frames that Hauser uses for her pieces.
"It's really about underlying stories within stories," says Sandra Wiechert, library media director.
Hauser also is quick to point out that her material will not continue to decay from the initial acid and water treatment.
"I've checked up on artwork I've created in the past, and it all seems pretty stable," she says.
When Hauser can't find a story, she goes to family and friends for the strange-but-true tales she puts on metal. Her artwork guides the viewer with names like "Cat Warning" and "Same Name/Twin Lives."
"Cat Warning" is based on the true event of a feline that signaled to a child that he was in a dangerous situation, while "Twin Lives" tells the flat-out peculiar story of two unrelated women who found out that they not only looked alike, but had really gone through life in parallel existences, wearing the same style of clothes and working the same type of jobs.
One of her favorite stories is of a baby sitter who sensed that a toddler was about to fall off a perch in another room. The sitter arrived in time to catch the child before it could be injured.
It's that sort of too-weird-to-be-true tale that Hauser hopes viewers will embrace from seeing one of her works.
"I want them to be puzzled and spend a lot of time looking at the piece. There are a lot of symbols and nuances that they won't get if they walk away too quickly," Hauser says. "The titles lead people, and they can spend time looking. I purposely leave things mysterious so people can interpret them for themselves."
More like this story on Lawrence.com