When Thomas Averill went to work on a first novel, his whole family benefited from his research. "Secrets of the Tsil Cafe" tells the tale of a family obsessed with food of infinite varieties. So to get the ambiance just right, Averill spent as much time in the kitchen cooking and testing recipes as he did writing on his PC.
The end result is a flavorful concoction of a story where kitchen aromas and spicy taste almost spill out from the pages.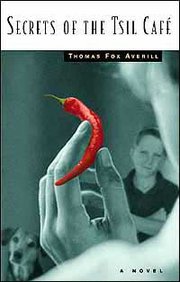 "Along with historical research, I also did a lot of work in the kitchen to show what the cooking was like," Averill says. "There are 26 recipes in the book. I did a lot of cooking, adapting recipes, refining them, having people over for dinner and testing things out."
"Secrets of the Tsil Cafe" is a coming-of-age story. The protagonist, Will, grows up watching the intense passion his parents bring to everything they do, particularly cooking. His father is a restaurant owner who is obsessed with making Old World food cooked with a New Mexican or Southwest style. He insists on using only ingredients that would have been used in the Northern Hemisphere before the time of European expansion. His wife grew up in a big-city Italian district, and runs a catering business with an emphasis on cosmopolitan taste.
"The main character says what his father serves, he serves with heat, while his mother can cook anything just the way someone wants it. She serves food with warmth," Averill says.
Caught in the midst of his parents culinary power struggle, Will ends up taking the moderate path, combining the best of both of his parents to open his own restaurant, named the "One World Cafe."
Averill teaches creative writing at Topeka's Washburn University. He's so into cooking that he's even taught a course on literature and food. His college course takes in literature, anthropology and history to look at why food is so important to people for more than just sustenance.
"Food is really all pervasive," he says. "It's in our cultures and religions. It's used in relationships and in seductions, and I want to give people time to think about that."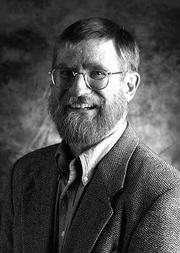 The book is published through Blue Hen, a subsidiary of Putnam/Penguin books. Throughout its pages Averill has sprinkled the actual recipes created for the story. And since he did so much historical background research, he's also added several accompanying texts describing the history of various ingredients.
"They are kind of like short encyclopedic entries under the recipes," he says.
Averill first got his idea while researching some information on foods used in America before the European expansion. Essentially, before the two hemispheres met up, both were lacking in some of the dishes diners now take for granted. The American natives and Europeans introduced one another to ingredients and meals that the other culture had never tasted. This concept so fascinated Averill that it spilled over into the character of the father, who insists on using only certain ingredients in his dishes.
"He loves all things before the Europeans came here and 'discovered' America. The new world had none of the old and the old had none of the new. I can't imagine what it was like to eat without having pepper or beans or potatoes or tomatoes," Averill says. "The parents are both intense about cooking, and I was interested in that demarcation line. The son is the one ingredient they have in common, and he takes the secrets of each one and their kitchens with him and becomes a go-between."
Averill started out cooking as a college student when he was stuck with two roommates who refused to cook. He's grown to love it, and views food as another creative expression. He also hopes that is one idea that readers take from his novel.
"As a writer I want to have a good, touching, moving story," Averill says. "But I'm also interested about how the character comes into himself as a person. And I hope people will come away with a new appreciation for food in their life, because it's something we've come to take for granted."