Victoria Williams has a voice that comes at the listener unexpectedly. The voice is strong and distinctly Southern, and also a little off-kilter; it's as though it's too eccentric and powerful to be emanating from such a petite woman. But the down-home nuances give off a warm vibe, and it's easy to imagine sitting on a porch with her on a moonlit night, talking about music and listening to the evening's rural sounds.
Since she is Southern, likable and does love the country, it isn't that much of a stretch to believe that she recorded parts of her last album, "Water to Drink," on the back porch of her desert home, surrounded by musician friends and a few crickets that also ended up on the CD.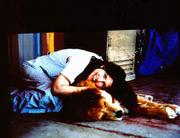 "We didn't record everything there. Not the string section. That's too many people to ask to come out," Williams says during a phone interview from an Indiana motel room. "But the porch has walls and a roof for acoustics, and you can record on it � but not during the windstorms. There's not too much you can do about windstorms."
When it wasn't windy, Williams managed to pull off laying down most of the CD's tracks at her desert ranch. Located in Joshua Tree, Calif., it's a scorcher of a place, with the mercury shooting to more than 110 degrees. But proving herself to be as average as the next guy, Williams says she and musician husband, Mark Olson, (formerly of The Jayhawks) bought it for the price.
"We had just got married and we thought it would be hard enough to work on a marriage along with trying to make a house payment, and this was a place we could just buy," she says.
And despite playing 150 gigs this year, including touring with Olson as the Original Harmony Ridge Creek Dippers, they've still managed to make their desert hideaway into paradise on earth. On the ranch, Williams is surrounded by burros, dogs and an irrigation system put in to water more than 250 fruit-bearing trees they planted. You name it and they have it: plums, cherries and pomegranates. Williams gets so excited about it she spends the first part of the conversation immersed in detailing how her fruit trees are doing.
"We've got a neighbor who is taking some of the fruit to market for us while we are gone," she says. "But we had some of it shipped to us on tour. Mark's been giving out the plums along with the CDs."
What: The Original Harmony Ridge Creek Dippers featuring Victoria Williams and Mark OlsonWhen: 6 p.m. SaturdayWhere: The Bottleneck, 737 N.H.Ticket information: 841-5483
Band on the run
The excursion she is referring to is their recently completed European tour. The record company had just got around to releasing "Water to Drink" the week before they hit Europe, and it quickly sold out, as did some of her older albums. So it's probably a good thing that they brought their plums along to hand out.
The take-it-as-it-comes attitude helps Williams to roll with all the unexpected punches that come her way on the road. For example, while in Spain, her fiddle player left.
"He missed his kids like crazy, and he left without even saying goodbye," she says.
That might have unnerved most musicians, but Williams just started asking around. A fellow ended up recommending his sister, who came through and really bailed the band out, despite the intense pressure of impromptu performing.
"She was really on the hot seat," Williams says.
While in Oslo, Norway, she and the band spotted a young man at a bus stop, holding a fl�gelhorn. They started talking, and he claimed to know all of her songs. She invited him down to the concert, and the young Norwegian ended up filling the musical void left by the departed fiddle player.
Williams only got three days off while in Europe, and it cost her a great deal of money to go over there, so she's happy to be back in the United States.
"It was an expensive tour," she says. "You have to add more musicians to the payroll. But we've got a few days off coming up, and we're going to go stay at a house and swim in the quarry."
Relief fund
Maybe Williams is so in love with life and so nonchalant about potential crises because she's already lived through so much pain. Back in the early 1990s she was diagnosed with multiple sclerosis. She had no insurance, so several musicians � including Lou Reed, Lucinda Williams, Pearl Jam and Soul Asylum � got together and released a CD, "Sweet Relief: A Benefit for Victoria Williams," with all the profits going to pay her medical bills. It brought more attention to her music and gave her a new lease on life.
That doesn't mean she never has bad days, and she's had to make adjustments to continue playing.
On "Water to Drink," she recorded some standards like "Young at Heart,' not only to add a foundation to her music, but also because when she performs them in concert it gives her a break to just stand and sing in the middle of a set.
"I've always been playing something, and I'd look at other performers who just got to stand there and sing, and I wanted to do that. So this is less stressful," Williams says.
Even though she's been questioned about it constantly, Williams is more than willing to talk truthfully about her multiple sclerosis.
"It's pretty good," she reveals. "I've taken a shot every day for four years, but I got off my medication in Europe, and my hands are weak. My neurologist says I'll be OK if I get back on it. I do OK, but it's frustrating. Boy, that wasn't a very happy comment, was it?"
Most of the time, things are going well. Williams has managed to record some new tunes, and upcoming works are on the horizon. Williams is ecstatic to be able to still perform her music live � something that she hopes fans can perceive.
"I feel so blessed. And I want them to find inspiration. It's so fantastic to play music, and I always hope it's good for people," she says.
Williams gets tapped on the shoulder, a signal that it's time to clear out of the motel.
"Well, goodbye. See you later," she says, and with such a familiarity that one half expects her to show up on the doorstep later that evening.