We don't see current photographs of Ronald Reagan anymore. The image of the former film actor who ascended in politics to capture the ultimate post � the U.S. presidency � has disappeared. Reagan, one of only three presidents to reach 90, has withdrawn from public life, contending with old age and Alzheimer's disease.
But a new collection of photographs celebrates the bounty of the 40th president's life � from his boyhood heroics as a lifeguard to his rise in politics and to his disclosure to "my fellow Americans" that he had a debilitating neurological disease that would rob him of his memory and mental abilities.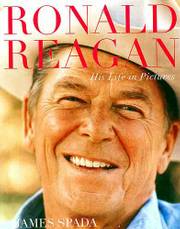 "Ronald Reagan: His Life in Pictures" (St. Martin's, 245 pages, $29.95) by James Spada chronicles Reagan's life in more than 300 black-and-white photographs taken from 1911, the year of his birth, to his 89th birthday on Feb. 6, 2000. The photographs, arranged chronologically and with ample captions, are from various sources, including the Ronald Reagan Presidential Library, AP World Wide Photos and Photofest.
Creating an image
Spada has written biographies of celebrities including Bette Davis and Princess Grace of Monaco, and has compiled photo collections of Jacqueline Kennedy Onassis, Katharine Hepburn and Robert Redford, among other notables.
The Reagan book fits in neatly with Spada's previous work, particularly due to Reagan's career in Hollywood before venturing into state and national politics. The photos of Reagan's early years include him in one of his best-known roles, football player George Gipp in "Knute Rockne: All-American" (1940) and as president of the Screen Actors Guild.
From this period there also are interesting advertisements featuring Reagan. An ad published in 1953 claims, "The new revolutionary collar on Van Heusen Century shirts won't wrinkle ... ever!" In four photos, Reagan is shown twisting his shirt's collar, twirling it, bending it and curling it, presumably with no resulting wrinkles. Reagan appeared in the ad to supplement his income, Spada writes.
As in the ad, many of the photos feature Reagan dressed in a suit and tie, creating the impression that he is a genteel, formal man. Even during a 1984 trip on Air Force One, when Reagan is clad in sweat pants, he also wears a button-down shirt with a tie.
Photos from his California governorship are marked by turmoil. Budget cuts and unrest over Vietnam are featured.
Politics and family
In the presidential arena, Reagan is seen with actors and leaders on the world stage. In one photo, he is seen with Charlton Heston, Ben Vereen, Frank Sinatra, Burt Reynolds, Dean Martin and Steve Lawrence � many of the celebrities who defined his era � at the taping of a TV show in 1985. He also is shown dancing with Diana, Princess of Wales, at a White House dinner (1985) and taking an early-morning horseback ride with Queen Elizabeth II at Windsor Castle (1982).
Included are photos from two of the most remarkable times in his presidency. In 1987, he stands in front of Brandenburg Gate in Berlin and issues his dramatic challenge to Soviet leader Mikhail Gorbachev to "open this gate" and to "tear down this wall."
And a montage of photos from March 30, 1981, show him speaking inside the Washington Hilton hotel to a union audience, waving to the crowd outside as he walks to his limousine, and being wounded by bullets as he approaches the car.
But perhaps the most poignant and beautiful photographs in the collection include his wife, Nancy. Exhausted, she sleeps on a pillow on his lap as he reads papers on the campaign plane (1980). At Rancho del Cielo, their ranch near Santa Barbara, Calif., she hitches a ride with him on a lawnmower (1982). At the 1984 Summer Olympics in Los Angeles, she speaks with him closely and intently.
A somber note is struck toward the end of the book: a copy of the handwritten letter in which Reagan reveals his diagnosis with Alzheimer's disease.
"I now begin the journey that will lead me into the sunset of my life," he wrote in the letter dated Nov. 5, 1994. "I know that for America there will always be a bright dawn ahead."
The final photograph is from Reagan's 89th birthday. With cake in front of them at their home in Bel Air, Calif., Nancy and Ronald Reagan kiss.
More like this story on Lawrence.com