Staind could arguably be called America's most popular band right now, but the members are trying not to let it bother them. The Springfield, Mass., quartet currently is in the unique � and precarious � position of having both the No. 1 album and the No. 1 song in the country. The album, "Break the Cycle," is a 50-minute melodic metal fest chronicling the ups and downs of being thrust into the glare of the national spotlight. The song, "It's Been Awhile," is a solemn ode to stretching beyond one's means � disappearing into love, pity, ambition and addiction. It's a fitting description for a group whose lives have been turned inside-out in a year filled with the stuff of rock dreams.
"It's amazing, absolutely," says Staind stickman Jon Wysocki, phoning from the back of a Columbus, Ohio, tour bus. "We expected the record to do well because we were really proud of it once we were done. But to sell that many records in one week and debut at No. 1 was pretty unexpected."
Pretty unexpected is the very essence of the Staind story.
Blood-soaked Barbies
Staind's origin is a humble one. The band formed in 1993 when guitarist Mike Mushok met vocalist Aaron Lewis at a Christmas party. Wysocki and a cavalcade of bassists were quickly brought into the fold and Staind played its first gig in February 1995. Endowed with an impassioned voice that could move all but that staunchest cynics, the group's enigmatic frontman immediately stood out to audiences as well as the other members of the act.
"Aaron's very talented," Wysocki says. "He comes in with ideas and they're all killer ideas. You leave rehearsal and you have it stuck in your head what he's singing. It's like, 'Damn, that's got to be good. I can't get this melody out of my head.'"
The burgeoning band soon recruited bassist Johnny April and scraped together enough cash to record an album, the self-released "Tormented." Though the effort's production was somewhat thin, the kernels of the Staind sound were readily apparent. Through extensive regional touring, "Tormented" � currently available for free on the group's Web site � sold a respectable 2,000 copies.
"That was our first attempt at writing music as a band," Wysocki recalls. "We'd actually played a lot of those songs out in clubs and bars for months and months to kind of hone them."
What: KQRC Rockfest 2001 featuring Staind, Live, Buckcherry, Monster Magnet, Seven Mary Three, Stabbing Westward, Cold, Puddle of Mudd, Saliva, Oleander, From Zero. When: 1:45 p.m. Saturday Where: Sandstone Amphitheatre, Bonner Springs Ticket information: (913) 721-3400
One of "Tormented's" most unique aspects was its cover, which depicted a Barbie doll nailed to an upside-down cross atop a bloody Bible impaled on a knife. Youch! That's the kind of artwork that gets attention and attention it got, most notably from a man who would soon hand Staind its whole career on a silver platter.
Right said Fred
Staind's big break came unexpectedly to say the least. The band was scheduled to open for Limp Bizkit in Hartford, Conn., when Limp leader Fred Durst caught a glance of the act's CD cover. Offended by the anti-religious imagery, he insisted that Staind be removed from the bill without playing, smashing the disc against the nearest wall. Eventually, though, he was persuaded to let the group perform and did an about-face after hearing Staind. He was impressed enough to offer the band a production deal on the spot. After months of phone tag, Durst signed Staind to his personal label, the Elektra-distributed Flip Records.
"Fred has always shown interest in the band, and we wouldn't be where we were if it wasn't for him," Wysocki says. "He really just took the ball and ran with it for us. Fred's got great ideas. He's a very talented guy, and he has a vision and goes for it and gets it done."
In April 1999, Staind issued the major-label "Dysfunction" and hit the road for an extended campaign of roadwork, including stints with The Warped Tour and Kid Rock. The Family Values Tour found the group playing alongside Korn and Bizkit just as those bands were hitting the peak of their popularity, exposing Staind to thousands of potential fans every night. One evening Lewis and Durst went onstage and acoustically improvised their way through an unreleased Staind song, known only as "Outside." Though the one-off performance was never repeated, the track was included on the tour's souvenir CD the following year. To everyone's surprise, "Outside" caught on like wildfire, blowing up on MTV's "Total Request Live," rocketing to the top of the pop charts, and making overnight � and thoroughly stunned � superstars of Staind.
"It was very fluky," Wysocki remembers. "We were still on the road when the song first came out. They released that song in our immediate hometown area, and it just had such a huge success and a big buzz that everyone wanted to start playing it. Then it became the No. 1 song in the country. That song's almost a phenomenon. I don't know what it is; there's something about it that people really liked. We did not expect that to happen."
Christmas presence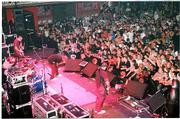 The across-the-board success of "Outside" changed everything. Suddenly Staind was the group everyone wanted to see, hear, touch, borrow money from, screw or fight, and internal tensions began to mount up. The constant rotation of Staind videos on MTV and VH1 made it hard to walk around without being recognized and, within weeks, the group went from an opening act in small venues to headliners at arenas across the country.
"People have been coming out of the woodwork to see us," Wysocki exclaims. "It's almost nerve wracking. We have to be able to perform and meet people's expectations of the band. Is there pressure? Absolutely. You're under the microscope no matter what you do or say."
Making matters worse was Staind's week-long Christmas vacation in Springfield last winter where the band was besieged by the locals. Yesterday's homeboys had morphed into today's superstars, and everyone in town seemed to want to stop and glad-hand. Rather than enjoying a short and much-needed break, the group spent most of its time warding off new "friends" and trying to find a shard of privacy.
"You're in a band that's successful from a small town and you're the big fish in a small pond," Wysocki says. "I try not to pay much attention to it. I surround myself with my friends when I'm at home, and those are people that I've been friends with forever. So I'm not taking applications for new friends."
Breaking records
Staind was taking applications for studios, though. Armed with a fat batch of new tunes, the group was eager to get back into the recording booth and capitalize on its improved musicianship and the meteoric success of "Outside."
"We were looking forward to making this one," Wysocki says. "The last record is what it is and did what it did, which was great and we were very proud of that, but it was time to go in and make some new music. So it was get off the road, get in there, write the songs, go in and record them and then go back out on tour."
"Break the Cycle" is proof-positive that touring is the best way to make an average band great. The record marks a substantial leap forward for an ensemble that spent its first two records being weaned of its influences. All grown-up, Staind sounds comfortable as itself. The somber slow burn of "Cycle" is seasoned enough to hold back instead of rocking merely for the sake of it.
"All of our records have a growth spurt from record to record," Wysocki says. "It basically boils down to the songwriting and melodies being more mature."
Given Staind's relationship with Durst and the world's seemingly insatiable appetite for rock-rap, it's a small miracle that "Cycle" doesn't attempt to blend even a hint of hip-hop into its grungy grooves.
"We don't have a band like that," Wysocki declares. "Aaron is not a rapper. There was never any plan to do that. We just did what we did. There's really no label for us."
Critical mass
Music critics have come up with plenty of labels for Staind and most of them were probably sharpening their verbal knives in preparation for "Cycle's" release. With a sound that blends the alt-metal harmonies of Alice in Chains with the big rock of Creed and the thundering angst of early Stone Temple Pilots, Staind is one of those luckless bands that's destined to attract as much airplay as it is negative press. Interestingly, Staind is a music fan's dream and a critic's worst nightmare for the very same reasons: Grand Canyon-sized choruses and plenty of easy-to-digest introspection, as mixed to perfection by Andy "Nevermind" Wallace. Still, disparaging barbs in the media don't sting nearly as much as the thought of being abandoned by its newly converted fans � a danger particular to acts that ascend the charts with such apparent ease.
"You know what?" Wysocki asks. "We do what we do. You either like it or you hate it. I just don't want people to be really into the band and then all of the sudden get sick of us. It's like people throwing Limp Bizkit away right now. It's like, you were a fan at the beginning and now you're just going to turn your back on them and start dissing them everywhere. It kills me because radio stations do it too. In Chicago I almost got up and walked out on this radio station because I was like what the (expletive) are these guys gonna say behind our backs once we leave? Limp Bizkit probably made that station and now they're just killing them."
Backstage pass
For now, Stand is back on familiar ground � traversing the country in support of "Cycle" and playing to the thousands of fans who've discovered the group in the last several months. Wisely, Staind avoids the baser excesses commonly found on the rock road, passing on the backstage debauchery that's been the ruin of so many rockers.
"We're pretty boring, basically," Wysocki laughs. "We're no Van Halen back in the day or anything. I don't know how you can play your instrument night after night and party like that. We don't drink or do drugs before we play. We have fun every now and then � we have our nights when we go out and party and kick it � but we also have a responsibility to stay healthy and make sure our shows are good. The only time it really starts to bother you is when you've been out there for a long period of time and everyone starts getting burnt out a little bit."
The question, then, is whether it's hit them yet. Do they understand that they really are realizing the rock dreams that seemed a million miles away from Springfield?
"To be honest with you, I don't think that's still set in," Wysocki says after a long pause. "We've been so busy. Yeah, we realize we're No.1, but we're just doing our thing and trying to keep working. Someday it will kick in, I'm sure."
More like this story on Lawrence.com