You've achieved success that would make most rockers green with envy. Your band's most recent album debuted at No. 1 and is currently five-times platinum. Your group has also received numerous industry awards and appeared on the cover of Rolling Stone as "Band of the Year." You're finding it increasingly difficult to hit the pubs without being besieged by fans looking for photos and autographs. The phone rings nonstop and offers of worldwide tours start pouring in.
You step off a plane at an airport just outside of New York City. No one knows your name.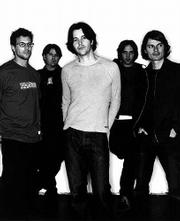 Meet Powderfinger, one of Australia's premier groups and a band that's not exactly a household name in the United States. Heck it's not even an apartment name. Not even a living-in-your-car name.
Arriving on U.S. shores for the first time in February, the band is slowly becoming accustomed to the American way of life. Still, the culture shock continues to rattle and hum.
"In New York, people seem to be completely different from people in Los Angeles or whatever," says drummer John Coghill phoning from a Big Apple sound check. "It is very similar to what I thought, but I didn't think there'd be so much of that Jerry Springer element going on. I know not everyone's like that, but I just see people and think, 'Man, I can see how that stuff goes on.'"
If Coghill thinks New York and L.A. are backwards, it'll be interesting to see what sort of impression Kansas makes.
"Is that west of California?" he asks.
Um, no that would be the Pacific Ocean.
What: Powderfinger, O.U.R.SWhen: 9 p.m. todayWhere: The Bottleneck, 737 N.H.Ticket information: 841-5483
"Maybe I'm thinking of Arkansas or something."
Right.
Outback origins
Forming more than a decade ago in its native Brisbane, Powderfinger � which took its moniker from the Neil Young song of the same name � has become a force to reckon with down under. Coghill, vocalist Bernard Fanning, guitarists Ian Haug and Darren Middleton and bassist John Collins cut their teeth playing covers in small clubs, eventually moving on to bigger gigs in Sydney and Perth.
In the early days, the band did everything itself, plastering flyers everywhere and booking its own shows. Most of its meager earnings went into financing two independently issued EPs, which didn't sell well, but garnered the group some much-needed experience. One advantage to the Australian music scene, says Coghill, is that its confined size means that most bands go out of their way to avoid imitating peers.
"Everyone's trying to be really original in Australia," the drummer explains. "No one really copies each other or anything � probably because it's a small place. There's a really healthy scene, I think because there's a lot of people who want to go out and see gigs."
Eventually Powderfinger was signed to Polydor Records and released its 1994 debut, "Parables for Wooden Ears," a Top 10 hit. The mild ripples of "Parables" paved the way for 1996's "Double Allergic" and 1998's "Internationalist," which were tidal waves by comparison, supersoaking Australian music fans and going multiplatinum in the process. Part of the group's strategy was to create cohesive records rather than collections of singles, a method that gained the group respectable album sales rather than chart-topping hits.
"We're known to be an album band," Coghill says. "We don't have hit singles or anything like that. I think you have to buy the album to really understand it. It always takes us a long time to make an impression on people because it's not an instantaneous thing."
Men at work
In the spring of 2000, Powderfinger convened in Sydney to begin laying down tracks for a new album. Though some bands have a relaxed attitude about working in the studio, piecing together a Powderfinger record is always a balance of invigoration and pressure, according to Coghill.
"We have a good vibe in the band but it's hard work," he explains. "We're all trying to be perfectionists. We get pretty intense about it, trying to do it properly."
The studio nitpicking and inner-band bickering resulted in Powderfinger's strongest effort to date, "Odyssey Number Five," which added sonic touches like strings and synths to create a sound that was � ironically � more straightforward than the group's early efforts. Songs like "Waiting for the Sun" and "My Happiness" (an international hit) were light years beyond what the 'Finger had seemed capable of creating.
"We've learned how to be more honest with ourselves and how to communicate with people through songs," Coghill says. "Instead of writing music for the sake of writing music, we sort of got into the mode of writing to say something or to express an emotion. I see a lot of bands these days where you know that all they want to do is write a hit song or write a punk tune so they can be famous. We think that music should be about expressing something that has some meaning behind it, a bit of soul. You used to hear that all the time on the American charts. Thirty years ago, 40 years ago you had Stevie Wonder or Otis Redding, people that had so much soul in their music."
The response to "Odyssey" has been little short of a phenomenon. Readers of the Australian version of Rolling Stone voted it best album, "My Happiness" best single and Powderfinger band of the year. Not bad for a group that got its start in Brisbane basements, but not a big deal either, according to Coghill.
"We tend to play down things like that, thinking that it doesn't matter because it's only in Australia," he says. "It would be a massive thing in America, wouldn't it?"
Only one way to find out.
Up from down under
Having achieved just about everything an Aussie band could ask for, America beckoned. Powderfinger's slow dive into U.S. waters began with last year's "Mission Impossible 2," soundtrack where the group's "My Kinda Scene" was featured alongside heavy-hitters Tori Amos, Metallica and Limp Bizkit.
The quintet also spent part of February opening for British soul rockers Coldplay, which paved the way for Powderfinger's current headlining tour. "Odyssey" also finally has been released here as the group's U.S. debut, achieving the kind of critical raves for which most bands can only dream. Of course, those raves just add to the pressure of life on the road. It's make or break time, and the group knows it.
"We just want to do some really good gigs and hopefully convert people into liking our music," Coghill says. "We saw U2 the other night and we thought, 'Oh my god, those guys must watch their shows and work out where they're going wrong.' We thought, maybe we should do something like that."
More like this story on Lawrence.com