The story of Matt Shafer is one that proves the old adage it's all who you know. One night in 1987, while attending a DJ battle in Clawson, Mich., 13-year-old Shafer bonded with one of his competitors, forming a friendship that remains rock-solid today. As Kid Rock's longtime turntablist and music collaborator, Shafer spent his early years in the business in Rock's large-looming shadow. The association produced multi-platinum efforts like 1999's "Devil Without a Cause" and gave Shafer ? who went by the stage moniker Kracker until lawyers for the alt-rock band Cracker forced him to change it ? a career of his own, though not completely overnight.
Produced by Kid Rock in the back of his bus while on tour, Uncle Kracker's debut "Double Wide" provided a poppy, loose-limbed yin to Rock's bawdy rap-metal yang. Released in the summer of 2000, the album sat on record store shelves for months before breaking big with the single "Follow Me," which continues to reside in the top 10 after four months on the charts.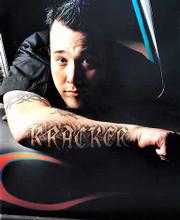 Currently Kracker's parlaying that success into a solo tour, alternating between headlining gigs in medium-sized venues and "radio" shows, where a local station brings together whatever bizarre mix of up-and-comers and has-beens it can scrounge up. Fortunately, Uncle Kracker ? Shafer backed by Rock's Twisted Brown Trucker band minus Joe C., the group's diminutive sidekick, who died late last year ? is currently on the positive end of that spectrum.
Shafer phones from his Detroit home on the morning of Timothy McVeigh's execution, though the musician is blissfully unaware of the hoopla surrounding the event. Or even the event itself for that matter.
"Oh was he (executed)?" Shafer asks. "I don't know, I don't pay attention. I thought he was already dead."
Q: Were you surprised by the success of "Double Wide?"
A: "I didn't know how it was gonna be. In the beginning, it started out pretty stagnant. I didn't have a game plan going into it other than to sit down and write some songs. It turned out to be more of a road record. We recorded it in the back of the bus, on the road. So it turned out to be a I-can't-wait-to-get-back-home record."
Q: What do you think of the current state of pop music?
What: Red, White and Boom featuring Uncle Kracker, Ricky Martin, Mya, Jewel, Billy Idol, Lionel Richie, Eve 6, Evan & Jaron, Eden's CrushWhen: 1 p.m. SaturdayWhere: Sandstone Amphitheatre, Bonner SpringsTicket information: (913) 721-0001
"I think it's in trouble. I think they need to stay out of the malls and get some songwriters in the game. It's turning into what it was 40 years ago with a bunch of people writing songs and a bunch of people in the streets singing 'em. 'Oh you got a good looking face, you wanna make a record?' It'll always be that way, but I think to lie to people isn't the way to go. I don't see how much longer it can last. Thank God I don't have to be concerned with it that much. I know I can write songs and I know Kid Rock is writing songs, so I don't think we're going to be affected by it that much. We just try to teach kids something in the end. We try to let them know that it's OK to be themselves."
Q: Are you worried about getting lumped in with the TRL set?
A: "I don't want to be part of that here-today-gone-tomorrow thing, but it's pretty much inevitable. I'm not getting any younger. But you can do it and do it right, with dignity I guess. I'm not worried. I got a lot of credibility. I write a lot of songs. There's not much anyone can really take from me. If anything, maybe pop will come full-circle again. When people think of pop music, people think of Britney. They don't think of pop music when Tom Petty and the Heartbreakers were pop."
Q: Is Kid Rock really a total freak when he's offstage or is it just an act?
A: "He's pretty much the same cat. Onstage, he's maybe a little bit over-exaggerated, but he's the same person. He's very authentic, a fine upstanding citizen ? someone you'd want to marry your daughter. We're best friends. We think the same. He knows what I'm thinking before I think it and vice-versa."
Q: How did the death of Joe C. affect the band?
A: "Everybody took it rough. He was on the road with us for three years and it was such a tough way to live. (He died of a congenital disease). If anything good can come out of it, I think the band has actually become a little bit closer. It's our loss, not Joey's ... We'll bounce back. We do a little tribute for him every night. So he's still there."
Q: Was there much harmony within the Detroit music scene when you were starting out?
A: "Everything's always been divided. There was no unity. We didn't have any bands helping us out. But the crowds have always been supportive. I think that's why we sing about Detroit so much and we're so proud of Detroit. It's a big pride city, anyway. Detroit's been overlooked for so long. There's always been so much good stuff happening. It's about time somebody came forward and took a chance with some of these cats."
Q: Are these radio shows with a bunch of different bands fun?
A: "Not necessarily. Some of the radio show (audiences) have been ... like the people that don't follow me. The concerts that I do on my own, they almost look like a Jimmy Buffett concert, where everybody's singing every word to every song and everyone's just wasted. It's kinda sweet. I'm there to have fun so everybody else should be, too."