When Leslie Carson trains her camera lens on a subject, she's trying to capture a fleeting moment where the light, shadows and landscape all merge into an artistic composition. She's been fascinated with how fractured light can alter a skyline or a sunset since she was a little girl, and she's chased her creative musings since then, developing her skills as an award-winning photographer.
"I've always been drawn to how light casts shadows and reflects and plays with things," Carson says. "It started in grade school when I watched rainbows and how the sunlight was caught along with the color and transparencies. I always wanted my own camera."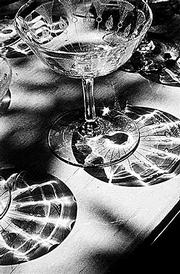 She also credits her mother for starting her on her lifetime quest of artistic development.
"We visited art museums, and I was exposed to drawings and paintings and photographs. I was drawn to it. Photography is a natural for me," she says.
Viewers can check out her latest work in a new show that is on display at Z's Divine Espresso, 1800 E. 23rd St. Her collection will show through March.
She's featuring 14 color photos, mostly of landscapes that were shot throughout Kansas. As Carson travels, she's always on the lookout for the perfect shot, so her camera has become her constant companion.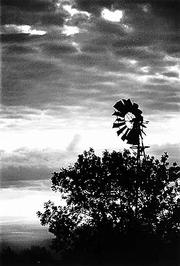 "It's always ready to go. I keep it with me at all times," she says.
Mostly she trains her 35 millimeter Canon on nature settings and landscapes in the Midwest. She mostly works with color prints or slides. But when she uses black and white film, she processes it herself by turning her bathroom into a makeshift darkroom. It helps her control the makeup of the composition.
And whether it is hot or cold, snowing or raining, she's always hunting for good settings. Carson recently camped out in the foreboding Great Sand Dunes of Colorado, where she captured images of the sun playing against the silky sand.
"I was wonderfully fortunate to get some really nice landscape shots," she says, sounding like a successful treasure hunter.
And even the recent cold, snow and ice has not kept her from venturing outdoors for photo opportunities.
What: The photography of Leslie CarlsonWhen: Now through MarchWhere: Z's Divine Espresso, 1800 E. 23rd St.
"I took several pictures of the light on the snow and ice," Carson says. "It was really beautiful."
The artist usually displays her work at a handful of exhibits each year. She just returned from Hays, where she competed in the 17th Annual 5-State Photography Competition. It was a juried contest featuring more than 200 photographs from 126 regional photographers. Carson walked away with a juror's merit award.
Carson is currently vice president of the Lawrence Camera Alliance. The group meets the first Tuesday of each month at the Lawrence Arts Center, 200 W. Ninth St. The alliance had 22 Lawrence photographers in the Hays competition. The group also sponsors three member shows each year, along with pursuing various solo projects.
"We're a pretty active group," she says.
And she also makes her living with her camera by turning her photos into postcards. As owner of Chez Moi Photographs, Carson develops her pictures into packets of greeting cards. The series has proven quite successful, and travelers across the state can usually spot her cards at any museum or tourist location.
In Lawrence they can be found at the Bay Leaf, Raven Bookstore, The Palace and the Kansas Union bookstore. She also sells them at art and craft fairs like Lawrence's annual Art in the Park.
Carson wants viewers to lose themselves in the photos she creates instead of concentrating on the artist behind the work.
"I hope they get a sense of wonder, a kind of visual meditation," Carson says. "I'm trying to capture something momentary in time that will otherwise be gone. I'm fortunate to see things like that, and fortunate to share this gift with other people."