Zlatko Hukic is one happy dude. That's probably because the Marz frontman is comfortably perched upon his favorite spot in the world.
"I love it, bro," Hukic enthuses. "I'm sitting right now in the front of the bus, looking at mountains just chilling. I love touring. I love the energy of playing live. I love meeting new people. So I think I got another 10 years before I get bored of it."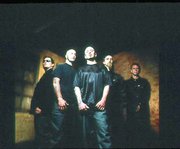 Marz (Hukic, drummer Rey Washam, bassist Troy Gourley, programming wiz Rey Washam and guitarists Louis Svitek and Pat De La Garza) is currently opening for Insane Clown Posse on a whirlwind jaunt through the States, turning audiences onto its wicked mix of hip-hop, electronica and metal. For Hukic, a Chicago native, this blending of musical forms comes naturally.
"I lived in a really mixed neighborhood," he explains. "We listened to everything, we listened to hip-hop and heavy music like Slayer and DRI. So to me it was always obvious that those styles would come together."
Prime Ministry
Though Hukic has the energy and enthusiasm of a rock greenhorn, he's actually a seasoned veteran of the music wars, having spent time in the trenches with everyone from Peter Gabriel to Ministry. In fact, Hukic's history with Ministry runs fairly deep. The Marz frontman met Ministry leader Al Jourgensen in 1994 at Chicago Trax, a Windy City recording studio where Hukic was interning while working on solo tracks. Jourgensen immediately recruited him to work on Ministry's record, "Filth Pig."
"We shook hands and he asked me to engineer his record," Hukic recalls. "I wasn't an engineer but I said I'd do it. That night I went out and bought a book on engineering. We hit it off, and then he asked me to play guitar in the band. He knew that I had my band, which was hip-hop. His whole vibe was, 'Just use Ministry to make money and get some contacts and do your thing.' That's basically what happened, Ministry was always a side project for me."
Side project or not, Hukic was soon firmly implanted into Ministry's bizarro world of sex, drugs and rock 'n' roll, joining the band as a full-time guitarist and touring the globe. It was an eye-opening lesson in rock excess, according to Hukic.
"The first Ministry tour was a little bit weird," he says. "There was a lot of weird energies going around. Certain substance abuse can bring around real negative energy, and I'm not with that. So it kind of took a toll on me, being around it. It was draining because when you're in a band, you're married to these people � you live together, you work together, you're together all the time, and what they do affects you whether you want it to or not."
Hukic stayed on to play guitar on Ministry's 1999 album, "Dark Side of the Spoon," but quit the band soon after, convinced it was on the verge of a drug-induced collapse. He headed back to Chicago but was immediately asked to return for one last tour.
What: Marz, Insane Clown Posse, InsolenceWhen: 7:30 p.m. FridayWhere: Memorial Hall, Kansas City, Kan.Ticket information: (816) 931-3330
"I wasn't going to do it until two days before the first show," Hukic recalls. "I just didn't want to do it at all. But through a series of lies � Al's personal assistant lied to me and told me they didn't have a guitar player and they were (expletive) and I didn't want to do that to them � I went down there, and there was a guitar player there that they fired right when I walked in. But it ended up being a blast. That's probably why � I didn't give a (expletive) so I could take it or leave it, so that kind of vibe made it a lot more fun. It was just a nonstop party and good energy instead of negativity."
Mission to Marz
Hukic's Ministry connections soon found him working alongside Peter Gabriel, manning the boards for Gabriel's forthcoming album. Hukic then headed straight for Marz, recruiting Svitek and Washam from the ranks of Ministry and holing up in his home studio.
"I had made a bunch of money working with Peter Gabriel and Ministry," Hukic says. "And I took the money and made a whole studio. We did it all on our own and got totally buried in it."
The result was Marz's debut album, "Lung Fu Mo She," which effectively blends Hukic's influences into a supersonic mixture of artful noise. The record has been an underground hit on the West Coast, and Marz played a string of sold-out shows last fall before being recruited for the ICP tour. According to Hukic, reproducing Marz's studio heavy sound on-stage has been a labor of love.
"The record has so much (expletive) on it, man," he says. "There's so many layers of instruments on there that it's a really huge challenge to get that across on-stage. It's something that we're learning everyday: how to make it happen more accurately. In a studio, you're in a controlled environment, but live it's a lot more blunt. There's less room for intricacy. But I think we do it and if anything it has even more energy live."
There's obviously nothing but love between Marz and Ministry these days � Jourgensen has even popped on-stage at a few Marz concerts. Marilyn Manson, Tommy Lee and Jane's Addiction drummer Stephen Perkins have also appeared at the band's shows.
"One of the things that I love about hip-hop, which rock 'n' roll doesn't really do so much, is the collaboration," Hukic says. "In hip-hop, everybody gets to jam with everybody else, and it's a beautiful thing. Whereas in rock, it seems more egotistical."
More like this story on Lawrence.com