When they invented the Trekkie catch phrase "live long and prosper," they must have been talking about William Shatner's career. What other TV over-actor could remain at the center of the national spotlight for five decades? Late of Priceline.com commercials, the irrepressible Capt. Kirk hosts the 50th Annual Miss USA 2001 Pageant (8 p.m., CBS).
Broadcast live from Gary, Ind., the beauty contest will showcase 51 beauties from every state and the District of Columbia. Among this year's new features are a fast-paced "music-video style" opening number and an evening gown segment on a runway.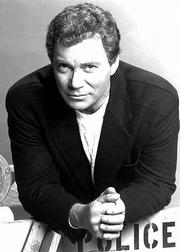 � Six degrees of television: "Friends" star Matthew Perry co-stars with "Friends" guest star Bruce Willis in the 2000 comedy "The Whole Nine Yards" (7 p.m., HBO) ... If you'd prefer to see Willis' ex-wife in her biggest hit, catch Demi Moore as a grief-stricken potter in the 1988 tear-jerker "Ghost" (7:05 p.m., TBS) ... Another "Friend" joined the cast of the 1998 remake of TV favorite "Lost In Space" (7 p.m., TNT). Matt LeBlanc plays the pilot of the Jupiter 2, joining an impressive cast that includes Gary Oldman, William Hurt and Mimi Rogers ... Rogers also stars in the 1987 thriller "Someone to Watch Over Me" (12:50 a.m., TBS) co-starring Lorraine Bracco, whose "Sopranos" co-star Edie Falco appears on "Late Night With Conan O'Brien" (11:35 p.m., NBC) along with Snoop Dogg ... "Friend" David Schwimmer appears in one of his many comedy misfires: "Kissing A Fool" (9 p.m., Comedy Central) ... And just for good measure, Courteney Cox's husband, David Arquette, appears on "The Tonight Show" (10:35 p.m., NBC). Got that?
Tonight's other highlights
� A stranger claims he is Syd's real father on "Providence" (7 p.m., NBC).
� Kurt Russell stars in the futuristic 1998 thriller "Soldier" (7 p.m., Fox).
� Debbie Allen hosts the series "Cool Women" (7 p.m., WE), celebrating women who have gone out of their way to bring their personal visions to life. Tonight: a profile of Lia Trandafir and Irinel Cojocaru of the My Child Foundation.
� Beau Bridges stars in the two-part miniseries "Voyage of the Unicorn" (7 p.m., Odyssey).
� Scheduled on "Dateline" (8 p.m., NBC): legal wrangling between Fabio and his former manager.
� Eminem performs at the 2001 Brit Awards (8 p.m., BBC America). Madonna, U2, Ricky Martin, Fat Boy Slim, Radiohead and Sisqo are also scheduled.
� A distraught cop steps over the line on "Law & Order: Special Victims Unit" (9 p.m., NBC, TV-14).
� Scheduled on "20/20" (9 p.m., ABC): the dangers of shopping at superstores; separated for 38 years, a Seattle woman's reunion with her Ethiopian mother.
Cult choice
An FBI agent (Keanu Reeves) infiltrates a band of mystic surfers to catch bank robbers in the 1991 action drama "Point Break" (9 p.m., Cinemax).
Series notes
A greedy heir kills his rivals on "Diagnosis Murder" (7 p.m., CBS) ... A hot contractor on "Two Guys and a Girl" (7 p.m., ABC) ... On the first of two episodes of "Gary & Mike" (UPN), life on the road (7 p.m.), and in the clutches of a cult (8 p.m.) ... Josh gets a big head on "Sabrina, the Teenage Witch" (7 p.m., WB).
Homeless and heavy on "Norm" (7:30 p.m., ABC) ... On back-to-back episodes of "Celebrity Deathmatch" (UPN), claymation spoofs (7:30 p.m. and 8:30 p.m.) ... Practice, practice, practice on "Popstars" (7:30 p.m., WB).
Regis Philbin hosts "Who Wants to be a Millionaire" (8 p.m., ABC) ... Invited to a sorority party on "Popular" (8 p.m., WB).
Late night
Josh Joplin performs on "Late Show With David Letterman" (10:35 p.m., CBS).
Bill Maher's guests include Bryan Cranston, Genevieve Wood and Shakara Ledard on "Politically Incorrect" (11:05 p.m., ABC).
David Hasselhoff is booked on "The Late, Late Show With Craig Kilborn" (11:37 p.m., CBS).