Despite her distinctive features (which include full lips and flaring nostrils), actress Marcia Gay Harden has demonstrated a chameleonic range. She's played a movie-obsessed single mom in "Used People," legendary screen star Ava Gardner in "Sinatra," a surly femme fatale in Alison Maclean's "Crush," a friendly scientist in Clint Eastwood's "Space Cowboys" and the world's worst psychiatrist in "The First Wives Club."
"You know what it's kind of akin to?" Harden responds during a recent phone interview. "It's like being a member of an ensemble repertory theater company. You go from job to job playing different kinds of roles. It's not about being one particular identity or type of role. It's hard for me to define it, which is kind of a nice thing because it's allowed me to have my finger in a lot of pots."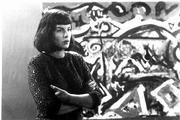 Her latest role has been especially rewarding. In actor Ed Harris' directing debut "Pollock," she portrays Lee Krasner, the wife of painter Jackson Pollock (Harris). Krasner and Pollock initially had a happy and productive marriage that deteriorated when alcohol got the best of him. If the story is ultimately a downer (Pollock died in a drunken driving accident in 1956), the film has netted a Best Actor Oscar nomination for Harris and a Best Supporting Actress nomination for Harden. ("It was such a heady experience. This whole thing is amazing," she says of hearing the Oscar news.) She's already received the Independent Spirit Award nomination and won the Best Supporting Actress Award from the New York Film Critics Circle.
Even if the Academy chooses to pass her and Harris by, the two have received the continual support of Helen A. Harrison, the director of the Pollock-Krasner House and Study Center. Portions of "Pollock" were filmed in and around the house where the painters actually lived. Such cooperation is rare in film biographies of artists. Despite the high-profile talent involved in recent films such as "Surviving Picasso," "Love is the Devil" (a movie about Francis Bacon) and "Basquiat," none of the estates of the artists involved would allow their original paintings to be used.
"Ed had spoken with the Pollock-Krasner Foundation at great lengths and with Helen Harrison," Harden recalls. "She had felt it was a project from the heart and that he didn't want to make an expos� on them, considering that there had been elements in the book ("Jackson Pollock: An American Saga" by Steven Naifeh and Gregory White Smith) that had been somewhat sensational and not necessarily proven. We became one of the few art films to have the rights to images of a painting so that (Ed) wasn't forced to paint in the 'style' of a Pollock. They could copy to the best of their ability an actual Pollock or Krasner painting. I think that may be a first."
Accentuating the positive
From listening to Harden over the phone, it's obvious that she put in a lot of work to mastering the role. For one thing, her voice is much softer than in the film, and it lacks the thick Brooklyn Jewish accent.
"Her accent was so pronounced," she says. "It was even more pronounced than what I did in the film. There was a tape I saw of her in the 70s, and the sound was even more exaggerated. Just a general Brooklyn accent wouldn't have been true to her. I also met people in her family, and I could hear traces of it in her nieces and nephews."
Harden also differs from Krasner on motherhood. Whereas the artist refused to have children with Pollock ("She already had a child. She had Jackson," the actress explains), Harden has to take a short break from the phone to help her daughter, Eulala go to the bathroom.
"She's two-and-a half, and I believe she just finished watching a bad episode of 'Dynasty,'" she quips. "I'm not Lee. I wanted children since I was four, and I'll do anything to give Eulala a good home. At the moment, she's quite adaptable. I don't think you have to give up everything. One of the great things about today is that men are so much more active in helping with the children than they were before."
Harden's work in "Pollock" seems even more impressive when she reveals that she performed most of her "Space Cowboys" scenes while on a brief hiatus from the other film.
"We were down for two months while Ed was going to gain weight," she explains. "During that time I was shooting 'Space Cowboys,' there was one week where I could be done with 'Space Cowboys' and go to New York to finish 'Pollock.' I was back for a week and filmed that, then was back on a plane that evening, and that morning was shooting 'Space Cowboys' in Houston. That was my jet-setty 'Wait a minute! Who am I? What am I?' moment in the filming. But it's easier than it sounds."
KC connection
Harden's ability to juggle tasks is downright astonishing. Despite the activity in the background and a flaky phone connection, she remembers where she's calling.
"Did I tell you my parents used to live in Kansas City, Mo?" she asks. "They lived there in a beautiful little neighborhood overlooking a small lake. I remember it was the most gorgeous and happiest place they ever lived. Even though they were Texans, they used to drive us to a Kansas City bootmaker and say (her voice gets twangy), 'You've got to get your boots made here in Kansas.'"
No matter what the future holds for Harden, she will probably always be remembered for her film debut: Verna, the wisecracking moll in Joel and Ethan Coen's "Miller's Crossing."
"I thought it had the potential to be a classic when we were making it," she recalls. "It was never this huge-huge film in making a lot of money, but it found its audience. And people will quote Verna lines to me all the time like, 'What's the rumpus?' and 'Just in the neighborhood, feelin' a little daffy, thought I'd drop by.'"