If I told you I had 10th row mid-court tickets for a basketball game and was looking forward to seeing Ryan Robertson play, what would you think I was talking about?
A) I know as much about Kansas basketball as Strom Thurmond knows about dying young. I mistakenly think I can get 10th row seats and that Robertson still plays for KU.
B) I'm a wealthy KU alumnus who's donated so much money to the Roy Williams fund that I actually have those tickets. But I'm a little senile, so I call every Jayhawk player "Ryan Robertson." Especially that Jeff Boschee kid.
C) I'm about to go to my first Kansas City Knights basketball game at Kemper Arena.
If you guessed A or B, thanks for doubting me. Always the odds-on favorite, C is the correct answer. For those not up to speed with the Kansas City Knights � and judging by attendance at their games, that'd be most of you � let me catch you up on this new Kansas City professional basketball team.
The Knights are part of a fledgling 8-team league known as the American Basketball Assn. It's professional, but not on the same level as the NBA. The ABA has a desire to revert professional basketball back to an up-tempo exciting game. To do this, they've changed a couple rules. For example, players can't foul out. A player gets five fouls, after that, any foul by that player results in two free throws and the ball back out of bounds. The more interesting rule is the "3D Rule." If a team gets a steal in the opposition's backcourt, for that possession, two-point baskets are worth three points and three-point baskets are worth four. This is to encourage full court pressure, according to the league. However, in the game I saw, neither team ever pressed.
The roster for the Knights includes several players locals would be familiar with. Former Jayhawks Rex Walters, Darrin Hancock and Ryan Robertson all play for the Knights, and Kevin Pritchard is the head coach. Kansas City high school basketball star Derek Hood is on the squad. Former Wichita State player Antoine Carr was on the squad but was recently waived, and JaRon Rush was on the team, but was traded early this season.
It's good that there are some local connections, because that way the families of the players can go to the games. Otherwise, the stands might be totally empty.
A dog's life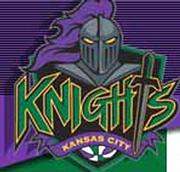 I caught the Knights on a quiet Thursday evening in a contest against the Memphis Houn-Dawgs. Not to be confused with the Detroit Dogs or the Tampa Bay Thunderdawgs, who also are in the league. No, I saw the Houn-Dogs.
You know, the Knights, they're really trying. And I am rooting for them. But the only draw to this game is the great parking spot you'll get. You pull up to Kemper Arena, and you suddenly think that you misread the schedule. But then there is someone charging the $5 to park, so something must be going on.
This was a lonely night for the Knights. I know writers tend to exaggerate, but I'm serious when I say that there were maybe 500 people inside Kemper for the game. That includes players and coaches, mind you. In a place as big as Kemper, that makes the game look more like a pre-NCAA tournament Kansas Jayhawk practice session.
The Knights want to be a fan-friendly team. The league has created a special ticket plan, setting aside 3,000 tickets to every game at discount prices for dating teens (hear that, kids?), families with children, military, senior citizens and the disabled. So basically everyone except me can get these tickets for $6 to $8. If you're like me, you'll get nailed for $25 for the good seats.
Heck, you want to talk fan-friendly, the Knights even asked Kansas City to come up with the team name. Last year, when the crew was forming, an article ran in The Kansas City Star offering fans a chance to vote on what title the basketball team should take on. The good people of Kansas City did the right thing and chose "Knights" over names like "Cobras," "Tornados" and the "Flames."
But since then, Kansas City has forgotten about the Knights.
Comparative shopping
The crowd was so small that three of the seven people in the row in front of me were selected to take part in promotional give-aways during timeouts. If you didn't get a nod or a wave from a player because you were his friend or relative, you were in the minority.
I yelled once, but realized I should keep my mouth shut, because anonymity was something you didn't enjoy in this sparse of a crowd. The basketball itself was decent. Hancock got one alley-oop dunk. The Knights won convincingly. They're actually challenging for first place in their division. Everyone with a ticket earned a free pizza from Papa John's because the Knights scored more than 115 points. The mascot, a big-headed fake-armored knight with a wooden sword, looked cool.
But being this close to Allen Fieldhouse spoils a basketball fan. If the crowd isn't raucous, it doesn't seem like a game. If you're a dating teen and your gal likes basketball, take her to a game for $6. If you've got a big family, take them to see Hancock throw down a couple dunks for the cost of a movie. But for me, I'm saving my $25 and watching the Jayhawks from a comfortable seat in a sports bar.