Los Angeles — Ang Lee has claimed the top award from the Directors Guild of America for the epic Chinese martial-arts romance "Crouching Tiger, Hidden Dragon."
The peer-presented honor historically predicts the year's Oscar-winning filmmaker, having missed only four times in the DGA awards' 53-year history.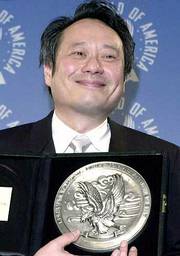 "In my wildest dreams, I never thought this movie would go so far," said Lee, who also won a Golden Globe award.
The Mandarin-language film has earned nearly $90 million in the United States, making it the highest-grossing foreign-language film in history.
The Taiwanese-born director, who is currently scripting a sequel to "Crouching Tiger, Hidden Dragon" was humble about his Oscar chances. "Whatever happens, I'm just going there to celebrate," he said. "I'm already very happy."
The movie has a total of 10 Academy Award nominations, including best picture.
Steven Soderbergh lost despite two nominations, one for "Erin Brockovich," a true-life story starring Julia Roberts, and the other for the gritty drug-war drama "Traffic."
The other feature film nominees were Ridley Scott for the Roman fighting epic "Gladiator" and Cameron Crowe for "Almost Famous," his semi-autobiographical tale of a teen-age rock 'n' roll journalist.
All but Crowe have Academy Award nominations for direction.
In other awards, Thomas Schlamme of "The West Wing" was given an award for best direction of a television drama for the episode titled "Noel."
Other winners included James Burrows, in the comedy series category, for directing the "Love in the Eighties" episode of "Will & Grace."
The DGA also lauded Jack Valenti, president and CEO of the Motion Picture Association of America, who received the Honorary Life Member award.