The battle of the sexes becomes an all-out war in The Unicorn Theatre's staging of the controversial play, "Closer."
Lawrence's Cheryl Weaver is a working actress who's taken on a variety of roles but considers her latest stage persona one of her most challenging characters. As Anna, an upper-crust Brit by breeding and a photographer by choice, Weaver plays a reserved woman who refuses to lash out, even in emotionally volatile settings.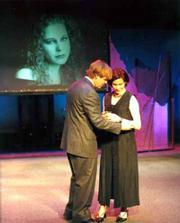 "It's difficult, because you don't see her rant and rave, and that makes it harder when others are on-stage, and you have to be still and be the center force," Weaver says. "Your natural instinct is to snap back or cry, so that's a challenge."
In "Closer," Patrick Marber's sparse, harsh look at modern relationships, everything is difficult. The playwright focuses on the extremes found at the beginning and end of relationships, when emotions are raw. The characters talk about sex and other human intimacies, but the gist of the play is that while everyone is talking about deep, emotional feelings, they also are emotionally closed off and unwilling to really reveal themselves as vulnerable to one another.
"Everything is a heightened moment at the beginning or end of a relationship. There is no domestic bliss or happy ending," Weaver adds.
The play follows the various couplings of Weaver's character, along with Daniel, his girlfriend Alice and Anna's boyfriend Larry. The other three characters are more emotionally on edge than Anna, so Weaver's role as the photographer has become a featured role in many stage versions. Natasha Richardson and Rebecca De Mornay are a few of the actresses to tackle the role. In the Kansas City version the other actors include Mark Robbins, Scott Cordes and Cinnamon Schultz.
"It's very much an ensemble. The two men seem to be obsessed with Anna, so maybe that's why she stands out, but she's just as messed up as the other three," she says.
As the play progress, both men have relationships with the women, and in the play's frankest exchange, the male actors hook up with one another via the Internet. It's a telling sexual moment revealed through the actors tapping on the computer keyboards � a fitting symbol of modern relationships and how people keep others at a distance.
What: "Closer" by Patrick MarberWhen: Through March 25Where: The Unicorn Theatre, 3828 Main St., Kansas City, Mo.Ticket information: (816) 531-7529
"This one is an edgier play. Harsh. Mean. It's about the realities of relationships," Weaver says. "What the playwright is saying is that even though these characters are saying a lot, they are not communicating. No one is understanding what the other is saying."
The play has won raves in London and Broadway productions, with critics loving Marber's use of emotionally closed-off characters to portray a basic need for emotional closeness. It's a theatrical Catch-22 that actually works well on-stage. "Closer" seems to create a buzz wherever it goes, and The Unicorn Theatre's production is playing to good reviews and audiences. But even some regular Unicorn ticket holders have been surprised by the profane verbal assaults that careen between the characters.
"Somehow all one couple managed to deduce when they asked about it at the box office was that it was a love story," Weaver says with a laugh. "It's an anti-love story."
Weaver keeps busy doing, commercials, voice-over work and stage productions. She has appeared in several TV movies and in the feature films, "Truman" "Ride With the Devil" and "Kansas City."
After the emotional roller coaster experience of "Closer," she'll do an abrupt character change and appear in the New Theatre production of "Social Security." It's definitely lighter fare, and she accepted the role without even seeing the script.
"I don't know what I'm in for," she says.
Her husband, Doug, also acts and teaches at Kansas University. Weaver has recently joined him in teaching, and is heading up a class at KU, also. Despite her busy roles as wife, mother, teacher and actress, Weaver wouldn't mind if a few more film crews were to show up in Kansas City.
"They don't come around here very often," she says. "Everyone seems to keep going on strike."