Debra Clemente's home is filled with art, and the vast majority of it is her own work. It's hard for her to part with her favorite pieces, and she resists emptying her own walls each time she has a show. It's helpful that she's prolific and tends to work quickly.
An Ottawa native, Clemente was raised in Wichita, and first came to Lawrence to attend Kansas University where she completed a degree in fine arts in 1981. Clemente, a mother of two, met her husband David during their freshman year at KU where the builder was then studying architecture.
Upon completing her degree, Clemente went to work as a graphic artist and illustrator at the Lawrence Journal-World. She went on to create ads and point-of purchase displays for Fleming Foods before they moved their headquarters out of Topeka. At that time, she took her talents to the Amundson Group advertising agency in Lenexa.
Clemente's work, whether she's using pastels, or oils applied with a brush or palette knife, is characterized by her vibrant use of color and her intense appreciation of the way light plays across varied surfaces.
If you'd like to have your gallery listed here, contact Christine McConkey at 832-7266, or email her at cmcconkey@ljworld.com.
If you would like to be profiled as a visual artist on theMagonline.com, please e-mail Michael Newman.
Clemente's last large-scale show was held last May at the Lawrence Art Center, her next is right around the corner. @5 to 30 new works will be presented at Topeka's Phoenix Gallery (http://www.phnxgallery.com) from March 30th to May 15th. There will be a reception for the artist from 5:00 PM until 9:00 PM on Friday, March 30th, and on Saturday the 31st, there will be a demonstration by the artist of palette knife technique from noon until 3:00 PM.
Clemente is currently represented by Galleries in Beaver Creek, Colorado, and Naples, Florida in addition to the Phoenix Gallery in Topeka.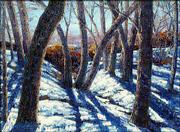 For more information about Debra Clemente and her work, visit http://www.artistdeb.com.
More like this story on Lawrence.com