Born in a shack in Butcher Hollow, Ky., Loretta Lynn grew up to become the first lady of country music during the stormy 1960s and 1970s. She takes center stage on "Live By Request" (8 p.m., A&E;). Lynn will perform old and new songs before a live audience in Nashville, Tenn. Viewers can call in their requests via a special 800 number or log on to www.livebyrequest.com.
A "Biography" profile of Loretta Lynn precedes her live performance (7 p.m., A&E;).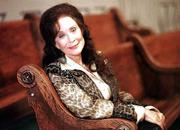 � Music of a very different quality can be heard on "The Weber Show" (7:30 p.m., NBC).
Missing in action for sweeps month, this sitcom misfire returns with a special guest appearance by Anthony Edwards ("ER") in a comic turn. He portrays Larry's (Chris Elliott) brother who holds onto his dream of fronting a successful rock band.
� Network pickups: In the same week that they canceled "Bette," CBS has announced the renewals of its Monday night comedies. "King of Queens" and "Becker" will return for the 2001-2002 season. So will the dreadful and vulgar "Yes, Dear." ABC announced that "Spin City" will return next fall for a seventh season.
Tonight's other highlights
� Coverage of the NCAA Basketball Tournament (6:30 p.m.) will rearrange the CBS primetime schedule until April 2.
� Jackie Chan stars in the 1994 martial arts drama "Rumble in the Bronx" (7 p.m., Fox).
� Impulsive romantic gestures on "The Gilmore Girls" (7 p.m., WB).
� Milla Jovovich stars in the 1999 drama "The Messenger: The Story of Joan of Arc" (7:30 p.m., HBO) directed by Luc Besson ("The Fifth Element").
� Karen stands between her handsome nephew and a smitten Grace on "Will & Grace" (8 p.m., NBC).
� A cynical programmer (Sean Young) broadcasts the capital punishment of a killer (Tim Daly) in the 1994 media satire "Witness to the Execution" (8 p.m., TNN).
� Carter resents his new limited role on a repeat of "ER" (9 p.m., NBC).
Series notes
� The first "Whose Line" is a repeat ... Fighting over a wedding gown on "Friends" (7 p.m., NBC) ... On back-to-back episodes of "Whose Line is it Anyway?" (ABC), a Klump encounter (7 p.m.) and a talking bird (7:30 p.m.) ...Wrestling on "WWF Smackdown" (7 p.m., UPN).
Regis Philbin hosts "Who Wants to be a Millionaire" (8 p.m., ABC) ... Taking on the angel of death on "Charmed" (8 p.m., WB) ... Jack frets on "Just Shoot Me" (8:30 p.m., NBC).
More like this story on Lawrence.com