Great Bend seems like an unlikely place for a black film festival. But next weekend, film buffs and scholars from across the United States will converge on the nearly all-white central Kansas community to mark the 50th anniversary of Oscar Micheaux's death.
Micheaux, although still relatively unknown today, was the first African-American to produce a feature-length film, a talking feature film and a film that opened in white theaters. He was also the first African-American to write and publish a best-selling novel.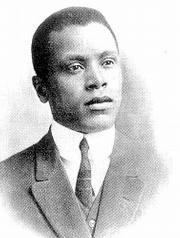 Micheaux, who died March 25, 1951, at age 67, is buried in Great Bend, where his grandmother, two aunts and two uncles homesteaded. The filmmaker called Great Bend and Harlem his adopted homes.
Marty Keenan, a Great Bend attorney who generated the idea of the film festival in memory of Micheaux, expects a moderate turnout.
"I expect 250 people to be there," said Keenan, who spearheaded a fund-raising drive in 1988 to purchase a tombstone for Micheaux's grave. "About 60 relatives of Oscar Micheaux and James McDaniel of 'NYPD Blue' will be there."
Principal funding for the celebration came in the form of a $10,000 grant from the Kansas Humanities Council. The Kansas Arts Commission and the Barton County Arts Council also have pitched in.
Keenan said Lawrence has shown the most support of any Kansas town for the film festival. Chuck Berg, Kansas University theater and film professor, and Kevin Willmott, KU assistant professor of theater and film and an independent filmmaker, are among the presenters.
Micheaux was born in 1884 near Metropolis, Ill., one of 11 children of his freed-slave parents. He worked in Chicago as a shoe-shine boy and a porter on a Pullman car before homesteading in South Dakota and becoming a farmer.
However, his real passion was writing. He formed his own publishing company and sold his books door to door. Later, he began rewriting his books into movie scripts.
The film industry was in its silent era and blacks were excluded. Micheaux, determined as ever, started his own movie company and in 1919 turned his autobiographical book, "The Homesteader," into a feature-length film of the same title.
In his lifetime, Micheaux produced, directed and wrote at least 27 silent films and 16 sound features, including "Within Our Gates," his response to D.W. Griffith's racist "Birth of a Nation."
"Oscar was controversial, and he was decades ahead of his time," Keenan said. "He would use film to examine race relations. � He shipped his films overseas because they were so controversial."
Micheaux distributed his films to about 700 segregated black theaters across the United States and a number of theaters in Europe.
Most of Micheaux's films are lost, with only 10 commercially available. Two of his films were found in Europe: "Within Our Gates" was discovered in an archive in Spain; "The Unconquered" was found in Belgium.
Micheaux is just now beginning to get the attention he deserves, according to Keenan and Willmott.
"(He) is the patron saint of black filmmakers," Willmott said, "mainly because of his ability to get his films made during the most racist part of our history."
More like this story on Lawrence.com