When Kelfel Aqui moved to Lawrence from Venezuela, he probably never imagined he'd be on-stage rocking crowds one day. The Sociology/Latin American Studies major was here to attend Kansas University but � like many � he enjoyed Larryville life and stayed upon graduation. Now 36, Aqui fronts Son Venezuela, Lawrence's premier Latin dance band.
"I often joke about this," he says during a recent interview, "but our mission is to spin the crowds we play into a communal Caribbean party."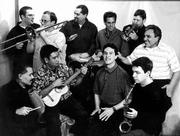 Son burns
Originally formed in 1991 as a folk act, Son Venezuela evolved into a fiery 10-piece dance orchestra in 1995. While many Lawrence groups experience ebbs and flows in popularity, the band regularly packs huge crowds into its upbeat shows. (A recent performance at Abe & Jake's Landing drew 1,300 people.) In fact, Son Venezuela has never been more popular, with gigs lined up all the way through New Year's. Part of the reason for the newfound recognition, according to Aqui, is due to the ever-changing face of local music.
"I think the music scene in Lawrence is really healthy," he says. "The support for the music here is way above the national average. But right now live music in general is not as 'in' as it was a few years ago � you know, those years when people thought Lawrence was going to become the new Seattle. That was seven years ago, and the DJ and dance scene seems to have caught on now.
"Son Venezuela is in a very good position because we're a dance band, 100 percent, so we pull a very respectable draw. We seem to be reaping the benefits of the resurgence of Latin music in the United States."
Son Venezuela's first recording was a cassette-only demo tape that turned out so well, the band was able to sell it at shows. Currently, the group is putting the finishing touches on its soon-to-be-released debut CD, "Don't Stop Now." The album, a mixture of originals and covers, was recorded during a period of months at Airborne Audio in Olathe.
"I think the public is going to be pleasantly surprised because the CD reflects what we do," Aqui says. "It's a quality repertoire, unrestricted by borders and also unpolluted by commercialism. We do what we like. We cover some songs that we love, we come up with songs that please our public. I think that's why we pack the shows: We are all mindful of the dancing public. They are the ones that command what we're gonna do next."
Son volts
What: Son VenezuelaWhen: 9 p.m. SaturdayWhere: The Bottleneck, 737 N.H.Ticket information: 842-5483
For years, the Latin music industry made piles of money by peddling gooey pop tarts like Selena and Gloria Estefan to an uninformed public, while artists like Tito Puente experienced relatively meek album sales. Today, hairstyled heartthrobs like Ricky Martin and Christina Aguilera regularly top the U.S. pop charts, spawning an enterprise that seems limitless. Though Aqui is not a huge fan of the commercial end of Latin music, he does assert that it's always had a place in the larger genre.
"The Ricky Martins and Jennifer Lopezs have been part of Latin music as far as I remember," he explains. "In the '70s, '80s and '90s there have always been people who put out product like that. The fact the United States has become one of the biggest markets for Latin music � for obvious reasons, the change in the demographics here � has made the acts slicker and just bigger."
While the newfound popularity in all things Latin hasn't hurt Son Venezuela's career, it has helped draw attention to the diversity that exists within the music. Tap into the current underground Latin music scene and you'll hear everything from hardcore to hip-hop, with acts regularly creating new and interesting forms. Be it Big Pun's "Caribbean Connection" or Soulfly's Brazilian-tinged world metal, Latin music is now embracing every imaginable style.
"You have to remember that there's a lot of things going on in the Latin world," Aqui says. "What we do is pretty representative of the Caribbean region, but there's other stuff going on in Mexico and Argentina and Columbia. In some aspects, they're all fusing together. So you cannot say that Argentina is 'Tango Land' because one of the largest imports from Argentina now is a reggae band. The stereotypes are breaking, man: The tango dancing Argentines, the mariachi Mexicans, the fluffy Ricky Ricardo outfits from Cuba � that's a thing of the past. There's heavy metal going on in Cuba and reggae going on in Argentina. So the world is getting smaller."
The world of Latin music is getting larger in Lawrence, partially due to increased exposure from Aqui. He's the founder and owner of Coco Loco Mexican Cafe, which features � what else � Latin dancing on Friday and Saturday nights. Stop by the downtown restaurant on a weekend evening and you'll usually find a line of people snaking down the block, waiting to get in and groove. Aqui has seen some changes since opening the restaurant six years ago, namely that general dancing skills have improved dramatically.
"A few years back we had Latin dance lessons," he explains. "Everybody graduated quickly. Now, if we want to teach lessons, we'd need to bring some master dancer from New York or something because there's some incredible dancing going on."