The dynamics within rock bands often are compared to that of matrimony. For Over The Rhine guitarist Linford Detweiler this notion is particularly true � he's married to the lead singer of his band.
"There's a lot of overlap," Detweiler says, calling from a Columbus, Ohio, hotel room. "We're together more than any other couple I've ever met. It's not like one of us is going off to work somewhere. If we're not writing together or touring together, we're at home trying to get the garden together or whatever. And solitude is such an important part of being creative. I think that's the biggest challenge for us � allowing space for each of us to be individuals, to be careful to allow each other the space to be human and explore the world apart from each other as well."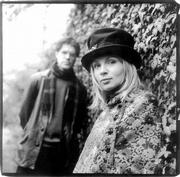 The Cincinnati-based Over The Rhine won't be confused with Fleetwood Mac anytime soon � Detweiler and OTR singer Karin Bergquist don't have the sort of tumultuous relationship that breaks bands apart.
"We were working together on music long before we were romantically connected in any way," Detweiler explains. "That working relationship was special enough that it opened our eyes to other possibilities. I think maybe once or twice in your life you'll come across somebody where, when you begin working together, something starts to happen that takes you way beyond what you could do on your own. It's a pretty rare thing. When you meet someone like that, the whole world feels a little different."
Dog days
Detweiler and Bergquist have always been the heart of OTR, picking up various members for studio and live projects as needed. OTR got its start in the Ohio music scene, debuting with the independently released "Till We Have Faces" in 1991. In 1992, the band's sophomore effort, "Patience," caught the eye of IRS Records, who quickly signed the band and re-released the album. Things seemed to be going well for OTR, until it came time to make another record.
"We got a fair bit of notice and did our first national tour as a band," Detweiler says. "When it was time to make the next record � which was back in '94 when Nirvana was exploding and everything was circling around the sun of grunge � they encouraged us: 'I'll tell you what guys, turn up the guitars and there's no looking back. We'll sell a million records.'
"We had been playing a lot of clubs so we were already experimenting with having more energy in our live show. But it was our first experience where someone came in from the outside and tried to tell us what to do. It did mess with our minds a little bit, and we tried to pick a dozen songs that would rev things up a bit. We made a pretty good record (1994's "Eve"). I think a lot of people liked it, but it felt like we began to lose our way a little bit."
Unfortunately, "Eve" didn't stand a chance � IRS Records folded soon after and OTR was sent back to square one. Rather than brooding about lost opportunities, the band went to work on a new album � the recorded-at-home "Good Dog, Bad Dog," � which was the beginning of a whole new era in the group's history.
What: Over the Rhine, Rose PolenzaniWhen: 9 p.m. todayWhere: Grand Emporium, 3832 Main St., Kansas City, Mo.Ticket information: (816) 531-1504
"It was about the most honest record we could possibly make," Detweiler says. "Those songs were really connected to our souls and it really helped refocus us. Amazing things started to happen after that record."
Rhinestone Cowboys
One of the amazing things that stemmed from "Good Dog, Bad Dog" was the record caught the attention of The Cowboy Junkies. The Junkies practically adopted OTR, taking the band on the road and into the studio, spending nearly two years as spiritual and musical mentors.
"It was a phenomenal experience for us," Detweiler recalls. "I think a lot of their fans, for whatever reason, really connected with what we're doing. I think we're two very different bands, but I know when we were starting out and people were trying to find a reference point for us, The Junkies would come up � and also The Pretenders or any number of bands fronted by women (laughs). But there was something a little deeper there as far as a connection."
Not only did OTR open hundreds of Junkies concerts, but Bergquist sang backup for the band and several studio collaborations were recorded for possible future use. According to Detweiler, OTR's time spent under The Junkies' wing was a learning experience.
"One thing I noticed about the Junkies that I can relate to � and they probably reinforced this idea � is that we do what we do and the rest of the world can catch up if and when they're ready," he says. "Regardless of what's going on in the industry, we love music. It was such an important part of our lives growing up. It's a minor miracle and a great privilege that we're able to do something like music and make a living. (The Junkies) just do it and people sort of have to come to them. It's not about trying to fit in or be something that you're not so that people will play you on the radio. It's about telling the truth as you see it and hoping that people are able to discover what you do and appreciate it. (The Junkies) have a real healthy apathy for what they do and that's something that we had to learn."
Talk radio
The success of "Good Dog, Bad Dog" and the band's newfound recognition meant that major labels were once looking to sign OTR. Though the group eventually signed with Back Porch, a subsidiary of Virgin Records, it was a decision that came about slowly.
"We were pretty wary," Detweiler remembers. "We were definitely not looking for people to come in and reinvent the band or mold us into something that was commercially viable. They've got Lenny Kravitz, The Rolling Stones and The Spice Girls � all that stuff that's incredibly calculated commercially. But the philosophy they were taking (with Back Porch) felt right for us and we didn't really rush anything."
Rather than sending the band back into the studio, Virgin opted to re-release "Good Dog, Bad Dog" and keep the band on the road. Instead of letting its creative juices evaporate, OTR recorded at various studios, collecting tracks for the just-released "Films For Radio."
"We wanted it to be different from 'Good Dog, Bad Dog,'" Detweiler says. "We didn't want to make the same record twice. We'd got such a good response to 'Good Dog, Bad Dog,' it would've been very easy to kind of gather around and do another record like that. This one, we thought, 'Let's make a juicy, messy, left-of-center, literate pop record. So that's what we tried to do. We tried to expand the palette of sounds, bring in some string players and fool around. We really tried to push the envelope a little bit."
Currently OTR is back on the road, introducing new songs to eager audiences. Touring as a five-piece band means that OTR's material gets an extra blast of energy.
"I think the songs have a bigger heartbeat live," Detweiler says. "This band can really sink their teeth into a song and make it twitch and moan. It's probably more vivid and a little bit more urgent live. Overall, there's a little bit more electricity in the air when we play them in front of an audience."