As a rock and roll kid, or even during the heyday of the Pixies, Frank Black couldn't have imagined this time coming. This is the time of life for a rock musician where there are but a few choices; cling to the past, get the hell out, or soldier on as an artist, creating new work without regret for what was.
It was the latter, the rock and roll journeyman, which performed for a sold out house at The Bottleneck on Wednesday night.
Black may never again be the big deal commercially he once was. Touring in an Econoline van, with hastily purchased gear after the band's truck was stolen in Pennsylvania on Good Friday, setting up his own equipment, even picking up the empty beer bottles after the opening band's set�this is not the lot of a rock star.
Doing what one had to do as a kid on the way up may be distasteful to some, but Black's a creative artist pushing forward. This is who he is and what he does. Touring in support of his excellent new album "Dog in the Sand," recorded with his band The Catholics," Black performed songs from all phases of his career.
The band, consisting of Scott Boutier on drums, David McCaffrey on bass, guitarist Rich Gilbert, and the newly baptized Dave Philips on guitars and keyboard is tight, fluid and muscular, shifting from punk viscera to country lilt effortlessly.
Pixie's songs like "The Holyday Song," "Nimrod's Son," and "Where Is My Mind" received predictably strong reactions. While some of the best moments came from Black's Catholics catalog. "Los Angeles," Headache," "Oddball," were standouts. Selections from "Dog in the Sand" included "I'll be Blue," "Robert Onion," and the rollicking "If It Takes All Night."
By way of dropping the veil and revealing a few influences, the band covered Tom Waits' "The Black Rider," the spiritual "John the Revelator," and closed the encores with a raucous version of Bryan Ferry's "Re-make/Re-model."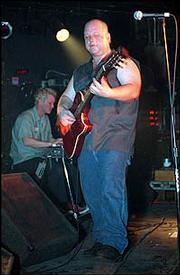 Before the pre-encore break, the oftime humorless Black and his band stood still and stared the audience down before leaving the stage.
While an excellent writer with a body of great songs to draw from, Black may not have enough material to enthrall for the nearly two and a half-hours he performed. Late in the set, before a strong finish, he seemed to be playing more for his own pleasure than that of his audience. And while it's remarkable to sell out the Bottleneck on a Wednesday night, it was mainly the hardcore fans that made the difference between a good crowd and a sell-out that were still on hand at the end. About half the crowd had drifted out by the end.