With over 20 years in professional kitchens behind him, Prairie Fire executive chef Tom King may be the elder statesman among the influx of skilled and talented chefs that have been recently attracted to Lawrence. With a minor explosion of eclectic new eateries in town, it says a lot that a chef that's opened nine new restaurants to date felt that Lawrence was a place to bring his talents.
The child of corporate expatriates; King was raised in Spain and schooled in Switzerland where he began to develop his palette at an early age. While working for Arista records between '75 and '80, his employers complained that King wasn't spending enough entertaining clients. Not one to shirk his duties, this criticism led to his frequent patronage of all the finer establishments in southern California.
Looking for a change from the excesses his career in the music business immersed him in, King followed his love of good food into the first of a series of high-end kitchens where he would hone his craft.
A trip north to Santa Cruz in the early nineties to consult on a new restaurant led to King's immediate affinity to what that area had to offer. The European feel of Santa Cruz, the proximity to wine country and the bounty of fresh seafood and produce prompted him to pull up stakes and move north two months later.
On just twenty-three hundred dollars and a lot of faith in his own skill, King struck a deal with the owner of a local breakfast joint that closed at noon each day. Every night for two years King transformed the hash house into Papa's Church, a fine dining establishment featuring seafood and Mediterranean cuisine. After sharing the space for that time, the owner retired and King took over the space completely.
Economics ultimately necessitated a change, and King looked to relocate. King chose the opportunity to help owners Steve and Sue Wilson build Prairie Fire from the ground up, over an offer to come and work in his childhood home of Madrid.
Prairie Fire bills itself as "an American Bistro." King describes Bistro cooking as "unpretentious food prepared with a little flair." King's menu is updated quarterly with a daily insert of specials; dishes based on fresh, seasonal ingredients King can rely on being able to procure for at least two weeks. In fact whenever possible, his entire menu adheres to three key values; fresh, seasonal, ands local.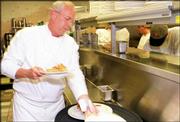 King gets as much of his fare from local growers, ranchers, and foragers as possible. A recent special was "Forager's Risotto," which incorporated locally foraged nettles and oyster mushrooms.
King places a high premium on making sure that singles and younger customers feel welcome and are treated well at Prairie Fire, observing that the college student that comes in for an inexpensive pasta dish and a glass of water today may be one of your valued regulars later on.
More like this story on Lawrence.com