When poet Carl Sandburg wrote "Prairie" in 1918, he had no idea that it would inspire an outdoor music and dance performance in south-central Kansas that would feature elaborate costumes based on John Steuart Curry sketches, music by composer Eugene Friesen and choreography by Lawrence's Candi Baker.
"Carl Sandburg's Prairie" will make its world premiere at 6 p.m. Saturday on the Bonfy Farm in the Flint Hills east of Winfield. Performers include the Paul Winter Consort, Prairie Wind Dancers of Lawrence, Winfield Regional Symphony, PrairieFest Chorus and American Indian dancers.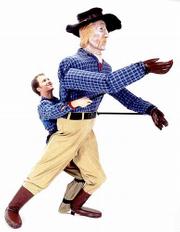 Nurturing an idea
Baker said the idea for the 1 1/2-hour performance originated during a conversation with Don Lambert, a Topeka writer who discovered and promoted Kansas artist Elizabeth "Grandma" Layton.
"I first learned of the costume sketches from Don Lambert about six years ago, and we talked about doing something with them," she said.
The sketches � many are housed at the Helen Foresman Spencer Museum of Art at Kansas University � were created by Curry in the early 1940s for a ballet based on Sandburg's "Prairie" for the Dance Players Inc. The New York-based company, led by Eugene Loring, was trying to develop a dance style and tradition that would reflect American character, history and experiences.
At first Baker and Lambert thought about doing a work using the Topeka Symphony, a Kansas City composer and the Lawrence-based Prairie Wind Dancers, which Baker directs. But the project never got off the ground. Baker, nonetheless, held on to copies of Curry's costume sketches and Sandburg's poem.
In the meantime, Baker and the Prairie Wind Dancers became involved in the annual PrairieFest arts festival in Cowley County. About three years ago, Baker mentioned the Sandburg poetry-Curry costume project to festival organizer Connie Bonfy, who said she would contact Friesen to see if he would be interested in writing the music for the work.
Friesen, a cellist with the Paul Winter Consort, had written "Grasslands," a symphonic piece for a previous PrairieFest.
"Eugene liked the idea of doing something with the poem," Baker said.
Bonfy also contacted Robert Faust, artistic director of Faustwork Mask Dance Theater in Warren, Conn., to see if he would be interested in creating the mask elements for Curry's designs.
Getting to work
Three years ago, Baker, Friesen, Bonfy, Faust and Lawrence artist Stan Herd met to talk about the possibility of the "Carl Sandburg's Prairie" project. Herd has created a labyrinth earthwork for PrairieFest.
"During that year, the costumes, dance and music were started, and they were completed this year," Baker said.
Ione Unruh, a Lawrence seamstress, was brought onboard to create the costumes, which include fair-day and storm clouds, a prairie spirit, a sunflower, a horse, a cow and a prairie family. Kansas University theater professor Del Unruh helped design the 9- and 8-foot puppets that represent the characters of Prairie Father and Prairie Mother.
Baker said the choreography is designed for 26 dancers, including the six members of the Prairie Wind Dancers and four apprentices with the company. Members are J. Damian Houston, Mary Shahrokhi, Naomi Carson, Kimber Andrews, Lori Madl and Jennifer Wilson. Apprentices are Ellie Goudie-Averill, Elizabeth McDonald, Megan Jensen and Larissa McKenna.
When Baker started developing the choreography, Friesen was not yet done with his composition.
"We got CDs of Eugene Friesen's music and created themes, which will now be used in this," she said. "There was no actual music, but we created the piece around the poetry and that other music. A year and a half ago, we got the computer version of the music and created three of the pieces.
"This year, I've met with the composer several times to see how the dance and music (integrate). We're not dancing in every section, maybe in 10 or 11 sections out of 20."
One challenge for Baker is using her choreography to link the costumes and poetry.
"The poetry is metaphorical and has lots of imagery. The costumes are representational," she said. "Rather than try to dance the images of the poem, we will present pieces of the prairie � the spirit, clouds, primrose, sunflower, grass."
Baker and the dancers will travel Monday to Winfield to sit in on a Winfield Regional Symphony rehearsal � it will be the first time for them to hear the music live � and to see the outdoor theater where they will perform. They will return there Wednesday and remain throughout the festival.
"It's been a lot of excitement," Baker said. "After it's over, we will have the rights to the music and own the costumes, so it will bring a new level of excellence to what we do. � It's made us all come up to our best efforts, and we have grown as a company."