In the 1984 flick "Gremlins," Gizmo � a furry little Mogwai � would remain cute, cuddly and faithful provided three simple rules were followed: 1) Keep him away from bright lights. 2) Keep him away from water. 3) Don't feed him after midnight.
Similarly, topping the U.S. music charts is relatively easy provided a band follows three elementary edicts: 1) Have good music. 2) Have great looks. 3) Ignore rule No. 1.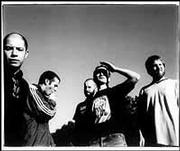 Of course, it always helps when your band has a singer, too. For Mogwai, a Scottish quintet whose mostly instrumental tunes have garnered it a worldwide reputation for explosively ambient musical statements, success doesn't come in platinum increments. It means facing the commercial Gremlins head-on and refusing to take the easy path to rock glory.
"A lot of people don't understand," says bassist Dominic Aitchison, speaking in a brogue so thick it makes the cast of "Trainspotting" sound like extras in a Merchant-Ivory film. "They always go, 'The tunes are there. Where's the lyrics?' They don't like the fact that there's no singing.
"Unless we started to sing in every song, we'll never really get big. We don't try to avoid it, but I just think that by the nature of what we're doing, we'll never be a big band. I think for someone to be really big � there's exceptions � but for the most part you need to be (attractive) in some way. We're just five ugly guys making a hideous noise onstage."
Glasgow ceiling
Formed in 1995, Mogwai spent its formative years knocking about the Glasgow music scene, eventually releasing a string of independent singles to increasing critically acclaim.
The band's early efforts were deliberately obtuse, forcing listeners to join Mogwai's musical journey or get off at the next stop. Sonically adventurous, the group refused to hire a vocalist and concentrated solely on producing shadowy landscapes that placed substance over style or pop ambitions. Though U.K. audiences were slow to catch on, Mogwai became local press darlings � no easy feat given the somewhat contemptuous nature of the London tabs.
"We've actually been pretty lucky with the British press," Aitchison remarks. "For all bands in general, the music press in Britain is quite over-the-top. Especially things like NME have an opinion, and their opinion is gospel all over the world."
What: MogwaiWhen: 9 p.m. SaturdayWhere: The Granada, 1020 Mass.Ticket information: 842-1390
Soon enough, record execs came calling, and Mogwai was issuing its first full-length, "Mogwai Young Team," for the Chemical Underground label. Though Mogwai publicly dismissed "Young Team" (the sessions were rushed and chaotic), the band found critical acclaim with 1998's "No Future" EP and was tapped to open for The Manic Street Preachers on a high-profile European tour.
In 1999, Mogwai became firmly entrenched in the international music scene, issuing its sophomore effort, the Matador Records issued "Come On Die Young," headlining major festivals across Europe and barnstorming American concert stages. The band also gained a reputation for outspoken contempt of popular European sacred cows like Oasis and Blur, who were blasted in group interviews and lampooned on Mogwai's official T-shirts.
"When Oasis came along, there was a mass of bands that tried to sing like Oasis," Aitchison says. "That's kind of died off now, and everyone's got really back into cheesy sort of pop music. So we're getting stuff like N'Sync. I never thought they'd be big in Britain, and, of course, they're huge. And the kids are really getting into stuff like Limp Bizkit and Linkin Park and all these American male bands. They're absolutely huge at the moment. So it's kind of strange."
Scotch rocks
When the members of Mogwai convened in a tiny upstate New York studio to record its third album, the group had but one simple manifesto: no leaning on glories of the past.
"We wrote a lot of songs," Aitchison explains. "We recorded 22-23 tunes for this album but there were a lot that sounded like songs off the last album. We thought it was completely pointless. They were good tunes, but we decided to leave them off. You can kind of tell if a song sucks or if a song doesn't. We recorded a lot of stuff that was terrible as well. It's pretty obvious what's rubbish and what isn't."
When the smoke cleared, Mogwai's third effort, the ironically titled "Rock Action," found the band expanding its sonic palette, painting music with broad strokes of color and slivers of shimmering light. While some critics were quick to slather all over the release, declaring it one of the most import albums of the new century, others swiftly dismissed the effort as "Hobbit-core." The truth probably lies somewhere in the middle of this critical continuum.
"Robot Chant" is slightly more than a minute of screeching industrial white noise and "Sine Wave" pulsates like a pacemaker in a jar of molasses, wallowing in the rhythms of its electronic heart. "Dial: Revenge" drips candle wax on The Beach Boys, journeying through a nether world inhabited by mystical wizards and strange pet sounds. Braithwaite even steps up to the mike for the first time in the band's history, singing in a hushed tone that recalls the atmospheric elements of "Dark Side"-era Pink Floyd, a notion that rankles Aitchison.
"I don't think it bothers the rest of them, but it really bothers me," the bassist says about the numerous comparisons to Floyd that have dogged Mogwai in the wake of "Action's" release. "I (expletive) HATE Pink Floyd! I don't know that much about them, but I just know that I don't like what I've heard. I can understand why people make the comparison, but I just don't like it � because I don't like them. It's the music. It's a lot more self-indulgent than ours is; it's a lot more technical. Our songs our usually quite simple. Pink Floyd started off fairly simple, but as they went on � especially as they started becoming huge and playing these horrible stadiums with all the lasers and stuff � it got a lot more complicated. It's prog rock, and I don't like prog rock."
Simply plaid
Mogwai's live show, which forgoes lasers beams and inflatable pigs, places an emphasis squarely on music. Instead of sweating over every recorded note, trying to reproduce its complex studio work in concert, the band takes a more organic approach to the stage.
"We change a lot of the sounds live," Aitchison says. "We don't try to recreate the sounds that are on the album. We don't like (sampling) too much because it's kind of cheating, and it's boring. We want to make it sound different from the record. There's no point in trying to make it sound exactly like the record."
Rather than turning its back catalog into a platform for extended forays of jam-band overkill, Mogwai concerts tend to be stripped down, straightforward affairs that avoid the trappings of aural excess. In fact, transience has become an in-concert rule-of-thumb of sorts.
"Some of the songs are actually a lot shorter then on the record," Aitchison remarks. "They used to be a lot longer. We've actually gotten quite good at not going on too long. We had a problem with playing songs far too long so we kind of watch ourselves now. But sometimes you can't help it and get really carried away. We're thinking it's great and loving it, and the audience is probably bored (expletive)."
The blank expression found on the faces of many audience members at Mogwai shows may not be malaise. Dynamic instrumentals, saucers full of lyrical secrets and neo-psychedelia are sure-fire ways to attract the pin-eyed masses, whose chemically fueled fantasies are brought to life at the band's performances.
"I think a lot of people who come to see us are on drugs," Aitchison admits. "You can tell by the dancing. The Woodstock, happy dance � flailing the arms above the head � is a really good indication that they're on drugs."
Is Mogwai really a jam-band in disguise? Could these alt-rockers be Britain's answer to Phish and Widespread Panic?
"I've never heard of any of these bands," Aitchison declares. "Are they any good?"
They are if you like The Grateful Dead.
"We don't have hundreds of fans following us to every gig we play wearing tie-dye T-shirts," he sniffs.
Don't get him wrong, though. Aitchison and company love touring the States, a fact that never fails to puzzle and bemuse the bassist.
"Coming from Europe, America's got this image of being quite aggressive and quite intense," he explains. "I'm always surprised at how laid back everyone seems to be. Things move a lot slower here than they do back in Britain, except in New York. I always get very fat when I come here as well. The food here is great, but it's so unhealthy. The huge portions of food you get is just unbelievable. If I lived here I'd definitely be one of these huge guys roaming about. It's great because it makes me feel skinny, and I'm not a skinny guy."
More like this story on Lawrence.com