Thursday, November 1, 2001
Will Smith, the popular star of such flicks as "Independence Day" and "Men in Black," once approached Harrisonville, Mo., actor Wil Robinson and offered him an apology. It turns out that Smith had seen Robinson's Web site, and knew of his reputation as an actor devoted to real-life experiences of African-Americans in the Old West, and Smith felt a bit sheepish over his latest effort, "Wild Wild West," a movie featuring Smith as a secret agent cowboy. His character's believability was so negligible that he might as well have been from the moon.
The experience illustrates the need for actor-historians like Robinson, and the esteem that they are accorded by superstars like Smith.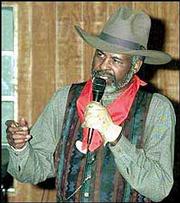 "He said to me, 'Man, you're one bad man. "Wild Wild West" was just fiction. It was just work,'" Robinson recalls. "And then he apologized. But that's the way they do it now. Hollywood feels that as long as we're there, that's not too bad. But the portrayals are not true. It's junk, garbage."
Robinson fell in love with tales of the Old West as a young boy. Even after years spent on the rodeo circuit and as a Marine combat photographer, he continued studying the era, reading not only the history books but also looking to fill missing spaces where the black experience should be. Eventually, he took his work into performance venues, starring in a one-man show called "Cowboys of Color Ride Again."
"I just stepped out from behind my camera and in front of the audience," he says.
In "Cowboys" Robinson plays approximately 10 true-life Western figures who have been mostly overlooked by historians. Included are men like Bill Pickett, Matt "Deadwood Dick" Love and a wrangler known as Isom Dart, who was shot in the back by notorious bounty hunter Tom Horn.
What: "Cowboys of Color Ride Again," featuring Wil RobinsonWhen: 10 a.m. and noon, Monday through Nov. 9.Where: The Coterie Theatre, 2450 Grand Ave., Suite 144, Kansas City, Mo.Ticket information: (816) 474-6552
"I started out doing performances during black history month in schools," Robinson recalls. "I was so tired of not seeing what I was looking for. I wanted true characters, not fictional. Guys like Gene Autry, Roy Rogers, the Lone Ranger, the Laredo Kid, that I grew up seeing in TV and movies, were people I could never relate to as a black child. Slavery didn't last forever, so what part did we play? There had to be more. Not taking anything away from the Buffalo Solders, but there had to be other individual characters during that time."
Robinson's studies have resulted in some truly treasured experiences. For example, while researching segregated theaters, Robinson discovered the actor Herb Jeffries, who was the first (and only) serial black cowboy hero. Jeffries made four pictures, three as the Bronze Buckaroo (obviously before the days of political correctness), including "Harlem on the Range."
After an armed forces stint in World War II, Jeffries wound up playing with legendary jazz greats like Duke Ellington. At age 90, Jeffries is still performing. He's recorded Western and jazz albums, and often collaborates with new stars like John Michael Montgomery. Robinson performed with Jeffries last year at the Gene Autry Theatre and Museum.
"It's information like that, about men like this, that I want to get out," Robinson says.
The actor agrees that revised textbooks are doing better at including African-American experiences, but they are only beneficial if the instructor uses that information. As for the media, Robinson sees little progress made in race portrayals, so he views his one-man show as a way to get a message out � to educate and entertain simultaneously.
"It's about bringing all these things together," he says. "The show is for kids and adults. Hopefully it will change their vernacular, and leave an image in their minds to talk about. At least it's a start."
More like this story on Lawrence.com