Thursday, November 1, 2001
Boston's Helicopter Helicopter finds itself in the same situation as many other indie bands, being able to pack local clubs on a regional basis but utterly anonymous when removed from its home base. There's really only one cure for that condition, and it usually involves multiple trips in a weathered Winnebago or a trusty Econoline Van.
"We've done enough touring that there's a number of places we go to now where we draw decent crowds," says Helicopter Helicopter singer/guitarist Chris Zerby, while riding in his band's vehicle down Massachusetts Ave. in Cambridge, Mass. "But definitely when we go far out � when we're out in the Midwest � it's hit or miss. We're used to that, though. Even when you play in front of five people, something good comes out of it. It almost always leads to a better show or somebody will buy something."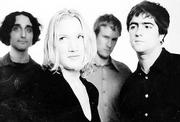 Currently, the raw pop band is preparing to leave the friendly but competitive confines of Boston for a "quick, two-week Midwestern thing." If all goes as planned, Helicopter Helicopter will be cruising down another Mass St. � in Lawrence this time � for a date at The Replay Lounge before heading to Kansas City the following night. For an act like H2, which doesn't have the backing of a major label or the tour support that accompanies it, there are countless methods the band has adopted to help put bodies in seats.
"When we first started out, what Julie (Chadwick, co-lead singer/guitarist) and I would do is we'd drive to New Hampshire, for example, the week before the show, and we'd make up cassettes with three songs on them to hand out," he remembers. "We'd leave a box at the club we were playing or at the local record stores. They'd cost us about a buck apiece. We probably gave out 500 tapes. What I found is a lot of those people got the tapes, and they'd end up buying CDs and coming to our shows. It was a great way to invest your money, by giving your music away."
Zerby and bandmates have also exploited a few less traditional methods for alleviating costs on the road. One involves Eye Q Optical, "a cool eyeglass place in Cambridge that is really supportive of local music." The business held a contest inviting bands to submit their CDs. A random fan had left H2's previous disc at the store, and the group was selected to be the official spokesband for the retailer.
"They set us all up with free glasses and a bunch of contacts," Zerby says, speculating the cost of the products was well over $1,000. "As a struggling indie band, we take whatever we can get. Since all of us wear glasses, we were really psyched. I know in my case, my glasses were five years old, and I couldn't even see out of them anymore. It's nice to have a new pair."
What: Helicopter HelicopterWhen: 9 p.m. todayWhere: The Replay Lounge, 946 Mass.Ticket information: 749-7676What: Helicopter Helicopter, Manplanet, Transforming ApolloWhen: 10 p.m. FridayWhere: The Hurricane, 4048 Broadway, Kansas City, Mo.Ticket information: (816) 753-0884
Distinct voices
Zerby and Chadwick were dealing with a somewhat different vision when they formed Helicopter Helicopter in 1998. An instant favorite among Boston audiences, the quartet caught the attention of Massachusetts-based label Lunch Records, which rapidly released the band's debut "Squids and Other Fishes." A sophomore effort, "Analog and Electrical Fields," followed a year later � as did the inevitable lineup changes in the group's rhythm section.
"We've definitely had our disagreements, but this band is pretty solid," Zerby says. "Our drummer Ned (Gallacher) has been with us for over three years now. Our bass player now (Shawn Setaro) is actually our third bass player. We've had a different one on each record ... You tend to burn them out because we do tour quite a bit. Our first bass player went off to study mosquitoes in the swamps of Cape Cod. And our second went to Mexico. His goal was to get to the equator, but I don't think he made it."
Now touring on the strength of the potent new record "By Starlight," which stresses tight pop melodies and underground sensibilities, the band is finally making some inroads onto the national scene. College radio has started to embrace the album, and already the press � for better or worse � has begun trying to nail down exactly what (and whom) the group sounds like.
"Several people in the past have compared us to Hole because we happen to have a blonde female singing," says Zerby. "Our music certainly doesn't sound anything like Hole. I don't know if it has to do with Julie's last band American Measles, which was much more of a punk band. It's something we run into all the time when being described. People latch onto the fact that we have a female singing, and they just grab comparisons to whoever happens to be most visible at the time."
He adds, "But they don't really compare me to anybody."
Lately, Zerby and Chadwick have taken some professional steps to try to separate themselves from the throng of other indie rock entertainers. They've each enrolled in voice lessons.
"It's something that Julie and I have been doing for a little over a year now," Zerby reveals. "It's no big deal � it's just a way to improve things. We're doing a lot more harmony now � not complicated stuff, but for us it's more complicated. I think the vocal lessons are just a way to sing in a structured environment. And it really helps. Especially when we're in the studio, you can really apply the techniques. Whereas if you're playing in a rock club and you've had six beers, it's a little bit more difficult to apply."
Zerby confirms that both of their instructors have been out to see Helicopter Helicopter play gigs in Boston and New York.
"I THINK that they were pleased," he hedges. "My voice teacher is a Berklee-educated jazz singer, but she likes our music."
Chalk up one more fan.
More like this story on Lawrence.com