"Funny Girl," one of the stage and movie musicals that made Barbra Streisand famous, is coming to the Lied Center. The show will be performed at 7:30 p.m. Tuesday.
The musical is about Fanny Brice, a gawky girl whose love for the stage drives her on until she becomes Ziegfeld's brightest star.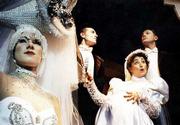 The production, told mostly in flashback, re-creates all the splendor of the Ziegfeld Follies of the 1920s and reveals the private life of its greatest singing comedienne.
Brice, who was born in New York in 1891, made her first stage appearance in "A Royal Slave" in 1910 in Brooklyn. That year she entered vaudeville and had her first role in a Ziegfeld show.
Brice married gambler Nicky Arnstein and later divorced him. She later married and divorced producer Billy Rose.
She arrived in Hollywood in the 1930s and made several films, including a role as herself in "The Great Ziegfeld."
"Funny Girl" travels with a seven-piece band. The show runs nearly three hours.
Tickets cost from $17 to $40. Tickets are available at the Lied Center Box Office, 864-ARTS; Murphy Hall Box Office, 864-3982; Student Union Activities Box Office, 864-3477; Ticketmaster outlets, (785) 234-4545 and (816) 931-3330; and online at TICKETS.COM.