Thursday, November 8, 2001
Kristie Stremel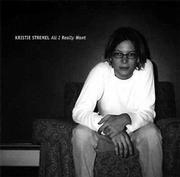 "All I Really Want"
While most performers are adding urban grooves to their repertoires, Kristie Stremel is leaving the city for gravel roads. On her first release since joining Midwest indie Slewfoot Records, the singer-guitarist abandons much of the alt-rock angst that she previously honed in the Kansas City bands Exit 159 and Frogpond, replacing it with a more "rural" approach. The result is an album that feels curiously dated, with Stremel treading through the same lukewarm water that Melissa Etheridge did a decade earlier. Undeniably, Stremel possesses a distinctive voice, both smoky and forceful, and seemingly swathed in perpetual earnestness. She delivers the tunes as if singing with her dying breath  which would be a real benefit if her material warranted such conviction. Unfortunately, the 12 tracks on "All I Really Want" are an uneven assortment of mid-tempo roots riffs and heartbreak ballads. Songs such as the passionate "Miracle" and the acoustic-led "San Luis Obispo" hint at the artist's potential. Others such as "Good to You" and "More Than a Little Bit" come across as bar band fodder, minus the energy that would make the songs palatable live. Aside from the painfully bland rhythm section which sounds like the musicians spent about five minutes learning the parts before putting them on tape, the one truly distracting element of "All I Really Want" are the lyrics (which the singer co-wrote with guitarist Chris Meck). On the brisk title track, Stremel pleads, "And I've been working/On the weekends/For a little bit of money/A little bit of time with you ... Won't you say you love me too/Won't you make my dreams come true." These type of pedestrian lines might have worked for Loverboy in 1981, but gritty singer-songwriters are expected to take a little more time while crafting wordplay. Springfield, Mo.-based producer Lou Whitney (who also doubles as bassist) has established a reputation working with roots/alt-country artists such as Wilco and Blue Mountain. Here, his rustic method does more harm than good. Stremel is much more effective as a stern rocker, where her lyrics are obscured behind walls of distorted guitars. Whitney records the flimsy material as if the songs actually mean something. The whole situation would be less frustrating if Stremel hadn't shown clear indications during the past half decade of being so much better than this. The local acts that she's floated in and out of have benefited from her magnetic live presence and reliable guitar skills. Some musicians function better in a band setting than as a solo artist, and with "All I Really Want," Stremel proves herself one of them.
Steve Unruh
"Two Little Awakenings"
Beginning an album with a 17-minute opus is a sure way to alienate just about any listener, and "Two Little Awakenings," the third solo effort by Lawrence musician Steve Unruh, kicks off with this artistic wedge. It's hard to point to a recent project that is so utterly self-engrossed, but it's also safe to conclude that Unruh spent more time crafting his double disc than most other local acts. "Two Little Awakenings" is a vividly complex production that took three years to record and perform. The musically ambidextrous Unruh handles all the instruments, capably shifting from guitar to drums to violin to flute. In fact, on "Improvisation in Red," Unruh logs the percussion-heavy piece live in the studio with no overdubs. (The liner notes even include a stage diagram to explain how he accomplishes it.) Unruh manages to create many compelling riffs, and that's especially apparent on Disc One's highlight, "Rainsong." The stellar tracking of mournful violin and classical guitar grants the tune an emotional soundtrack-like feel. Without question, the vocals are the weakest part of Unruh's all-inclusive arsenal. From the conceptual (spoken-word poetry over music) to the actual execution (many of the finished leads sound like scratch tracks), Unruh's delicate singing chops are a work in progress. The new age/"Stonehenge"-style lyrics don't help the cause, either. Topically, it's seldom a good idea to concoct a phrase like, "a colorful freedom upon sparrows' wings." The acoustic guitar and occasional mandolin throughout Disc One give a nice grounded feel to the spacier extremes of Unruh's music. Yet, at times, it also makes "Two Little Awakenings" perfectly suited for what you'd hear wafting from a van's stereo in the parking lot at the Renaissance Festival. On Disc Two, "Unromeo Mood" features a killer acoustic groove and chord progression, but functions much better as instrumental backing than a true song. Once again, the singing tends to cheese things out. The whole project ends on "Duet with the Wind," an eight-minute flute solo  hardly the quintessential showstopper. There's no denying that Unruh is subsisting in a niche virtually unoccupied by other Lawrence artists. And he displays musical (and production) skills that are well above the norm. But the self-contained environment Unruh operates in also magnifies his need for a more focused attack. Allowing for a few vocal and lyrical revisions, there is a fine single disc worth of material lurking in this two-hour behemoth.