Thursday, November 22, 2001
You won't find a bigger Slayer fan than Henry Rollins. On-stage in Kansas City last Saturday for a stop on his most recent spoken-word tour, the former Black Flag frontman expounded at length about the benefits of having Slayer's new CD "permanently implanted" in his car stereo � good for waking people up when red lights turn green, apparently.
Hank's not the only musician who tips his hat to hell's house band. The legendary speed metal unit has influenced just about everyone who's cranked up a Marshall stack or stomped on a Tube Screamer in the past 20 years.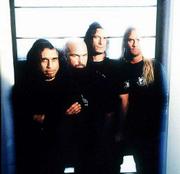 Of course, the quartet's blood-soaked, Satanic wall-of-noise is not for everyone, including the parents of Elyse Pahler, whose wrongful-death lawsuit against Slayer has been dragged out for more than six years. Pahler was stabbed repeatedly and choked to death with a belt, her corpse raped by three teen-age males, who claimed that Slayer's music inspired their necrophilic deeds. (One admitted that he thought the publicity would also bring success to his own death-metal outfit, Hatred.)
Though all three were convicted and given lengthy prison sentences, the Pahlers took Slayer to court, alleging that their daughter's death would've been avoided had the perpetrators not had access to the group's material. A judge in San Luis Obispo, Calif., recently threw out the age-old case, only to have it appealed a second time by the Pahlers' attorneys. No one is more chagrined by the situation than Slayer guitarist Kerry King, who says that the related legal costs have all but drained his band.
"Oh, dude I don't know," he says, refusing to speculate a dollar amount. "Enough to where I gotta watch my bills now. I think it's unfortunate that you can take somebody to court, and when you lose, you don't have to pay their attorney costs back. All you need is an attorney who wants to make a name for himself or somebody that offers their services. We have to pay for ours; it sucks being poor."
It's been that kind of year for King and company, whose latest carnage-filled effort, "God Hates Us All," was released � when else? � Sept. 11. With dainty ditties like "War Zone," "Payback" and "God Sends Death," one might think Slayer had psychics working in the studio.
What: Slayer, Chimaira, American Head ChargeWhen: 8 p.m. TuesdayWhere: Uptown Theatre, 3700 Broadway, Kansas City, Mo.Ticket information: (816) 753-8665
"Coincidence," grunts King, whose speaking voice is eerily similar to the way he plays guitar: concise, rhythmic bursts with nary a wasted phrase. "It's ironic. The odd thing is, we were in Europe doing press months before that, and they say, 'God hates us all, why do you say this?' And I'm like, 'You know what? It can mean anything to anybody.' It could mean my mom died today and I'm not feeling as good as I usually do, God really (expletive) hates me today. Or you can put it globally and say nobody in them trade centers wanted to go down that way. God hated them that day. It can mean anything to anybody ... When you get right down to it, it's music. Anybody in the band or management or most people in the press know it's just entertainment. There's no message here; I'm not a prophet, I'm not a politician � I do this for fun. When I grew up, music was fun."
Faces of death
Slayer (King, guitarist Jeff Hanneman, bassist vocalist Tom Araya and drummer Dave Lombardo) was raised on the '80s California metal scene, playing harder, faster and with greater intensity than peer acts like Metallica and Megadeth. While those bands went on to trade most of their underground credibility for platinum discs, Slayer refused to sell-out or compromise for commercial purposes. The quartet's 1983 Metal Blade Records debut, "Show No Mercy," contained nearly every element found in the group's more recent output: Whiplash tempos, glass-shattering vocals and grim-faced guitars so thick a chainsaw couldn't slice through 'em. Thus, rather than "evolving" into lighter-lofting balladry or Trent Reznor-inspired electronica, Slayer has remained stoically, determinantly true to its game.
"That might sound stupid, but we're still doing what we did in the beginning," King remarks. "Ideally, we've become better, and become better songwriters. We branch out very slightly; every time we ever try anything new it's very slight."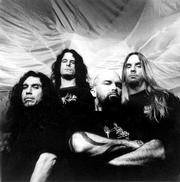 There is one rather well-known exception to King's theory of non-entropy, namely his own appearance on the Beastie Boys' 1986 opus, "Licensed to Ill," which featured the guitarist flailing away on the beat-heavy "No Sleep 'Til Brooklyn." Given the recent popularity of rock-rap, one would think King would be proud to have helped father the genre.
"It was all right," he says of the collaboration. "For all it's worth, it's a mockery of hair bands, I guess. The funny thing was, we were in the studio doing 'Reign in Blood' and the Beasties were doing 'Licensed to Ill�' and we were just down the hall from each other � they were both Rick Rubin's projects. He was like, 'You wanna come do a lead over here?' I'm like, 'Whatever.' I was shocked anybody wanted me to be on their record back then. That was it; I went in there and did it and didn't think much about it."
In addition to increasing its profile via the Beasties, Slayer returned from the studio with "Reign in Blood," the band's undisputed masterpiece. A witches brew whose bubbling cauldron contained ingredients with such names as "Alter of Sacrifice," "Raining Blood" and "Postmortem," the album was more like the soundtrack to a serial killing, particularly compared with the decidedly unfrightening mainstream metal of that era. Spandex demons like M�tley Cr�e, W.A.S.P. and Queensryche didn't stand a chance against the pummeling thrash Slayer was whipping up. While most of the hair-farmers disappeared years ago, songs from "Reign in Blood" still start mosh pits in every corner of the world.
"When we go into the song 'Reign in Blood,' it's electric, the crowd just ignites," King says. "You put that strategically in the set somewhere and it don't matter what you play before. We can go out there and play Manilow and come back and play 'Reign in Blood' and the place'd go 'Yeah!'"
"Reign's" popularity was so penetrating that it remains the album to which all other Slayer efforts are compared. Not by the band, of course, but by fans and critics who wonder if the quartet will ever live up to "Reign's" promise.
"It depends on what kind of perspective you put that in," King says. "People have that record on such a high pedestal, they won't be happy unless you did the same record again with different songs. 'God Hates Us All' is probably as close as we've gotten to that intensity-wise. But I have no intention of writing another 'Reign in Blood.' We, as a band, just move on and make up the best songs we have at that period."
Though "Reign" marked a new era in Slayer's popularity, it also sold enough copies to garner the band its first high-profile detractors. Some critics ranted about the quartet's ferocious attack and unflinching lyrical imagery, decrying the group's use of horror-film and historical concepts. In particular, "Angel of Death" � a song that impassionately described the bloodcurdling medical experiments of Nazi surgeon Joseph Mengele � provided ample fodder for those who found Slayer's output anti-Semitic.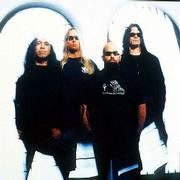 "That's ridiculous," King huffs. "I'll tell ya what, a lot of people have too much time on their hands. People like that come up with things like, 'Oh they must be thinking this, or this is what this line here says.' And it's so far from the truth. It's like they want to make up their own thing and believe that, rather than asking what it actually is ... People think we're Nazi, Satanist guys. I read in some magazine from Bulgaria, some little bio on me and it said I belong to the Church of Satan. I can see where people can get confused, but it's not the truth."
Part of this confusion undoubtedly stemmed from the band itself. During this period, Slayer's fan club � Slaytanic Wehrmacht � took its name from the World War II Nazi army, and guitarist Jeff Hanneman shocked many a parent by affixing concentration-camp victim photos to his guitar and sporting a heavy iron cross on stage.
"Jeff's just big-time into World War II," King replies diplomatically.
Slayer's record company wasn't. Columbia Records, which distributed Metal Blade, refused to handle "Reign in Blood," and the band moved to the Rubin-owned American Records.
Song of the south
Fans were divided over "Reign's" follow-up, "South of Heaven," which found Rubin pouring molasses on the Slayer formula, slowing tempos to the point where the band was practically playing backwards. Lyrically, the quartet continued to choose topics that would alienate listeners from virtually every political background, including "Silent Scream," perhaps thrash's first anti-abortion number. While some pundits still consider "Heaven" a landmark effort, others thumbed their noses at the record's atmospheric sludge.
It wasn't until the mid-'90s that Slayer finally began to reap the rewards of its early struggles. Only the heaviest of metal bands survived the impact of grunge, with Slayer thriving as DIY ethics, low-fi production and high-wattage amps became all-but-essential. Unfortunately, original drummer Dave Lombardo started to flake-out, according to the group, who soon replaced him with former Forbidden skinbasher Paul Bostaph.
"For me there was a performance issue," King says of Lombardo. "He'd always have his wife on tour, and if she was in his head, he'd have a (expletive) gig. When you're playing at this level, there ain't no (expletive) room for that."
For King and company, playing at this level included stints on the inaugural OzzFest as well as a headlining slot on the first Tattoo the Earth tour last year. Though these high-profile gigs gave Slayer the opportunity to check out the young flock of nu metal mooks, few left an impression on the veteran thrash outfit.
"It's definitely not my cup of tea," King grouses. "I'm definitely not a big Limp Bizkit fan. I'm sure those guys are talented, but I haven't figured it out. P.O.D. � aren't they the holy-roller band? I think Stryper tried that already. For a while it was grunge, and now it's these guys with their feeling-sorry-for-themself music. Come on, man! That music just makes me sick. 'Oh woe is me today. I just want a friend.' (Expletive) go get a friend, you putz!"
Slayer's numerous friends, those rabid fans that still pack the band's performances, are what keeps the band going. Being on-stage is the best part of the job, according to King, who is quick to affirm that Slayer won't give up (or change its sound) until the tickets stop selling.
"Our fans always come back to the shows," he says. "They pay to see us and they expect to get their faces ripped off, and that's what we come to do. To not do it is not acceptable. I'm proud to be in Slayer, I'm proud of what we've done. I know that we have big shoes to fill every time we step on stage, and I want to keep that mystique. I want to keep that living-legend thing going."