Thursday, November 29, 2001
Before he died in 1966, former Kansas Citian Walter Elias Disney left an astonishingly prolific and diverse legacy. In addition to his obvious achievements as a cartoon mogul, he was a talented educator, World War II propagandist and an important pioneer for films, television, marketing and amusement parks. With Mickey Mouse, Snow White and the Seven Dwarfs and dozens of other Disney-supervised creations as part of the international vernacular, it's sometimes difficult to believe that, as of Dec. 5, he was born a mere 100 years ago.
The company that bears his name has not let the occasion pass by unnoticed. Some of Uncle Walt's finest offerings have recently made lavish DVD debuts. His first feature, 1937's "Snow White and the Seven Dwarfs," comes with copious extras including an audio commentary track of Disney himself pieced together from 30 years of archival recordings. (It's worth a listen to hear him recall disparaging "Snow White" because many of his later masterpieces were unfairly compared to it.)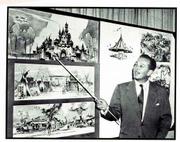 "Dumbo," which celebrates its 60th anniversary this year, gets a similar deluxe digital treatment (it comes with a replica of the train in the film). In addition, on Dec. 4, a new documentary "Walt: The Man Behind the Myth" hits stores, and "Walt Disney Treasures," a collection of four limited edition two-disc sets of DVDs, capture volumes of Walt's cartoons and live action efforts. These include "Mickey Mouse in Living Color," the TV programs "Disneyland USA" and "Davy Crockett" and a collection of the ground-breaking "Silly Symphonies." All of these are hosted by "Entertainment Tonight" correspondent and Disney expert Leonard Maltin.
Myth-breaking
The documentary itself is a bit superficial because Disney's accomplishments and personality are far too complicated for the 86 minute film. Director Jean-Pierre Isbouts doesn't get all that close to the subject, and because Disney's relatives initiated the project, the Walt that emerges from the documentary seems a bit sanitized.
That said, Disney's surviving relatives such as Diane Disney Miller, his daughter, and nephew Roy E. Disney, the current vice chairman of Walt Disney Studios, do offer fresh insights. There are also previously unseen home movies of Walt and family that offer an intimacy that could not be achieved if his relatives had declined to cooperate. Isbouts also performs a valuable service by refuting rumors about Disney's alleged anti-Semitism and the myth that he has been cryogenically frozen (Uncle Walt was cremated).
In addition, the documentary is worth a look because it includes some of Disney's first animated cartoons. Born in Chicago, the artist spent his teen years in Kansas City (after growing up in Marceline, Mo.), and after returning from a stint as a Red Cross ambulance driver, he landed a job at the Kansas City Film Ad Company. During this period, he moonlighted by making animated cartoons for a Kansas City theater chain owned by Frank L. Newman. The only surviving Newman Laugh-O-gram features a 19-year-old Disney at his desk in his uncle's garage. From there a lightning-fast hand then sketches drawings that come to life. These pictures poke fun at a Kansas City police corruption scandal and advertise a local shop's stockings. This is the only flick Disney animated himself. Gradually, he moved away from the actual drawing and concentrated more on management and in developing the stories.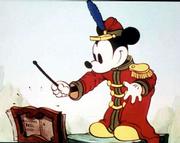 "Walt" also features some of the cartoons he made after he quit his day job, moved to 1127 E. 31st St. (where an effort is now under way to restore the building to its 1922 conditions) and came up with several ideas that later turned into Disney studio mainstays. When Laugh-O-grams became his own venture, he made "Puss in Boots" (1922, which is excerpted in "Walt"). This short was one of the first in a long line of Disney's reworking of fairy tales. He even branched out into early sing-along films ("Martha," 1923) and an education film about dental hygiene ("Tommy Tucker's Tooth," 1922).
These sort of films would later make Disney some serious cash, but as "Walt" illustrates, he and his equally young partners were at the mercy of unreliable distributors who failed to pay what they promised. This betrayal left Disney with enormous debts and unseen movies.
Disney tried his luck again in California. Teaming up with his more financially astute brother Roy O. Disney, he was able to regroup and eventually hire many of his old Kansas City collaborators. Fortunately, his last Kansas City-made cartoon helped make all of his subsequent work possible. "Walt" features clips from "Alice's Wonderland," Disney's unique twist on the Max Fleischer's "Out of the Inkwell" series. In Fleischer's cartoons, cartoon clown Ko-Ko frolics in the real world. In Disney's movies, a real girl (Virginia Davis, Dawn O'Day, Margie Gay or Lois Hardwick) interacts with a cartoon universe. This series, which lasted from 1923 to 1926, was a precursor to the kind of live action and animation synthesis that the studio would showcase decades later in "Song of the South" and "Mary Poppins."
These also featured the work of many other former Cowtown residents who became industry specialists, like animator and later Disney special effects wizard Ub Iwerks, best known for designing Mickey Mouse, and Hugh Harman and Rudolf Ising, who helped found Warner Bros. animation. Disney also hired a Kansas City artist named Friz Freleng, who later directed most of the Tweety and Sylvester cartoons and brought the Pink Panther to life.
Home sweet home
As the documentaries and the DVDs demonstrate, Disney accomplished a lot despite his initial commercial failure in the Midwest. If distributors had been fair with him, Kansas City might have maintained its status as a haven for animation, the way that Bristol, England (home to Aardman Animations and Bolex Brothers) is now.
Until Disney and others moved to California, New York was the cartoon capital. While the Sunshine State's perennial warmth enabled all-year shooting and eventual domination of live action filmmaking, this was not exactly a crucial factor in the making of cartoons. While fate has dealt Kansas City animation a crippling blow, Midwesterners can take heart in the fact that their region left an indelible influence on Disney and many of the other brightest minds in animation.