Thursday, November 29, 2001
All-girl bands have been around since the glory days of the 1920s, when bathtub gin flowed freely in illegal speakeasies. It was an unholy alliance: Powerful men got booze and great jazz, while also being able to gaze at pretty women onstage. And the female musicians got one more chance to play the music they loved, even if they were looked down upon for performing what was considered traditional, masculine music.
When World War II broke out, the big bands were depleted of male players, giving hundreds of on-the-fringe female bands a chance to move front and center into the big canteens and ballrooms that had formerly been off-limits to them. Amazingly, when the war ended, so did the heyday of all-girl swing bands. And in time they were forgotten in the national consciousness.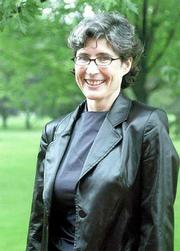 Even a jazz lover like Sherrie Tucker had little knowledge of them from the jazz histories she had read.
"What's amazing is that no one has an idea they existed," Tucker says. "Not only that, but they were not even missed. I did not miss them in my collection or on my playlist."
Now an assistant professor of American Studies at Kansas University, Tucker claims her entire academic career has been forged by chasing the threads of information she could find on the missing bands. Like a morning fog, the ensembles seemed almost ethereal in their existence.
Tucker was a jazz DJ taking a women's studies class when she decided to research female roles in jazz. She knew of the prominent singers and pianists, but as the years of research went by, her documentation grew to include bands like the International Sweethearts of Rhythm, Phil Spitalny's Hours of Charm, The Darlings of Rhythm and The Sharon Rogers All-Girl Band � women who played jazz and swing tunes on the drums, bass, trumpet and saxophone as well as any male player.
"The fact that I didn't know they existed meant I had to do something about women in jazz," she says. "The project took 10 years of my life, put me through grad school and gave me a new career."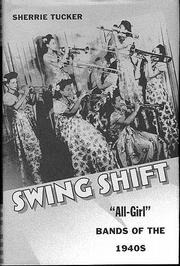 It also turned into a book, "Swing Shift: All Girl Bands of the 1940s," which is winning rave reviews from music critics at publications such as The Boston Globe and The Los Angeles Times. Jazz historians also are jumping on the bandwagon, singing praises about Tucker's research.
W. Royal Stokes, writing in Jazz Notes, claims, "this may be the most significant contribution to our understanding of jazz history to see print for some time ... this book is an experience that no observer of the jazz scene should be without."
Tucker never expected such feedback for her labor of love.
"The response has been super. It's an extremely marginal topic, so this was not expected," she says.
Sound barriers
But no one can argue that it wasn't long past due. Jazz lovers, like baseball fans, go nuts over the infinitesimal minutia surrounding the evolution of their favorite music, but somehow they managed to miss the whole women's performance issue for decades until Tucker came along and ripped the blinders off.
What makes the book a must read is that it satisfies readers on so many different levels. Jazz enthusiasts will love the timeline gaps Tucker fills in, along with providing a treasure trove of background research on the all-girl bands she profiled. Anyone into history and social movements will enjoy the interviews she conducted with more than 100 former band members, and the tales they have to tell.
And anyone into a rollicking good time will enjoy the melodramatic experiences the women recount for "Swing Shift."
In order to play their music, the bands had to overcome rations on gasoline and rubber, which limited how quickly they could travel from one juke-joint to the next. But on top of that were the sexual, gender and racial tensions that they frequently endured. At times, female bands made for loose talk around the bar.
"An all-woman band seems titillating � a novelty that seemed barely respectable," Tucker says. "They were women, but they sounded like men."
The players also endured the derisive opinion that they were second-rate in the work force, compared to all the "Rosie the Riveter" housewives working in the factories. The biggest danger that they encountered, though, came from crossing racial barriers. Many white women chose to travel in all-black, all-women bands, disguising themselves and passing themselves off as black. It was worth the risk for them to get to perform the more creative jazz pieces the African-American bands rendered each night.
"They got to move into the ballrooms and play the big band swing with mixed-in improvisational solos," Tucker says. "But they had all kinds of problems, along with the increased opportunities. In the Jim Crow South, the police would follow the bands around, knowing there was color-barrier crossing going on. There was continual harassment. It's quite interesting how extremely dangerous it was for them to invite that sort of harassment."
Off the record
After the war, more women had to remain at work, including female musicians, but the all-girl bands found themselves once again marginalized at the edge of the jazz clubs, before disappearing from the cultural scene.
"That's not really unique to jazz. How women do and don't exist in the historical memories varies," Tucker says.
Although Tucker's book can fill in gaps of history found on the printed page, sadly, it can't do the same for historical recordings. While Tucker has doggedly collected the recordings of every female jazz band she can find, there were very few bands that ever got the chance to put out their music.
"I look at my jazz collection differently. It's less complete, because I know of all the music that was not recorded," Tucker says. "Jazz historians are going to have to rechannel their thinking. We have to have something more critical to work with; we just can't accept only the catalogs of record companies as the complete story."
More like this story on Lawrence.com