Thursday, November 29, 2001
No one ever said being a superstar was easy. Though Tech N9ne may not be widely known in national rap circles, back home in Kansas City, Mo., he's as big as it gets, mobbed by fans, exalted in the press and awarded every possible accolade � and critical barb.
That kind of attention comes with pressure, something Tech knows all about.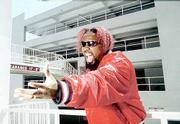 "At home everybody thinks they know you real well, so everybody wants special treatment," he says. "Imagine 1,500 people wanting special treatment from you. So when you're talking to one and (someone else is pulling on your sleeve, saying), 'Boy, you know me!' It gets nerve-wracking sometimes. It's not you that changed, it's the people that changed: 'Aw don't act like you're all Hollywood and you can't talk to me!' And I'm like, 'I didn't even SEE you. What are you talking about?' I'm not changing, I've never changed."
The Don Corleone of KC rap is sitting for an interview one afternoon at 5150 Productions on Mass. St. It's a defining moment for the current local music scene: Next door at Z'Gwon,th The Get Up Kids are working on demos for their upcoming record, and The Casket Lottery is soundchecking down the street at The Bottleneck � three area uberpowers within a negligible radius.
Tech's feeling good today, having just spent the past few hours in a downtown record store, signing autographs for his fans. Fresh off the "Smoke Out" tour with Cypress Hill and an opening slot for Snoop Dogg at Kemper Arena in Kansas City, the former Aaron Yates has plenty to be pleased about. Most importantly, his major label debut "Anghellic" has sold more than 60,000 copies since its Aug. 28 release.
"My stuff is like a rave: word-of-mouth," Tech says. "We don't have a video, no radio and the promotion is real slim."
What: Tech N9ne, BombsquadWhen: 9 p.m. WednesdayWhere: Abe & Jake's Landing, 8 E. Sixth St.Ticket information: 312-7116
That street buzz was partially created by the album's first single, "It's Alive," which sets Tech's trademark rapid-fire flow to jungle beats and throbbing rhythms. Though some fans were put off by the track's somewhat experimental feel, it's all part of telling the story, says Tech.
"It's a mixture of drum and bass and hardcore rap mob music. It's like 'One Nation Under a Groove' � the ravers can kick it with the thugs. I've always been thug raving. I'm the only black cat you know with orange hair. I rave hard."
Tech also promises the song's forthcoming video will be nothing less than unforgettable.
"We've got 'The Lost Boys' vampire movie meets 'The Matrix,'" he enthuses. "We're hangin' upside down, with beautiful vampire chicks with fangs licking on people."
Stoned immaculate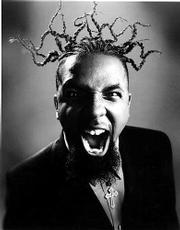 The "Alive" video's hellish imagery should come as no surprise to those familiar with "Anghellic's" overarching concept, a 22-track Dante-esque voyage that finds the MC traveling into the depths of hell, through purgatory and finally ascending to heaven. The CD's booklet unfolds into an oversized portrait of Tech as crucified angel, "Liberate" tattooed on one arm, "Me" emblazoned on the other. According to the rapper, "Anghellic's" theme is both metaphorical and autobiographical.
"It's a trip through my life, the last five years of my life," he explains. "I only have one song in heaven; I don't have a lot of heaven in my life. It's 'Anghellic.' That's good and bad � an angel in hell. I wanted to find a word that best describes me. Catholicism best described the way I wanted to go with it. Hell is really dark. It starts with a song called 'Tormented,' about all the things that torment me down here. A lot of the pain is self-inflicted, so I'm speaking on it. ... It talks about money, women, liquor and drugs, the (expletive) that I abuse. The hell in me, the real bad, the evil in my mind; the heaven in my heart, which is my kids and my wife; and the in-between confusion and purgatory.
"I'm in purgatory right now, an angel in purgatory, in confusion ... right here, talking to you, a confused soul. I got it together, but I also got a lot of questions. I don't know which way I want to go, but in the meantime I'm having a good time. Like Jim Morrison said, I'm gonna have my kicks before the whole (expletive) house goes up in flames."
The Morrison reference is no accident � Tech's a huge fan, who claims to strongly identify with the deceased Doors frontman. Though Morrison may not be a typical hip-hop icon, there is an undeniable kinship between him and artists such as Tupac and Tech � a dual nature that combines an often hedonistic lifestyle with the ability to transform street music into poetry.
"I got every album, all the Doors," Tech says. "I got mug shots from New Haven, I got everything. Don't ask me why, I've been a Jim Morrison fan for the longest. Anything about The Doors you wanna know, I can tell you. I love Jim Morrison � I love the music, I love the attitude, I don't wanna go like him though."
Does Tech think he might die before his time, like Morrison?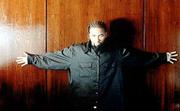 "I did, but I stopped doing drugs two months ago," he explains. "I feel a little bit stronger now. I'm not sitting over on the couch lounged on ecstasy anymore like, 'Hey' � although it felt so good to me. A man that's in pain, something like ecstasy you get addicted to; because it's a really beautiful feeling, man. Ecstasy is like whoever you are amplified. And I'm a happy person amplified � I hurt on the inside but I won't let anyone know it. But naturally, I'm a happy person, and ecstasy just boosted it. But after a while, it made me sluggish, like a body massage.
"So recently, I kicked that (expletive) because I want to live with my babies and my wife. It would be a pity to come this far and to die off a man-made thing. I don't wanna go like that. Back in the day, a couple of years ago, I was doing GHB (gamma-hydroxybutyrate) and (expletive) like that, hanging with the wrong crowd � that's the date-rape drug, man. Mushrooms, everything. I was going that route, man, loving Jim Morrison. But I can't go like that, not me. That's the last thing that I want my mom to hear � that I went from a drug overdose ... When you first pop ecstasy, the first symptom you get is like butterflies in your stomach, like a tingling sensation � bzzzzz. So now when I get butterflies, it feels like I'm on it. � But I don't have to have (ecstasy) to make it happen anymore.
Not to touch the earth
Venture into an area hip-hop show on any given night and Tech is likely to make an unscheduled appearance. A few weeks ago at Tremors, Tech � eyes gleaming, face all-but-obscured by a towel, body jerking rhythmically � joined members of DVS Mindz, The Zou and Bombsquad for an all-star evening of head-spinning ciphers.
"I zone out; I'm not the same person," Tech says. "Whatever I do, the music makes me do it. I'm totally in a zone: My eyes are bugged open, like I'm putting a hex on the crowd. It comes naturally, I feel it. The crowd feeds me. I see that energy from the crowd. I'm not really comprehending what's happening on the stage. I just go crazy. Lately I've been trying to tune in to people in the crowd, stay there."
Tech is remarkably calm in person, nothing like the hyperkinetic persona that overcomes him in concert settings. Onstage, he's a rhyming, writhing brother from another planet, but home, he's peaceful, calm and reflective. For Tech, walking the thin line that divides his two worlds � rap superstar and family man � is the toughest part.
"I'm still trying to learn how," he admits. "The quest for money takes a lot of work. If I'm sitting at home on my ass, I'm not gonna be able to do it. They say you're either gonna have a healthy career or a healthy relationship. I'm hoping I can keep this relationship over here, while I'm trying to do this career. 'Cause the career thing is big to me. If that fell through, I don't know what the hell I'd do. So I gotta work hard for it, and I don't wanna stop. But when I'm at home, hey, I'm with my family. My wife's been here with me since day one, before even my name was Tech N9ne almost. She loves me; we're the best of friends, and I'm hoping we can stay together 'cause she deserves everything I have, putting up with all of my (expletive)."
When the music's over
Family is a particularly thorny subject for the Southwest High School graduate, who celebrated his 30th birthday Oct. 16. One of "Anghellic's" most ribald numbers, "Real Killer," offers a blood-soaked retelling of Tech's true-life experiences with abortion. Unsurprisingly, critics have already taken Tech to task for the track's vivid imagery and unapologetic tone.
"I told the story harsh, kinda like a 'Scared Straight' song," he explains. "People are like, 'He's talkin' about killing babies.' No, you (expletive) idiots! The last thing I said was, 'So I murdered five kids of mine/I'm about to sit in hell a lifetime bid for mine/'Cause of abortion/No more, abortion/Now it's blown out of proportion/Insane, never again.' I'm trying to tell you I killed these babies through abortion. I paid for it. And I talked about it like I was a hit man. I got 'em done down in Lawrence, it's a true story ... After I had those abortions, I always (wondered) what my punishment's gonna be in hell for this. Are they gonna suck my legs off, are they gonna suck my arms off with a big-ass vacuum?"
Morbid pondering aside, Tech seems to have found a certain degree of peace with himself. With "Anghellic" off to a promising start and several rounds of high-profile tour dates and guest appearances under his belt, a newfound aura of calm surrounds the MC, who seems prepared to accept the future with a sense of poise and maturity often lacking from hip-hop circles.
No one ever said being a superstar was easy. But Tech N9ne is sure making it look that way.
"I feel like I'm 18. I found the fountain of youth, man. I feel energized; I don't know any of these young cats that can deal with me on the mike. I feel blessed ... by God, not Satan. A lot of people say I'm a devil worshipper. 'I heard (he) burns crosses. They have wild, sex-cocaine parties.' I hear everything, people come and tell me what they hear. I'm a bad boy, but I believe in God, Jesus Christ. Never will I ever hail Satan. I guess they've never seen a black man that raps with imagery like that.
"I don't understand why everybody would want to just stand by a Mercedes Benz with gold on. I don't want to do what everybody's doing, I've never been traditional. I love rebellious music and if you listen to my music, it's rebellious. I don't like to do everything everybody does ... I'm like the Apple campaign: Think different."
More like this story on Lawrence.com