On Friday, September 28th, at the Fields Gallery at 712 Massachusetts in downtown Lawrence, jurors for the "Lawrence Own Your Own" art exhibit sponsored by the Lawrence Committee for the Advancement of the Visual Arts, made their final deliberations.
Maureen Korp and Mary Kennedy McCabe made cash awards totaling $1050 for seven, selected works from nearly 150 pieces they had previously selected for inclusion in the exhibition from over 400 entries. The third juror, Margo Kren's votes were tallied in her absence.
Korp hails from Ottawa, Canada and is the author of "Sacred Art of the Earth." Kennedy McCabe is the director of ExhibitsUSA, Mid America Arts Alliance based in Kansas City. Kren is a professor of art at Kansas State University.
The exhibit is an opportunity for artists to have their work seen in Lawrence and is a benefit for Bert Nash Community Mental Health Center. The artists agreed at the time of their entries to contribute 20% of the purchase price of their work to Bert Nash. In this way, the artists rather than the exhibit's organizers receive the tax deduction for the donations.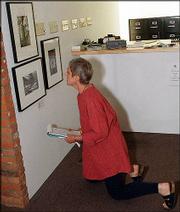 The exhibition may be viewed from 10:00 to 5:30 Monday October 1st through Wednesday the 3rd. On Thursday October 4th the gallery will be open form 10 to 8:00 with a presentation by Darcy Gerhard on "The Art of Appreciation" at 7:00. The gallery will be open from 10:00 o 7:00 on Friday the 5th and Saturday the 6th and from Noon to 3:00 on Sunday.
All the work is for sale and credit cards are accepted.
CLICK IMAGES FOR LARGER VIEW:
BEST OF SHOW:
"The Journey" by Jane Asbury, $5800
Second Place:
"Turban" by Cathy Tisdale, $500
Third place:
"The Shower" by Elinor Tourtellot, $750
Merit Award:
"Barn" by R.J. Kietzman, $150
Merit Award:
"Ogallal Siren" by Nancy Marshall, $6000
Merit Award:
"Brothers" by Jen Unekis, $275
Merit Award:
"The Rubber Glove Syndrome" by Constance Ehrlich, $700