Thursday, October 4, 2001
Chris Newton is old-school. Real old-school.
"If you go back 250, 300 years to classical music, the majority of it � besides opera � was instrumental," Newton says, phoning from the Boulder, Colo., dry cleaners where he spends most days. "That was popular music back then. And jazz in the middle of the century, there was vocal jazz, but not all of it."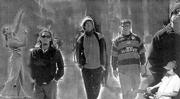 Newton's staunch defense of vocal-free music comes as little surprise given that his band, Motion For Alliance, is slowly gaining a regional reputation for its trippy, (mostly) instrumental excursions into aural outer space.
By juxtaposing a broad range of atmospheric electronica with more noodling than grandma's homemade chicken soup, MFA is mining a sound heard only recently on a national level. Call it contemporary improv, organic electronica or jambient, the music takes the better aspects of the trance, jungle and drum & bass, and places it in the hands of musicians who seem to enjoy nothing more than zoning out on a 20-minute guitar solo.
Funky fundamentalists
MFA (Newton, drummer and keyboardist Jonathan Modell, guitarists Ryan Goodman and Chris Anton, DJ Jayem Cain and dancer/occasional vocalist Giselle Ruzany) began in Boulder in 1998 as The Funkdamentals, a band that scraped by playing George Clinton covers for local trustafarians. While the group was able to release an indie CD, 1999's "Plan B for a Parallel Universe," The Funkdamentals weren't exactly causing popular Boulder acts like String Cheese Incident to lose sleep at night.
What: Motion For AllianceWhen: 9 p.m. WednesdayWhere: The Jazzhaus, 926 1/2 Mass.Ticket information: 749-3320
"We made about 150 of them, and we still have most of 'em," Newton laughs when asked about the album.
"Plan B" was followed by a self-titled CD, an assortment of live and studio tracks that served as the band's official debut. The disc sold well enough to keep the group gigging regularly around Boulder, but The Funkdamentals kept upsetting crowds by straying from formulaic funk into genres the group members found more challenging.
"As the music started to develop, we started playing less and less funk and started getting more experimental � acid jazz, then jungle, drum & bass � sort of rave music," Newton explains.
As the band's music continued to evolve, the members decided that flying the funk banner was no longer appropriate and rechristened themselves MFA late last year. Though the current incarnation sounds a lot closer to forward-looking outfits like Lake Trout than Phish or Widespread Panic, MFA is still quick to plead guilty to any outstanding charges of jam band excess.
"Over half of our show � sometimes like 80 percent of it � is improv," Newton explains. "We jam and we're a band, so we're a 'jam band.' Everyone who knows Phish knows that for their entire career they got compared to the 'Dead, and it really annoyed them. We don't want to be sounding like Phish or ripping them off, but you've gotta give 'em credit for starting this whole jam band scene."
Not live, not 'Dead
The members of MFA took a novel approach when writing and recording songs for their first CD, the just-released "Arrival." Rather than penning an assortment of tunes and then committing them to tape as they had in the past, tracks were composed by each musician on the spot. It was only after everyone had finished recording that the final product was mixed, with the band cutting, pasting and looping various parts into a coherent whole.
"None of the tracks were recorded simultaneously, it was all individual," Newton recalls. "John would do a click track or a drum track or both, and just build from there. It was step-by-step from the ground up."
Now MFA has the unenviable, almost surreal task of learning to play its own material live.
"None of the songs had ever been conceived before," Newton laughs. "So now it's like learning to cover ourselves in band practice. We've got pretty much the whole album down except for one, maybe two songs that we don't do yet. It was a really cool way to do a record, we never did anything like that before."
Currently, MFA is preparing for its third out-of-state tour this year, looking forward to showing off its newly purchased fog machine and lighting system. While the roadie-less band is still very much in its infancy (various members run lights and effects from the stage), there is an undeniable excitement that goes along with creating something from scratch.
"We definitely try to go for the visual approach," Newton says. "None of us are that cool to look at. We don't really get all decked-out in costumes and stuff like that. It's been talked about, but we just feel goofy. So we try to capture a couple senses in our show."