Thursday, October 4, 2001
Robert Turner has been on tour a little too long.
"We're kind of doing the insane route right now," he murmurs sleepily from a static-ridden cell phone. "Everyone keeps saying we're crazy ... and it's really funny at first but then there's a side that is actual madness to it. And it's not left with a chuckle and all that; you're actually in it. So we feel like we're just going further than any other band in this weird way, and you've gotta really use that high to keep going. That's the only reason to do it right now. Everything else is gone"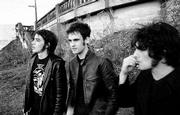 Turner and his band, Black Rebel Motorcycle Club, have been on the road continuously since the April release of their self-produced debut album, "B.R.M.C." After months of living in a van, sleeping on floors and playing nearly every night, things have started becoming surreal. Bored with their usual sets, the band members have taken to the art of onstage improvisation, inventing material as they go.
"The rules are getting a lot less stringent," Turner says. "Everything's created on the spot. We're writing songs at shows now. It's really nice to get up on a stage and start writing a song on the spot. It doesn't always work out that well, but it's really inspired and you can take the energy from people and go that much further."
Pay to play
BRMC � which took its name from Marlon Brando's classic biker film "The Wild One" � got its start in San Francisco three years ago, when guitarist-vocalist Peter Turner and bassist Hayes recruited U.K.-born drummer Nick Jago from the local music scene. The trio immediately relocated to Los Angeles, taking up residence at the low-key Silverlake Lounge. With a little scheming, the band was able to secure other gigs around the city without falling prey to the Sunset Strip's notorious pay-to-play scams.
What: Black Rebel Motorcycle Club, The WarlocksWhen: 9 p.m. SundayWhere: The Bottleneck, 737 N.H.Ticket information: 841-5483
"I don't think we ever paid to play anywhere," Turner recalls. "But there were little things where you'd have to get a certain amount of tickets � you'd have to promise you'd bring 40 people. We'd always say we could bring 40, and like five people would show up. And we wouldn't play there again, of course."
BRMC's 13-song demo rapidly became a much-circulated item among record industry types, and the band ended up the target of a bidding war. Rather than inking a deal with the highest bidder, the group signed with Virgin Records, which offered complete artistic control in lieu of big bucks. Within days, BRMC was whisked into the legendary Sound City Studios to record its major label debut, a high-pressure situation that quickly took its toll.
"It was way over our heads," Turner remembers. "We kind of have a process we go through and a way of making our sound happen that doesn't involve a lot of professional mindsets. So when we got into that environment, a big machine like that, it was really kind of daunting at first. We made it through. We learned a hell of a lot, but I don't know if it really got us to go a lot farther than we really wanted to."
Chain reaction
The band took what was salvageable from the Sound City sessions and combined it with tracks from its demo, releasing the material as "B.R.M.C." in April. With a sound that hearkens back to the post-new wave era of Cocteau Twins and Jesus and Mary Chain, the trio's debut was roasted for what some critics called nostalgic imitation of better bands. Comparisons were inevitable, though. The BRMC acronym looks suspiciously similar to JAMC, and songs like "Whatever Happened to My Rock 'n' Roll" recall Mary Chain's "I Hate Rock 'n' Roll" a little too closely.
"It doesn't bother me," Turner says of the criticisms. "My Bloody Valentine, Mary Chain, Love & Rockets, they're all really good groups. I think it's pretty nice to be in that company. The more people get into the record, (the similarities) seem to kind of fade away."
Fortunately, BRMC has a lot of high-profile fans in its corner, including Oasis' Noel Gallagher and even JAMC's Jim Reid, who defended the band in the press time and time again. Those accolades helped BRMC hook up with some prestigious tours including heroes like The Dandy Warhols, The Waterboys and Turner's personal favorite, Guided By Voices.
"We'd go up and be the young, hot band or whatever, and play 40 minutes and would be wiped out," he laughs. "And they'd play three hours and not break a sweat; it was amazing. It really put us in our place."
Currently, of course, BRMC's place is on the road. With gigs lined up into next year, Turner and company have no idea when they'll find time to record a second album.
"If we ever stop playing, I guess," the bassist laughs. "I don't see the end of this line right now. I guess we'll have to make another record at some point."
For now the band will persevere, taking comfort in the credence that its hard work will pay off sometime soon. And those improvised songs? Not to worry, says Turner. BRMC has no intention of becoming the next Phish.
"We've just learned to loosen up a bit," he muses. "Every night we kind of switch our set around, to keep ourselves interested, without making it some two-hour experimental jam. We just keep getting better. It sounds cheesy, but when you play that much ... We're all just learning how to play together, and that's all I ever wanted."