Thursday, October 4, 2001
Silver-screen star Jean Harlow was born in Kansas City, Mo., in 1911. At the age of 16, the actress ran away to Los Angeles to find her fortune in the entertainment industry.
The same strategy has been employed by another platinum blonde whose career is linked to the name Harlow. Singer-guitarist Amanda Rootes, a comely London native, enjoyed some success with her former British all-girl band Fluffy in the mid-'90s. After the group was dropped by Capitol Records and split up, she relocated to Los Angeles and formed Harlow. Now her L.A.-based act is gearing up to release its debut album after finding some unlikely exposure on American television.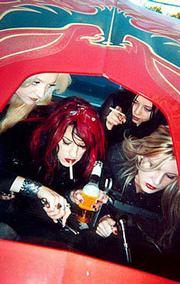 "I've learned that it's always really important to be nice to everybody, because you don't know when you'll meet that person again," Rootes says of her industry experiences. "It's very important not to get above yourself and feel like you're this fabulous, amazing, big rock star. Because the next day you could be working in an office � which is what happened to me. I went from touring the world as a rock star in places like Japan, and the next year having to work in an office for eight bucks an hour. So it's important not to act really famous � you know, like, 'I want fresh-squeezed orange juice' � because you could be eating (expletive) before too long."
Rootes and her bandmates � guitarist Rayshele Teige, bassist Chimene Gonzalez and drummer Rebecca Gibb � are currently in L.A. preparing for the second leg of their three-month tour while "just now getting the CD artwork finished."
"It's really cool," Rootes remarks about the cover of the new album, "Harlowland." "You know how we have Harlow dolls? Chimene got this really cool dollhouse that looks like Harlowland, the place where we all live. So our dolls are inside the dollhouse."
Rootes' brief bio on the band's Web site (www.harlowland.com) mentions that in addition to driving a red '77 Trans Am, she "has a large collection of evil dolls." It becomes clear throughout the conversation that the toys play an important role in the Harlow lifestyle.
What: Harlow, Custom Made Scare, ReadyWhen: 9 p.m. WednesdayWhere: The Bottleneck, 737 N.H.Ticket information: 841-5483What: Harlow, MoxieWhen: 9 p.m. Oct. 11Where: The Hurricane, 4048 Broadway, Kansas City, Mo.Ticket information: (816) 753-0884
"I have a lot of dolls that I've made over," she says. "I started doing it because I kept getting bored on the road. I have this one thing called 'rabbit baby.' I bought it from that one place � what's it called? � Cracker Barrel. They have the best creepy, evil dolls. I don't think they're meant to be creepy and evil, but they are. I love going there. Rabbit baby has sort of a rabbit costume with no bunny ears, but it has a baby's face. It's really disturbing."
'Run' around
Harlow first came to national prominence during the April-July debut airing of VH1's "Bands on the Run." The Emmy-nominated series followed four unsigned rock acts as they toured the nation, performing for various honors and a grand prize of $50,000 in cash and $100,000 in gear. Harlow finished third among the groups, getting bested by San Diego's Soulcracker and Dallas' Flickerstick, the eventual winner. But millions of viewers came to appreciate the all-girl band � and the wry personalities of its individual members � who seemed to be having a wonderful time without taking the whole thing too seriously.
"We got thrown out there doing the show very early on," Rootes remembers. "The band had been together for two years, but Rayshele had just joined and had just started learning � she'd only been playing guitar for a year.
"We really didn't think we would get (cast on the show). And we didn't get it initially. We weren't surprised at that, because we weren't exactly VH1-friendly. But then they suddenly changed their minds. I don't know what happened. I think they realized that as a band we have a close friendship. We're very passionate about what we do. And I think we're big dorks. There's a lot of comedy to us."
Harlow never managed to win any of the showcase competitions (those went to Flickerstick) nor the economic battles and reward challenges (those went to Soulcracker). The quartet feels it didn't quite possess the advantages of its competitors.
"What was really amusing was if you saw the pilot, the bands looked one way, then in the real show everybody changed their look and had a makeover," Rootes says. "But Harlow stayed the same. We didn't change anything for the show. We just were the way we were. In regards to the merchandise and everything, the other bands had more financial backing where they could afford to get CDs on the road. We were making everything ourselves by hand. We were burning CDs and getting out promotional copies � as we still are now (laughs). We wanted everything to be really special."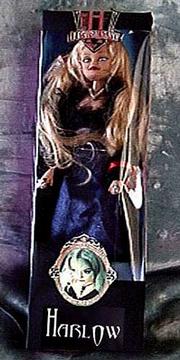 Still, audiences began to acquaint themselves with the band's appealing material, which combined gothic-rock ambiance with bar chord-anchored sludge. Rootes' vocals provided the melodic counterpoint, meandering from an ethereal prettiness to spoken-word aggression.
"Because VH1 only played like 30 seconds of three of our songs, it seemed that those are the ones that everybody knows, like 'Michael Hunt' and 'Blue Lie,'" she says. "I'm not sure why they only selected those three. Maybe we played those the best on that tour. I don't know, because I don't think they're the best songs on the record. We've written a lot more songs since we came back from the tour. We threw ourselves in the studio. We were there in January starting preproduction. And pretty much up until now we were working on the record. When the other bands were running around capitalizing on the show and making money, we locked ourselves in the studio."
While Rootes believes the members of Harlow were portrayed accurately in the series, she does confess there were several moments of which she was less than proud.
"I was in Memphis and I was sitting in the van � which we called Coffin of Pimp," Rootes recalls, regarding an episode caught on tape but never aired. "Chimene comes in and said, 'That bitch in the gas station won't give me a beer. Go in there with your English accent and charm her.' So I walk into the gas station, and there's this older woman. I say (very regally), 'Yes, hello, I'd like to purchase a beer.' And she's like, 'I ain't servin' you no beer.' She was just being totally mean. So I got really mad and totally cussed her out. Then I walked out of the shop and fell over flat on my face, with her fully enjoying the moment of me being completely uncool after trying to be so bad-ass. And my band laughed at me."
Yet, Rootes claims that the single worst aspect of "Bands on the Run" was having to part with their beloved Coffin of Pimp when the series concluded.
"I think if they'd made that the prize, we would have tried way harder," she says of the customized Winnebago that sported the band's logo on its side. "We loved that van so much. We used to, like, 'soak up' that van. That's why now we've (saved up and bought) a Winny, because we want to live in it and drape it with red and black velvet. It's going to be so cool. We're going to decorate it all up with dolls."
Smear campaign
Even with the recognition gained from the reality TV series, Harlow is still faced with combating a hostile musical climate. There hasn't exactly been a spate of estrogen-rich goth acts making it onto the radio these days.
"If it's pop radio, then no," Rootes responds when asked about the commercial viability of a group like Harlow. "We're more underground. But if you're thinking about rock stations or heavier stations, then I think it is. Right now there are two diverse sounds in music: You've got the really poppy stuff like Britney Spears and 'N Sync, and then there's the sports metal like Limp Bizkit or Korn. I think people want something darker and heavier to listen to right now."
One way the band hopes to tip the scales in its favor is by adding a little star power.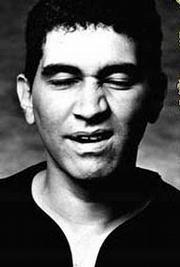 "We're going to make the album a Libra, so we're going to release it in October," she reveals. "Plus, three of us are Libras in the band � Rayshele's a Virgo. It was actually Pat's suggestion we do it then."
The Pat that Rootes refers to is "Harlowland" producer Pat Smear, the guitarist whose membership in Foo Fighters and The Germs � and frequent collaboration with Nirvana � has solidified his punk rock legend. Rootes first met Smear when Fluffy toured with Foo Fighters in 1996. And it's actually his star power that could matter most in the long run.
"He's got the sickest sense of humor � as have I � so it's really fun," she says of Smear. "Like if you start using some really bizarre chords, he'll get all excited about them. Pat has never written anything for me, but he's very open to me writing really strange things ... The whole record was like that. You just wanted to make Pat be happy."
During the sessions, Smear also catered to Harlow's extreme sense of visual style.
"He has like 200 guitars, so at times he'd say, 'OK. We need to play a blue sparkly guitar.'"
The band currently is unsigned, but taking into account the past association that Smear and Rootes have with Capitol Records, that could certainly change. However, she suggests that their present self-sufficient situation has its benefits.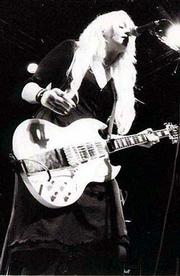 "We wanted to try and keep control of everything," the 28-year-old singer explains. "Because of our relationship with Pat Smear and because of the publicity from the show, we're able to finance the record, which meant that we can A.) make a lot more money that way, and B.) we can completely do things how WE want to do it, rather than the way THEY would want to portray Harlow."
Gender equity
While few will argue that a female band generally has an easier time booking shows and drawing crowds, there's just as much baggage that comes with the status to offset these advantages. Do people assume most all-girl bands suck?
"Yeah, it's weird," Rootes responds. I don't know why, because there are a lot of great all-girl bands. We play with them all the time. There's often surprise on people's faces like, 'You guys were good.' It's nice, but it's like, 'Why wouldn't we be?'"
Although their gender may lower certain musical expectations, the members of Harlow believe that their association with "Bands on the Run" has compensated by raising the bar. Audiences demand that the television VIPs deliver the goods, whether in a live setting or a studio one.
"I think it made us feel that all the hype meant that we had to do a lot of work to make a good enough record," she says. "We haven't changed at all how we are musically or what we like. We're still the band that we were before 'Bands on the Run' ... But we've improved. We're a lot more heavy and weird. We have a lot more confidence now."
Inevitably, Harlow will draw comparisons to other gal rockers like Kittie and L7, and probably even to The Bangles and The Go-Go's.
"I hate when people compare us to other female bands, because that's what journalists tend to do," Rootes vents. "They say, 'You sound like these four other girl bands. But it's like, 'No, we don't.' That bugs us. It's always interesting to hear who people think we sound like, because we have so many diverse influences. We've made our music totally organic. Whatever comes out of us is what was meant to happen. I think a lot of bands go into the recording industry saying, 'We're a punk band' or 'We're a rock band' or 'We're a metal band.' Harlow doesn't get into that. Harlow just kind of lets it come out naturally."
Whether this blonde ever goes platinum in terms of sales remains to be seen. But the Harlow frontwoman continues to share her talent and know-how with her cohorts, who appear to be in the music business for all the right reasons.
Rootes says of her role among the bandmates, "I guess I'm kind of the mom. But my band looks after me, too."
The mom? Yet, she's the one playing with dolls.
"Yeah really," she laughs. "I didn't have any growing up. Did I tell you about Chernobyl? He was actually on the show. He's a two-headed Bambi. We call him Cherny for short."