Thursday, October 4, 2001
The number of major film events in the Kansas City area seem to get larger every year. From Halfway to Hollywood to the Gay and Lesbian Film Festival, the KAN Festival to the Indy Film Showcase, the list goes on and on. One of the biggest and most diverse is FilmFest Kansas City, whose eighth annual installment runs from Oct. 5-11. As usual, it will provide a staggering array of choices for area movie fans.
The theme this year, "Celebrating Our Cultural Diversity Through World Cinema," is a mouthful, but it sums up the festival's mission to expose audiences to works that otherwise might never be presented here. There is a slacker comedy set in Iceland ("101 Reykjavik"), a long-banned Soviet romance ("Brief Encounters"), a Japanese thriller ("Evil Dead Trap") and an animated African folk tale ("Kirikou and the Sorceress"), just to name a few.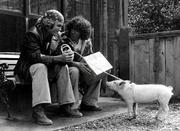 In addition to the international flavor, there will be American independent features, including Slamdance favorites "Scrapple" and "Wendigo," and a series of films exploring the Civil Rights movement, one of which, Spike Lee's "The Huey P. Newton Story," will be screened at the historic Gem Theatre in the 18th and Vine District. On the local-interest front, Bruce Ricker will be on hand to introduce his 1979 documentary "The Last of the Blue Devils," considered the definitive work on the legendary Kansas City jazz scene, and "Bird," the Clint Eastwood-directed biography of Charlie "Bird" Parker, for which Ricker was a consultant.
David Disney will join preservationist (and FilmFest co-chair) Butch Rigby to introduce "Walt: The Man Behind the Myth," with proceeds going to benefit the Thank You Walt Disney foundation's efforts to restore the animator's old studio in Kansas City, Mo. Finally, there will be a special screening of "Ride with the Devil," Ang Lee's drama about the Civil War-era guerilla battles in Kansas and Missouri. The area's independent filmmakers also will be part of the proceedings. Films from the KAN Festival and the Independent Filmmakers Coalition will be screened, and workshops will be held on Saturday and Sunday, where aspiring auteurs can learn from both local directors and special guests.
It's Pat
Needless to say, putting all this together is no easy task. While several of the festival's organizers have been with the project for years, executive director Pat Hamarstrom just came aboard in May, two months after taking the same job with the KAN Festival.
"KAN has, in the past, teamed with FilmFest to share an Exec Director," she explains. "They can sort of team and get somebody who will work for both of them, and end up paying a person something more like a salary."
A Kansas City native, Hamarstrom worked extensively in film and theatre, primarily in Dallas and Chicago, before moving back to her hometown about a year-and-a-half ago. Although she had organized a film festival in Dallas in the early '90s, her background was mostly in producing and teaching, and she discovered that those skills helped a great deal in her new line of work.
"I really like the ability to help artists and see their visions," she points out. "It's kind of producing, and I like the role of producing."
FilmFest has a surprising number of people sharing job titles and duties, including Hamarstrom, Rigby, Geoffrey Westra and John Shipp, who handles most of the programming.
"It's kind of funny," Hamarstrom says, "because when I start laying out everybody's titles for people, I realize we have a whole lot of chiefs, and all the chiefs are, like, scrubbing the floors. I guess that's what you get when you don't make a whole lot of money."
Everyone involved takes on various responsibilities, with Hamarstrom dealing largely with marketing, fund-raising and volunteer coordination.
Although she was not responsible for choosing the theme of the event, Hamarstrom ended up being well-suited for.
"I threw out the fact, when they were hiring me, that the festival I'd done in Dallas was multicultural," she says. "At the time that I started it, that was very radical, (though) certainly not anymore. I think that John was the one who put together the actual theme, but certainly it's an interest of mine and has been for a long time."
She also credits Shipp with using his experience with distribution to help bring in filmmakers and speakers.
"Lots of times, the distributor will have or will know of guests that are available," Hamarstrom says. "That's just something that most films try to offer if they can, some sort of guest or visitor for a film festival. John has done this for years and years and years, and he has a running dialogue with all of the distributors."
Competitive nature
Returning to Kansas City after so much time away, Hamarstrom was impressed by the level of movie-related activity, though not really shocked by it.
"I'm not maybe as surprised as somebody who didn't live here, because there really was, even years ago, a base of people who were incredible film lovers," she says, noting that the local film community is strikingly cooperative. "I think there's a healthy competition, but it's a very friendly competition among the festivals," she says. "I really do get the sense that it is a very polite sort of society, that really does attempt to work with each other."
Hamarstrom is ready to match the dedication she sees in the people around her, which only can be good for a city whose self-image does not always match its accomplishments.
"I want to be involved with an organization where I can see a building process take place," she says. "I want to get out there and make sure that we have lots of things happening ... I think theatre is stronger here than people ever give it credit for. I think film is stronger here than it's ever given credit for. I think the arts are stronger here. I think we have a lot of good things in this city."
With her help, FilmFest KC will continue to be one of them.
More like this story on Lawrence.com