Thursday, October 11, 2001
Gregory Hines is being chauffeured through Los Angeles as he makes last-minute preparations for the rescheduled Emmy Awards (since postponed). The biggest difference between Hines and other celebrities is probably the fact that his teen-age son is doing the driving in the family automobile. His daughter, too, is involved.
"She's doing some shopping for some jewelry for my sweetheart to wear to the Emmys," he gushes.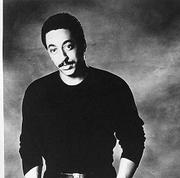 While he may be known as the quintessential song and dance man, moving easily between film and stage roles, Hines appears mostly focused on his family. It's obvious by how much time he spends talking about them that he's engrossed in their lives.
"I'm trying to go out more on the road. I was just going out in little bits because I was sharing a place with my teen-age boy and so I had to be there for him," Hines says. "Now that he's in college, I can go out a longer period of time."
Hines cannot get out for too long, no matter what, because the various aspects of his career keep him in demand. The week of this interview found him preparing for shows in Topeka and Kansas City, with plans to fly back to attend the awards ceremony, where he's nominated for an acting honor in the Showtime film "Bojangles." In it, he plays legendary hoofer Bill 'Bojangles' Robinson. The picture also stars Savion Glover, Kimberly Elise and Peter Riegert. Hines talks excitedly about the film and its nominations, but as usual, his thoughts reflect outside perceptions.
"We live in a culture where awards are important," he says. "People love them. It's a strange feeling. On one side you're flattered and honored, but on the other side, out of all the male performers, how do you pick out one that is the so-called best? It's the strangest thing to compete for that. I struggle to understand it. In many ways it's more important for me to win for my family and for the people who help me. They almost want it more. I appreciate the honor. I don't discount it."
Gainfully employed
It's imperative that Hines keeps the momentum going; he knows that film and TV give him more exposure, but his first love is the theater. His current tour finds him performing crowd-pleasing favorites that fans associate with the entertainer, complete with a band and back-up singers, and a sound system that allows him to sing and talk over the sound of his tap-dancing feet.
When informed of the excellent acoustics at the Topeka and Kansas City venues, Hines says, laughing, "Good, because I'll be there to test it out."
The performer once had his own CBS TV series, "The Gregory Hines Show," and is currently a recurring supporting character on NBC's "Will and Grace." He just directed "The Red Sneakers" for Showtime and is writing and creating a new series that he wants to shop around to the networks. He's been nominated for four Tony Awards, and has appeared in films as diverse as Mel Brooks "History of The World, Part One," "The Cotton Club," "Running Scared" and "Waiting to Exhale." For Hines, versatility equates with responsibility.
"My first love is employment. My parents raised me to do many things. Sammy Davis Jr., is my idol because he was so versatile," Hines says. "It gives you increased opportunity for employment and it keeps things interesting. I am grateful that I can do it because it gives me more opportunities to work. But there is nothing on a film set that compares to working onstage. You experience this energy that travels back and forth between the audience and the performer. If I don't do it, I miss it.'
Hines says he does have a favorite project among such jobs as his Tony-Award-winning turn in Broadway's "Jelly's Last Jam" and dancing alongside Mikhail Baryshnikov in "White Knights."
"It's the next thing," Hines confesses. "I truly believe that. Whatever favorite I have at the time fades when I think about the next project."
Though his work calls for extensive travel, Hines says he is not worried about the heightened security at the Emmys and that he welcomes the increased airline safeguards. Although he's worried about his friends � and not just those people in the entertainment business, but those he meets during his frequent travels.
"I talk to people at the airports that I know and they are real worried about losing their jobs, and I worry about them," he says. "I worry less about something like Broadway recovering. Right now performers are just concerned about their families and where everyone is. They are preoccupied with that. I don't hear too much about work from them."
That's not to say he isn't speculating about the future, much like everyone else is.
"The arts, TV, theater, movies, all exist to show who we are as people," Hines says. "People change and we (performers) change, too. But it will take some time to articulate our feelings and find new ways to express ourselves."