Thursday, October 11, 2001
Though Ben Gibbard spends most of his time fronting the most buzzworthy band in indie rock, today he's helming the cash register at a vintage clothing store in his Seattle hometown.
"From time to time, I'll come in and work a day, and today just ended up being that day," he says, clearly enjoying the chance to step away from his primary job as Death Cab For Cutie's singer-guitarist and principal songwriter.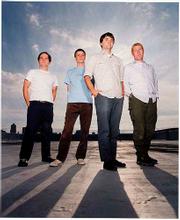 "When everybody's off doing whatever else, more times than not, I'm working on songs."
Working on music in a place like Seattle can have its pluses and minuses, but for Gibbard, the city's vibe improved dramatically as soon as the post-grunge era passed.
"It went back to being low-key like it always was," he says. "Growing up here, when I was younger, there was all this media attention on this area because of three or four bands. It's nice to see that that's kind of fallen by the wayside. All the L.A. rockers have left town and went back to L.A., now that they realize there's no big record deals to be had anymore. Now (it's gone) back to being a very independent, music-focused city like it was before 1991."
Prior to 1991, any band with the word "death" in its moniker would probably be relegated to the mosh-pit-metal category. Death Cab For Cutie � which took its name from a Bonzo Dog Band song referenced in The Beatles' "Magical Mystery Tour" film � probably won't have to worry about the security risks of overly enthusiastic stage divers anytime soon. With the recent release of its delicate-sounding "The Photo Album" and songs that fit comfortably alongside early R.E.M. and even the Fab Four, Death Cab may well be on its way to becoming rock's next big thing without even trying.
Teen spirit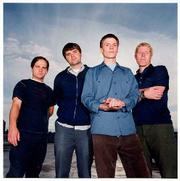 Death Cab began in Bellingham, Wash., a tiny hamlet where most of the band members were attending classes at Western Washington University. As with the majority of college towns, there was a small-but-thriving local music scene, and nearby Seattle provided ample opportunity for aspiring players to be heard.
"We fell in with a bunch of people who were doing this kind of DIY, Elephant 6-model sort of thing � just making records with one another, and putting out tapes that had 35 songs on them every couple of weeks, just really blowing through stuff," guitarist-producer Chris Walla recalls, phoning from the studio where he spends most days.
At the time, the still teen-age Walla was itching to try his hand at music production but had failed every recording class at a nearby junior college. Nonplused, the guitarist decided to "max out a credit card and buy a bunch of crappy home-recording stuff" and get to work. Beginning in his living room, Walla slowly taught himself the rudiments of recording, engineering tracks for local bands and putting together his own solo pieces.
A few months later, he ran into Ben Gibbard and the Death Cab roots were planted. The pair met through a mutual friend, who dragged Walla to a tiny club where Gibbard was playing drums for indie-rock band Shed.
"Ben was wearing a Teenage Fanclub shirt," Walla remembers. "Nobody ever wears a Teenage Fanclub shirt, and I thought that was great. So we hit it off, and we started doing music stuff almost immediately. We'd spend weekends just recording songs � his songs, my songs whatever."
What: Death Cab for Cutie, The Prom, ShinerWhen: 9 p.m. MondayWhere: The Bottleneck, 737 N.H.Ticket information: 841-5483
A collection of Gibbard's Walla-produced material was circulated as "You Can Play These Songs With Chords," a cassette-only release that became a popular favorite among Bellingham's music elite.
"It was mostly a chance for me to experiment with turning the tape over backwards and doing a bunch of goofy stuff that nobody else would let me do," Walla says. "It wasn't really supposed to be anything. At the time, Ben was playing songs on front porches when we were all drunk on a Saturday night. It was the perfect middle-American college idealist sort of experience. After we recorded ('Chords'), it sort of blossomed into something where people were like, 'You should play some shows, you should put together a band.'"
Gibbard and Walla decided to do just that. Gibbard's side project, Pinwheel, had recently split, and when the already Gibbard-less Shed issued walking papers to bassist Nick Harmer, he was immediately recruited. Original drummer Nathan Good completed the lineup soon after and Death Cab For Cutie was born.
Gardening at night
Within months of forming, Death Cab released its official debut, 1998's "Something About Airplanes," comprised of several tracks from "Chords" alongside a handful of new recordings. Almost instantaneously, the band became the critical darlings of the Northwest music scene, with rock journalists comparing Death Cab favorably to heroes like Elliott Smith and Built To Spill.
"Airplanes" was released on the tiny indie label Barsuk, which offered the band creative control and emotional support instead of big bucks. Fortunately, the response to the Death Cab debut was so positive, that the act didn't have to worry about selling out in order to sell records.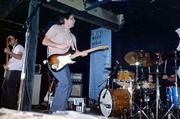 "We're all really excited about wanting to have our music appeal to the most people as possible, but obviously not giving up any of the ethics or values that we hold dear to ourselves as a band," Gibbard says. "A victory for us is a victory for Barsuk ... and I like the idea of the home team forging ahead as a unit, trying to make something of ourselves and help the record label to make something of itself and establish itself more on the national level."
To get to the next level, Death Cab did what any self-respecting group worth its rock salt would: It hit the road in earnest. Though a small collective of critics, college-radio DJs and underground music fans unabashedly touted the quartet, Death Cab's first tour consisted of venues most bands wouldn't even consider, including a stop here in Lawrence.
"We played that record store that's upstairs," Walla remembers.
Love Garden?
"Yeah, that was a little strange," he smiles.
"There were like five people there when we played," Gibbard adds. "It was fun. It was a different kind of show, but we all had a good time. It would be one thing if we played a record store and came back and played to three people, and the next time we played to two people. I think we'd probably have a different attitude about it."
Fortunately, "Airplanes" did well, and in March 2000 Death Cab released its second full-length for Barsuk, "We Have the Facts and We're Voting Yes." Months of touring made the group a household name in underground circles, and "Facts" sold outstandingly well for an indie, bolstered by across-the-board salivation from music critics and college radio. Despite the good news (and the addition of current drummer Michael Schorr), the ensuing "Facts" tour proved to be almost more than the band could stomach.
"After the last tour, we were all pretty burned out," Walla admits. "We'd spent almost two months on the road straight, going around the country. By the last couple of shows, we were all burned out on touring and just kind of going through the motions, which is unfortunate because you don't ever want that to happen. But it's bound to happen the more (time) you spend on tour. It's hard to reclaim that energy and excitement once you've been playing a month and a half of shows."
Snapshots
Early admirers of Death Cab correctly noted that the burgeoning group showed the kind of promise that might one day reach the fruition of rock greatness, which was more than achieved on "Forbidden Love," an EP released last October. Containing only five songs, the effort offered a sonic snapshot of where Death Cab's music might be headed. Hands down, the highlight of the EP was "Photobooth," a perfect pop song imbued with jangly hooks, evocative lyrics and Gibbard's heaven-sent falsetto. Response to the number was immediate and through-the-roof. "Photobooth" became a staple of college radio, creating the kind of enthusiastic stir that's increasingly rare in the oh-so-jaded world of indie rock.
"It's just a really simple pop song," Gibbard says. "It's strange how it's become one of the biggest 'hits' live, as far as people wanting to hear it. I wrote it in an hour or whatever and didn't think of it as being anything of any substantial value. We just kind of recorded it to record it."
"I hear a lot of people say that 'Photobooth' is really the thing that they love, love, love," Walla adds. "And that's really strange because that was such a throwaway. Ben gives us these little cassettes that have a couple of demos on them that he's put together on a four-track; that was one of the ones where we were like, 'Hmm, I don't know.' That one and 'Technicolor Girls' were songs that we were really just not sold on at all. They weren't bad enough to not do anything with, but none of us felt like they were good enough to go on an album."
Death Cab's latest effort, "The Photo Album," was recorded last spring at "The Hall of Justice," a Seattle studio co-owned by Walla and Barsuk. Though "Hall" isn't much to look at, the building contains a veritable history of grunge-era Seattle rock from when it was known as Reciprocal Studios.
"It's kind of the black sheep studio in the Seattle community, because it's barely a studio," Walla laughs. "It's this crappy little triangular building that kind of looks like a crack house. It's down just off the water by the ship yards. It's really kind of a terrible place, but there's so much history."
Reciprocal's history includes early sessions logged by Mudhoney and Soundgarden, and Nirvana's primitive demos and first full-length "Bleach" also were created in its cramped rooms. These and other distinctions were famous enough to get Reciprocal a place in computer mogul Paul Allen's Empower Music Project, as well as "Rock and Roll Landmarks of the American West," a book published in Japan a couple years ago.
"There's some Japanese tourists who stop by every now and again, and they're really excited about it," Walla laughs.
Hall of fame
Though Gibbard's voice and songwriting skills tend to be the focus of Death Cab's critical plaudits, Walla plays an equally crucial role as the band's producer. By filling Death Cab's records with lots of open space, the group has a "big" sound typically not found on compression-heavy low-fi releases.
"Historically, he's engineering and producing, and also playing," Gibbard says of Walla. "So his job is a lot more than the rest of ours. We're in the back playing PlayStation, or going to see a movie, or going to get food, and he's usually working. So he puts in a lot of long hours, which is both really cool but also sometimes can be detrimental to the process, especially when you have someone working so hard all day long. But in the end, he always sticks it out and makes it really nice."
Though Walla has gained increasing recognition for his production work, the guitarist probably won't be tapped for Mariah Carey's next session.
"I think that by Los Angeles or Nashville standards, I'm about as unconventional as they come," he laughs. "But when it comes to the sort of stuff that we're doing and the level that we're doing it at, it's kind of an anything goes game. I'm a lot straighter than I used to be, in that respect. It's learning about when to mess with something and when to just leave it alone. I'm kind of in this phase right now where I'm really wanting things to be hi-fi, and I'm wanting things to sound like the records that I grew up on. For the time being, I think that's making me much more conventional than I have been."
Reinventing the wheel
Conventional or not, Death Cab's future is certainly looking bright. Though Gibbard's lyrics tend to evoke memories of childhood and innocence, the band members have undoubtedly done a fair amount of growing up since the early days, a fact that makes the business of creating music seem like a walk in the park.
"I think the thing that's changed the most is the level of confidence," Walla says. "We're comfortable being in a band together, and we're comfortable saying, 'Dude, that doesn't work. You need to do something else,' and not hurting somebody else's feelings. We all have a lot of respect for one another, and we know one another's boundaries. And that sort of thing just makes it easier to put music together."
"I'd like to hope that we've been building on what we initially started playing," Gibbard adds.
"(We're) obviously not reinventing the wheel, but trying to delve into some territory that we haven't in the past and continuing to try to grow as a band. And, hopefully with myself, (I'm) trying to write better and better songs, (and) everybody is trying to better themselves in their own field so we can continue to make better and better music."
More like this story on Lawrence.com