Artist Erika Binns smoothes the surface of a clay bust while nearby Ann Martin works on a watercolor landscape and Charlotte Neese puts the finishing touches on an oil portrait of her two grandsons.
The artists are part of the Downtown Tuesday Painters, a group of 18 artists who gather from 9 a.m. to 1 p.m. Tuesdays at the Douglas County Senior Center to expand their artistic talents and share their friendship.
"We are able to support each other, and critique each other in a nice way. We each have different strengths, and we learn from each other," Binns said. "There's a banter that goes on, but we also have our moments of deafening silence."
The artists are showing their works at two venues during Lawrence ArtWalk 2001: an ArtSpace Odyssey. They have hung an exhibit of about 60 works in Lawrence Public Library, 707 Vt., and they will show their works and demonstrate their techniques from 10 a.m. to 6 p.m. Saturday and noon to 5 p.m. Oct. 28 at the Douglas County Senior Center.
The group's members are among the more than 60 artists who will be showing their works during the self-guided tour of about 40 artist studios, galleries and other art-related venues. This is the third year Downtown Tuesday Painters has participated in the Lawrence ArtWalk.
Bill Grubbs said he will have six acrylic still lifes and a wooden clock in the library exhibition. Grubbs creates in a variety of media, including colored pencil, oil, acrylic and pastel. He also makes the frames for his works.
A retired optometrist who spent years on his feet, Grubbs said he took up painting because it was something he could do sitting down. He is mainly self-taught.
Similarly, Mary McLees took up painting about eight years ago because she wanted to get involved in an activity that was different than her work as a social worker. She uses mainly watercolors, but builds up the paint so that it looks like acrylics.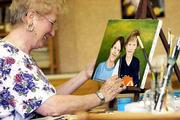 Participating in the group has helped her increase her productivity.
"I can sit at home and think about a picture, but I don't do anything (to paint it)," she said.
Other members of the Downtown Tuesdays Painters who will show their work during the Lawrence ArtWalk are Wilma Lutz, Audrey Kamb, Joyce Witulski, Dar Williams, Jo Shaw, Carole Peters, Millie Peters, Jim Patti, Eugene Bovee, Mary Bowen, Ardis Comfort, Janice Dick and Pat Ransone.
More like this story on Lawrence.com