The Ju Percussion Group from Taiwan will perform at 7:30 p.m. Tuesday at the Lied Center.
The ensemble will perform "Drumming No. 5 for Six Percussionists" by Yiu-kwong Chung; "The Romping Golden Pheasants," gong-drum music from the Tu Jia tribe, arranged by Tian Longxin/Li Zhenqui; "Persona" by Toshimitu Tanaka; "Head Talk" by Mark Ford; "Square Dance" by Tokayoshi Yoshioka; a medley of Taiwanese favorites, arranged by Kuen-yean Hwang; and "Laughing Buddha Plays with Lions" by Chien-hui Hung.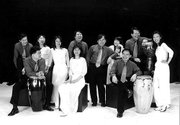 Ju Percussion was founded in January 1986 by Tzong-ching Ju. The ensemble is made up of 10 players, one composer-in-residence and 14 interns. The group gives more than 100 performances a year and has released 14 recordings, two of which have received the Golden Tripod Award.
The concert will last about 90 minutes, and a talk-back session from the stage will be offered after the performance.
Tickets are from $11 to $27. Tickets are available at the Lied Center Box Office, 864-ARTS; Murphy Hall Box Office, 864-3982; Student Union Activities Box Office, 864-3477; Ticketmaster outlets, (785) 234-4545 and (816) 931-3330; and online at TICKETS.COM.
More like this story on Lawrence.com